Meet Schneider's truck driver recruiting team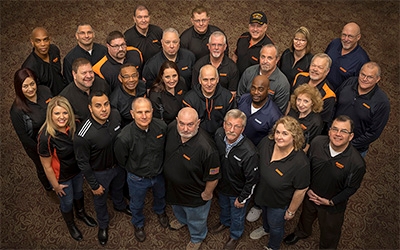 Schneider offers lots of ways to learn about truck driving jobs near you: a zip code search on SchneiderJobs.com, calling 800-44-PRIDE, job alerts through email and text message, and so much more …
but
… for many drivers looking for a new driving job and exploring companies, nothing beats a face-to-face conversation with an honest, knowledgeable driver recruiter.
That's exactly what Schneider's driver field recruiting team provides. We have more than 20 field recruiters stationed across the country to help understand your individual career goals and match them to the best driving job for you.
How to talk to a Schneider driver field recruiter:
A truck driver recruiting event near you – In a typical month, our field recruiters host hundreds of hiring events at Schneider facilities, local hotels, local workforce job centers, partnering truck driving schools and more. See all the upcoming recruiting events near you and read about what to expect at a Schneider recruiting event.
A truck driving school presentation – Schneider field recruiters visit hundreds of truck driving schools, with formal presentations and valuable question-and-answer sessions. If you're receiving CDL training, there's a good chance you'll meet a member of our team.
A phone call or email – Face-to-face interaction is always best, but our recruiters are accessible via phone and email as well if you have specific questions about a driving job near you.
Meet Schneider's truck driver recruiting team:
The list below is divided up by region, and alphabetical order by last name within each region, and includes each field recruiter's primary recruiting locations, work phone number and email address.
Midwest
Northeast:
Southeast:
Southwest/West:
About the author

Bill has been a member of the Schneider team since starting his career in 1993. During his career at Schneider he has held roles involving dispatch, customer service, utilization and recruiting. In his current role as the Director of Driver Field Recruiting he leads a team of 24 people whose sole responsibility is to source both experienced and inexperienced drivers across the entire country.