Overview of PPE requirements for truck drivers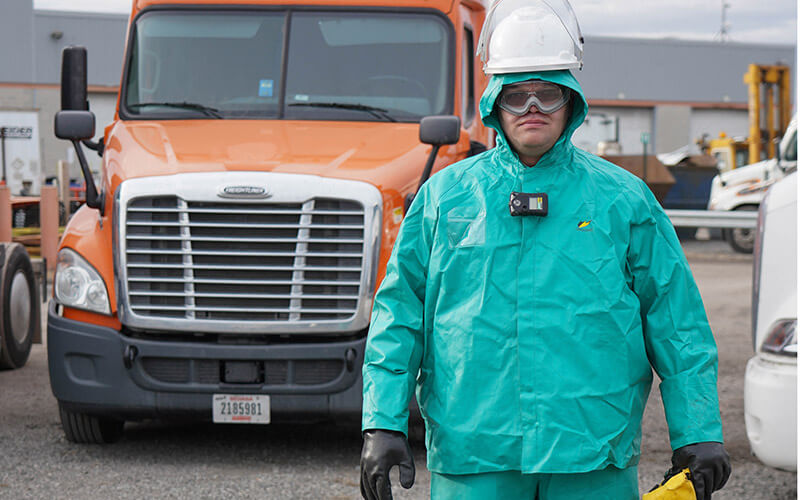 Estimated reading time: 4 minutes
Safety is Schneider's number one core value, which is why our drivers are supplied with job-specific personal protective equipment (PPE) to protect them while they're working.
So, what is PPE in trucking and how does it help drivers stay safe?
Truck driver PPE consists of a variety of clothing and gear that protect drivers' skin, hands, feet, head, eyes, nose, mouth and lungs from potential hazards they may encounter on the job.
Continue reading to learn about some of the most common PPE truck drivers wear as well as Schneider's PPE requirements for truck drivers.
8 types of PPE for truck drivers
Below you'll find a list of some of the top pieces of PPE drivers use to stay safe while on the job:
1. Long sleeve shirts and long pants.
Long pants and long sleeve shirts are used to cover the majority of a driver's skin and help drivers avoid direct skin contact with chemicals or injury.
Although these pieces of clothing are not able to protect drivers 100%, they are at least able to act as a minor barrier from the materials drivers haul.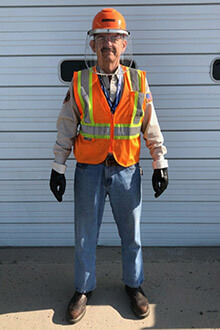 2. Safety vests.
One of the most common pieces of PPE drivers wear is an American National Standards Institute (ANSI) certified, high-visibility safety vest. Safety vests are made of a neon material with reflective strips that make drivers easier to see.
Safety vests are especially important in areas like customer locations, truck yards, rail yards, truck stops and other places where traffic is present. However, drivers should wear their safety vests whenever they are outside their truck.
3. Gloves.
Gloves protect a driver's hands from dirt, oil and potential injury caused by sharp objects, heat or hazardous materials.
Truck drivers usually wear the following styles of gloves to protect their hands while working:
Leather work gloves: Often worn when fueling, checking oil levels or working with belts.
Canvas work gloves: Used when working with tools, chains, etc.
Chemical gloves: Worn by drivers who are interacting with or are near chemicals.
You can learn more about the various styles of gloves drivers wear by checking out our blog about must-have truck driver gloves.
4. Work boots.
It is just as important for truck drivers to protect their feet as it is to protect their hands. Drivers can prevent injury to their feet by wearing durable work boots.
The best work boots for truck drivers usually have the following features:
Leather uppers (6-inch lace up).
Slip-resistant soles.
Steel toe or composite toe.
Oil-resistant and waterproof material.
Some HazMat truck driving jobs require drivers to wear steel toed chemical boots.
However, not all truck drivers are required to wear steel-toed boots. For example, some of Schneider's Van Truckload drivers and Intermodal drivers are only required to wear footwear that is slip and oil resistant.
Find a boot that fits your needs by checking out our list of the best work boots for truck drivers.
5. Hard hats.
Hard hats are designed to protect the wearer's head from injury due to falling objects, impact with another object, debris, etc.
Typically, tanker drivers and flatbed drivers are required to wear hard hats while loading and unloading freight.
Additionally, some van truckload drivers may be given bump caps (baseball style caps with plastic inserts) to wear. These caps do not provide the same protection as a true hard hat but still shields drivers' heads from minor injuries.
6. Eye protection.
Eye protection like face shields, goggles or safety glasses are designed to protect the wearer's eyes from any foreign objects (chemicals, liquids, dust, etc.).
A driver's eye protection should shield their eyes from both the front and the sides.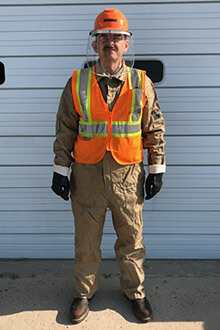 7. Protective suits.
Protective jumpsuits are typically worn by drivers who are handling hazardous materials that could be harmful or dangerous if accidentally spilled.

Drivers will usually wear one of two kinds of suits when handling HazMat freight:
Chemical suits: These suits are usually made of a non-breathable material like latex and are used to protect drivers from accidental exposure to hazardous materials.
Flame retardant suits: These suits are made of a flame retardant, synthetic material that protects drivers from potentially flammable or combustible freight.
8. Respirators.
Some truck drivers haul or handle hazardous materials that could give off dangerous fumes or gases that are harmful to the body's respiratory system. These hazardous materials include:
Poisons.
Certain corrosives.
Oxidizers.
Materials that give off harmful vapors or mist.
Respirators are a kind of HazMat PPE used to filter air and ensure users do not inhale potentially harmful air.
Respirators come in the following styles:
Half face respirators: Covers the mouth and nose of the user.
Full face respirators: Covers the entire face and protects the wearer's nose, mouth and eyes.
Schneider's PPE requirements
Drivers with different jobs follow different PPE procedures. However, in general, Schneider drivers can expect the following:
Non-HazMat Van Truckload, Dedicated and Intermodal drivers: Must, at certain times, wear high visibility safety vests and company-approved slip and oil resistant footwear.
Tanker drivers: Must, at certain times, wear high visibility safety vests, long pants, long-sleeved shirts, hard hats, face shields, safety eyewear, chemical gloves, chemical suits and company-approved steel/composite toe protection footwear.
Flatbed drivers: Must wear hard hats, long pants, long-sleeved shirts and company-approved steel/composite toe safety footwear.
Want to learn more about Schneider's commitment to truck driver safety?
Schneider is dedicated to putting safety first and educating drivers on how to be safer on the roads. Discover even more helpful safety tips by reading more of our safety-focused blogs.
About the author

Schneider Guy loves the "Big Orange." He's passionate about the trucking industry and connecting people to rewarding careers within it. He's been the eyes and ears of our company since our founding in 1935, and he's excited to interact with prospective and current Schneider associates through "A Slice of Orange."
More posts by this author