Top 10 must-have cooking equipment for truck drivers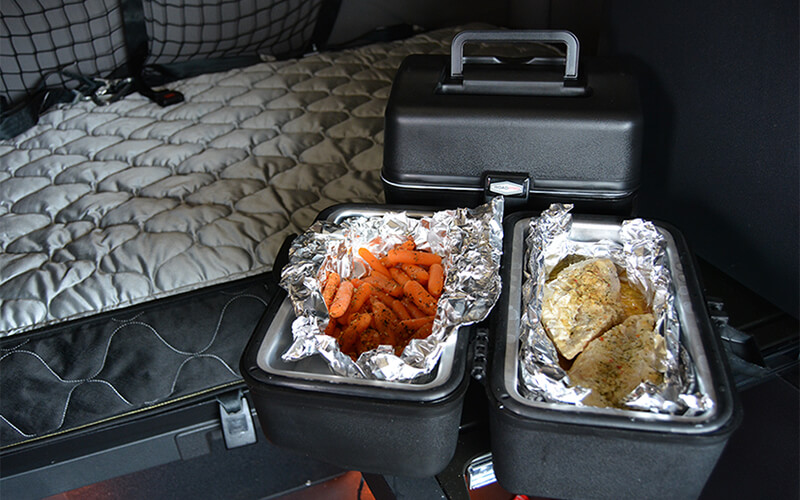 Cooking food on the road is a great way for truck drivers to eat healthy and save money. However, limited space and electricity are just two of the many roadblocks that drivers encounter when cooking in their cab.
Cooking on the road shouldn't have to be hard or inconvenient. That's why we've compiled a list of equipment and appliances that drivers can use to boost their on-the-go cooking capabilities.
The following are our top ten picks for the best cooking equipment for truck drivers:
1. Refrigerator - Keeping things cool
Mini-fridges and electric coolers are great semi-truck appliances for truck drivers. Portable refrigeration is game-changing because it expands drivers' ability to meal prep and eat healthy food while on the road.
To increase driver comfort and convenience, Schneider has included refrigerators in over one-third of company sleeper trucks.
Drivers who lack a built-in refrigerator in their truck can keep food cool by purchasing their own mini-fridge or electric cooler. You can find a cooler that fits your needs by checking out our "Coolers for truck drivers: 5 options for various budgets" blog.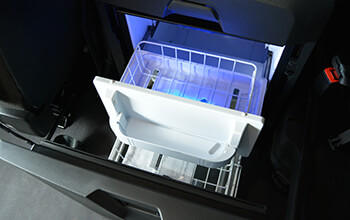 2. Microwave - Making cooking convenient
Microwaves are another essential appliance for on-the-road cooking. Microwaves are convenient and can cook meals in a matter of seconds. This appliance is great for reheating leftovers, cooking frozen meals or heating up a snack.
Microwaves provide plenty of quick and easy cooking options. Plus, there are a variety of microwave options on the market, so truck drivers can easily find an appliance that fits their truck's space and power restrictions.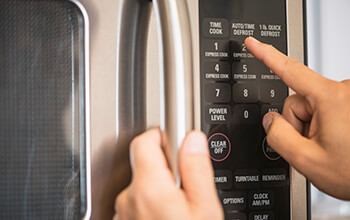 3. Dash Mini Waffle Maker - Maximizing space and versatility

The Dash Mini Waffle Maker provides a 4-inch non-stick cooking surface that heats in minutes and allows drivers to cook variety of quick meals. The Dash Mini Waffle Maker is inexpensive, versatile and only uses 350 watts.
The waffle maker also comes with a convenient recipe book that is packed with plenty of tasty meal ideas. Drivers can also visit Schneider's YouTube channel to find cooking content like the "Cooking in a semi-truck: Omelet" video that highlight the Dash Mini Waffle Maker.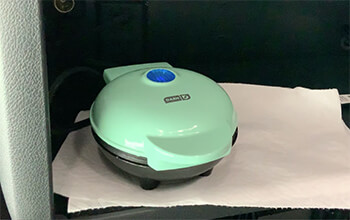 4. 12-volt portable stove - Turning up the heat
This little 12-volt portable stove packs a punch and can cook food at up to 300 degrees Fahrenheit. Maybe the most impressive part about this stove is that it generates the heat through a 12-volt power port, making it one of the best cooking equipment options for truck drivers.
Portable food warmers are perfect for truck drivers because they can reheat leftovers, cook frozen foods and expand hot meal options. Plus, portable stoves are easy to clean, as drivers can use disposable aluminum pans or tinfoil to cook food.
Learn how to cook on the road using a portable 12-volt stove by watching episode one of Schneider's Herbs with Herb, a YouTube series that teaches drivers how to cook in a semi-truck.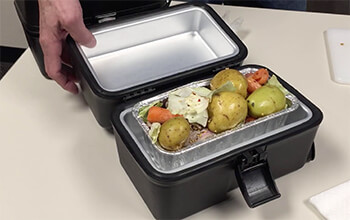 5. Crockpot - Cooking low and slow
There's nothing nicer than having a hot, ready-to-eat meal prepared at the end of a long day of driving. A crockpot is a great solution for truck drivers who don't have the time to prepare a freshly cooked meal at lunch or dinner time. Drivers can simply add their ingredients in the crockpot before they start driving and have a ready-to-eat meal by the end of the day.
Crockpots are an ideal appliance for truck drivers because they are affordable, convenient and come in small size options to accommodate limited storage space.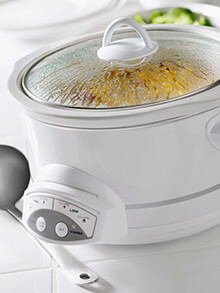 6. Reusable food containers - Making meal prep easy
Another essential piece of cooking equipment for truck drivers are reusable food containers. Drivers have a limited amount of space within their truck, so stackable or nestable food container options are extremely helpful.
Not only do reusable storage containers allow drivers to store meal prep food supplies but having food storage containers also opens the possibility of storing and reheating leftovers in a more environmentally friendly way.
Find plenty of uses for your reusable food containers by reading Schneider's on-the-road meal prep idea blog.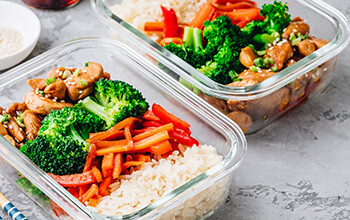 7. Electric skillet - Adding some sizzle
Having an electric skillet broadens drivers' cooking abilities and makes it easy to cook meals that would usually require a stove. Electric skillets are convenient because, unlike an electric stove, the skillet comes with a built-in pan.
Skillets are a great semi-truck appliance because they provide easy temperature control and allow truck drivers to cook a large amount of food evenly. Making on-the-road meal prep a snap.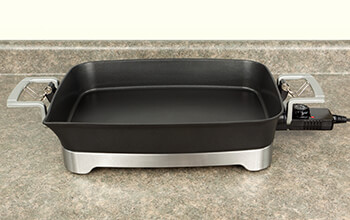 8. Personal blender - Maintaining a well-blended diet
Blenders are a great appliance for truck driver who are looking to eat more fruits and veggies. Drivers can use a blender to make healthy foods and drinks like smoothies, sauces, soups and so much more.
Personal sized blenders are perfect for making single serving recipes and don't need much space or power. Some portable blenders even serve as their own cup, so drivers don't have to worry about packing additional glasses or bottles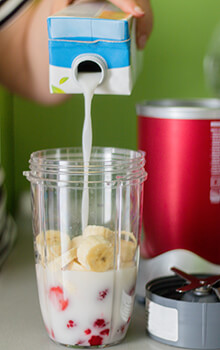 9. Ninja Foodi pressure cooker - Combining cooking capabilities
Can't decide whether you want a presser cooker or air fryer for your truck? Get the best of both worlds with the Ninja Foodi. This appliance combines the cooking capabilities of a pressure cooker and air fryer and can steam, slow cook, make yogurt, sear, sauté, bake, roast, broil and dehydrate food.
The 5-quart Ninja Foodi uses approximately 1460 watts, has 14 safety features and comes with a booklet of delicious 45 recipe ideas.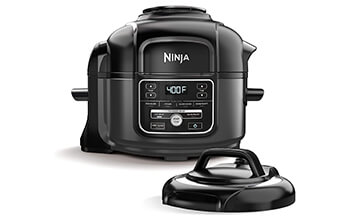 10. Travel spice rack - Spicing up your recipes
It is easy for truck drivers to fall into a rut when it comes to what they eat on the road. Fast food may be convenient, but after a while the food all starts to taste the same. Packing a travel sized spice rack can make a major difference.
Drivers can expand their pallet by experimenting with new recipes and flavors. There are a variety of portable spice rack options ranging from stackable styles to spice containers with their own storage cases.
Trying new flavors will make cooking more exciting and enhance your meal options on the road.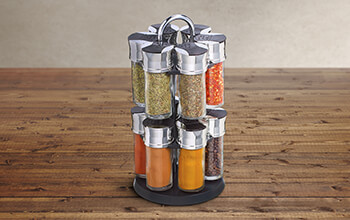 Are you looking for more recipes to try on the road?
Learn how to cook in a semi-truck and find a variety of on-the-road recipes and on our YouTube playlist.
About the author

Schneider Guy loves the "Big Orange." He's passionate about the trucking industry and connecting people to rewarding careers within it. He's been the eyes and ears of our company since our founding in 1935, and he's excited to interact with prospective and current Schneider associates through "A Slice of Orange."