Cooking in a semi-truck: How to save money, eat well on the road
You don't have to live off unhealthy snacks and truck stop food. With a little ingenuity and the right tools, cooking in a semi-truck is a great way to save money and eat healthier.
Top tools for cooking in a semi-truck
Auxiliary Power Unit (APU) – Many trucks, including new Schneider trucks, have them, allowing you to use electrical power with the engine off.
Power inverter – Many Schneider trucks come with 1,800-watt pure sine wave inverters, changing DC power from a battery into conventional AC power to plug in and operate all kinds of devices in the truck.
Refrigerator or 12-volt cooler – New Schneider trucks feature factory-installed refrigerators, but even without one, you can keep food cold on the road with a cooler.
12-volt portable stove, crock pot and/or microwave – There are plenty of ways to cook food on the road, with the first two options allowing food to cook while you drive — as long as you make sure the device is secured to prevent spills and damage.
*Be sure to be aware of your company's policies, as Schneider, for example, does not allow any open heating elements like hot plates or grills.
Other items that will help you cook in your truck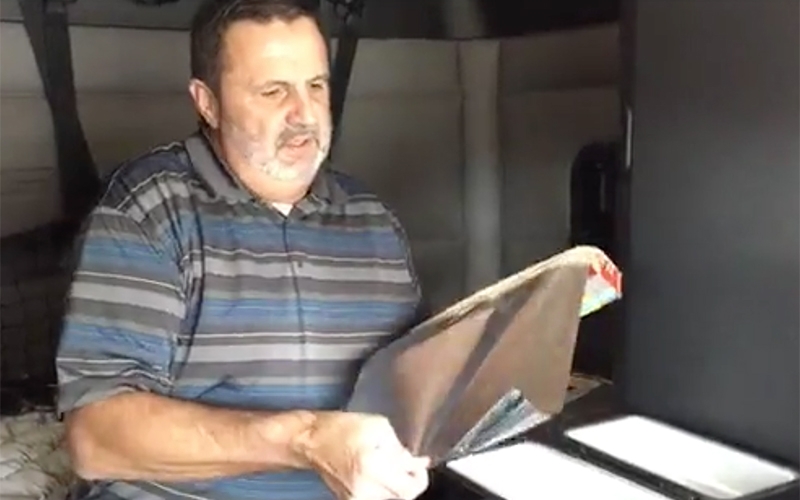 Cutting board – It's good to have multiple surfaces to prepare food on.
Tin foil – Use as a lining for a 12-volt portable stove, for example, since it's less expensive and more flexible than disposable aluminum pans, and makes clean-up easy.
Plastic cutlery and paper plates – Speaking of clean-up, use plastic/paper to avoid the hassle of washing dishes.
Antibacterial wipes – If you're preparing meat, for example, you'll want to guard against contamination by regularly cleaning your hands.
5 pro tips for cooking in a semi-truck
Buy seasoning at discount or grocery stores before you head on the road.
Buy and prepare as much food as you can at home before you head out.
Make sure you always have wipes handy to avoid contamination and keep the truck clean.
When you do buy food on the road, head to any truck-friendly large retailer and buy the food they mark down in price since you'll be cooking it within a few days anyways instead of freezing it.
Plan in advance. Just like you trip plan with each load, meal plan with each trip so you can maximize your budget, optimize the space in your truck and meet your health goals.
Example of how to cook in a truck
Schneider recently launched a truck driver cooking show called "Herbs with Herb," in which former instructor and million-mile driver Herb Moring cooked a chicken and carrot lunch with a 12-volt portable stove. Watch the full video below, in which he:
Bought two chicken breasts for $4
Added garlic herb seasoning, sprinkling liberally and pressing in on both sides
Placed in the cooker in the morning before driving and added a tin foil barrier on top to cook the carrots
Plugged it in about an hour and a half before meal time so it was ready when he stopped
Ate a great lunch that'd work as two meals for $6
Instagram giveaway winner and your ideas to cook in a semi-truck
We recently hosted a trucker giveaway of a 12-volt portable stove through our Instagram page — in which entrants had to tell us what they'd cook in it if they won.
Hundreds of likes and comments later, and our winner is Dawna Remley, who said: "To have hot food in the truck instead of eating out would be so great," noting that she'd make chili.
Congratulations, Dawna!
Hundreds of likes and comments later, and our winner is Dawna Remley, who said: "To have hot food in the truck instead of eating out would be so great," noting that she'd make chili.
Congratulations, Dawna!
Commenters suggested everything from comfort food classics like steak and potatoes, pot roast, meatloaf, tacos and burgers to more elaborate concoctions like slow braised beef osso bucco (bone in of course) with a medley of caramelized baby peel onions, carrots and celery, next to baby Yukon gold potatoes thinly sliced, perfectly seasoned with butter, salt and pepper, mixed with shaved baby brussels and garnished with candied pepper bacon.
We'll excuse your mouth watering if you excuse ours. Best wishes as you find creative ways to cook in your semi-truck!
Looking for more tips on cooking in a semi-truck?
Check out our growing YouTube playlist featuring our "Herbs with Herb" video segments, packed with great advice for preparing high-quality meals on the road.
About the author

Schneider Guy loves the "Big Orange." He's passionate about the trucking industry and connecting people to rewarding careers within it. He's been the eyes and ears of our company since our founding in 1935, and he's excited to interact with prospective and current Schneider associates through "A Slice of Orange."