Top reasons you need a triples and doubles endorsement and steps to get one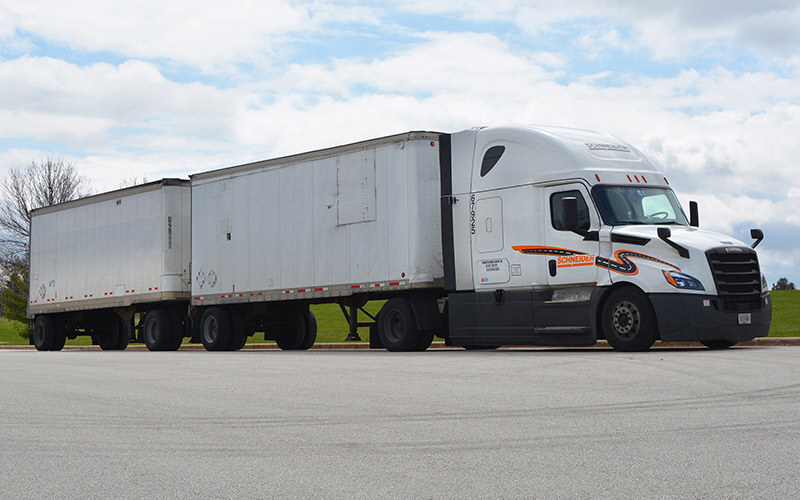 Estimated reading time: 4 minutes
Adding endorsements to your commercial driver's license (CDL) is a great way to expand your driving abilities and increase your overall earning potential as a professional truck driver.
Of the six different types of CDL endorsements, the triples and doubles, sometimes called the "doubles or triples endorsement" or "T" endorsement is one of the least common endorsements for Class A drivers to have. So why get it?
To answer that question, we'll dive into what a triples and doubles endorsement is and reasons to consider getting. If you are interested in obtaining one, we also have included a step-by-step guide to obtaining it.
What is a triples and doubles endorsement?
A triples and doubles endorsement is a certification that authorizes you to drive a semi-truck with multiple trailers attached. These vehicles are sometimes referred to as longer combination vehicles (LCVs).
Having the T endorsement does not necessarily mean that you will have to haul triple trailers. In fact, some companies like Schneider only pull double trailers and do not offer any accounts that require drivers to pull triples.
It's important to note triple and double trailers may be restricted in some states and the legal length and weight of trailers also vary by state. These states are outlined in the Department of Transportation's Freight Transportation System Extent and Use article.
Reasons to get your T endorsement
Regardless of these restrictions, there are still a good number of reasons why drivers add this endorsement to their license.
It never expires: Once you pass the test, you have the endorsement on your CDL forever.
It expands your abilities as a driver: This endorsement allows you to gain valuable driving experience that will help you build your skills. This, in turn, can expand the jobs you qualify for and the loads you can haul.
It increases the amount you can haul: If you are looking to broaden your driving options getting your T endorsement can be a solid next step. Plus, some companies will even pay triple and double drivers more because of how much freight they can haul at one time.
It is easy to get: Obtaining a triples and doubles endorsement is as simple as taking a written exam. This exam is fairly brief and relatively inexpensive, usually ranging from $0 - $50 depending on your state.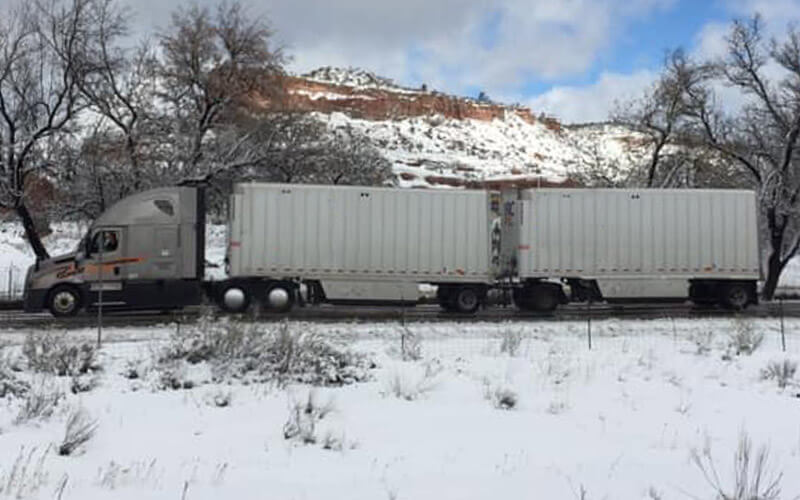 How to get your triples and doubles endorsement
Obtaining your T endorsement is as simple as following these four steps:
1. Obtain a Class A CDL.
You cannot obtain a T endorsement without first having a Class A CDL.
So, before you can start working toward getting endorsements, you'll need to first get your CDL.
2. Study for your endorsement exam.
The next step in getting your triples and doubles endorsement is to prepare for the written endorsement exam. The following are a few topics you'll want to study and memorize before taking your state's exam:
How to properly operate a vehicle hauling multiple trailers.
How to assemble and couple/uncouple trailers.
How to inspect the semi-truck and trailers.
How to handle and stabilize the vehicle while hauling multiple trailers.
How to drive in adverse conditions.
How to react to common problems in traffic operations (e.g. steep grades, longer passing times, splash and spray impacts, aerodynamics, view blockages, lateral placement, etc.).
How to safely react in emergency situations.
The internet is a great resource for finding sample questions and free practice tests to help you prepare for the state test. You can visit your local DMV or go online to obtain a copy of your state's study guide so you can prepare for the exact requirements for your state. You can also use the internet to find sample questions and free practice tests to help you prepare for the state test.
However, if you currently drive professionally, we suggest also reaching out to your company's training team to see if they can provide you with any additional study or reference materials for the T endorsement exam.
3. Take the written triples and doubles endorsement exam.
Depending on where you live, you may be able to take your written endorsement exam at the Department of Motor Vehicles (DMV), at a third-party testing site or in a remote location. There are currently no states that require a road-skills test for the T endorsement.
Most state tests consist of 20 questions and each driver must achieve a score of at least 80% (at least 16 correct answers) to obtain a T endorsement.
Examples of test questions:
In a set of triples, where should the heaviest trailer be?
Why should you never disconnect the pintle hook with the dolly still under the rear trailer?
Why should you never disconnect the pintle hook with the dolly still under the rear trailer?
What is it called when the rear wheels follow a different path than the front wheels when a vehicle goes around a corner?
Additionally, when you go to take the test, you may have to pay a testing fee, licensing fee or both. As we mentioned before, these fees usually cost around $0 - $50, though costs vary based on the state you are testing in.
4. Practice hauling a double or triple trailer.
It is important to note you cannot haul a double or triple trailer without first passing the written exam and obtaining your T endorsement.
So after you've earned your endorsement, be sure to apply your written knowledge to the real world by practicing coupling and driving doubles and triples. Some states may also require drivers to practice under supervision before making deliveries.
We recommend you give yourself plenty of time to build familiarity with the movements and unique handling of double or triple trailers and equipment before you hit the road.
Schneider also offers account-specific, hands-on training for triple and double drivers to ensure that they feel as safe and confident as possible before they haul multiple trailers on their own.
Are you ready to use your triples and doubles endorsement?
Schneider offers a wide selection of unique driving jobs, including some accounts that use multiple trailers to haul loads. Discover triples and doubles opportunities near you today.
About the author

Schneider Guy loves the "Big Orange." He's passionate about the trucking industry and connecting people to rewarding careers within it. He's been the eyes and ears of our company since our founding in 1935, and he's excited to interact with prospective and current Schneider associates through "A Slice of Orange."