What skills do you need to work in a warehouse?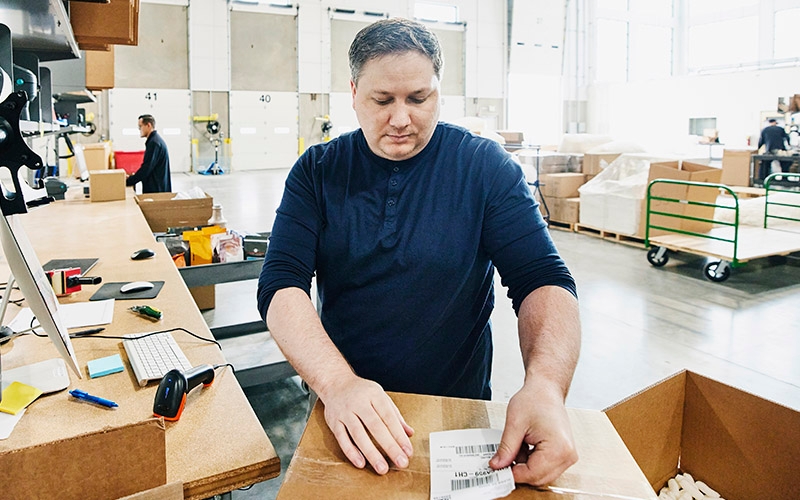 Estimated reading time: 3 minutes
Warehouses operate at a very fast pace, with freight constantly being moved in and out. Warehouse associates play a big role in keeping this vital piece of the supply chain moving every single day.
So, what skills do you need to work in a warehouse? Keep reading to discover the key skills that top-notch warehouse workers should have.
Top 7 skills for a warehouse job
1. Having physical stamina.
Warehouse jobs can be physically demanding. Depending on the role, associates may be required to:
Manually load and unload freight.
Carry or lift items that are 50+ pounds.
Bend or stretch to pick and pack products.
Be on their feet for long periods of time.
Physical endurance is one of many skills for a warehouse job you can develop over time, versus starting the job with it. You can help build your stamina by:
Maintaining fitness with cardio or weight training.
Eating a balanced diet.
Staying hydrated.
Getting plenty of sleep.
2. Being a team player.
From receiving to packing, warehouses operate like a well-oiled machine. Each warehouse associate plays a part in the daily processes to ensure everything runs smoothly.
Just one person not finishing their work on time could have a trickle-down effect on the entire warehouse. For example, if products aren't packed on time, those packages can't be shipped and then delivered to customers on time.
One under-performing associate can negatively impact a warehouse by:
Slowing others down.
Causing missed deadlines.
Creating conflicts amongst workers.
While warehouse associates often work individually, they need to function as part of a bigger unit to ensure all tasks get done efficiently and effectively.
3. Being a strong communicator.
There are many soft skills that are beneficial for warehouse workers to have, including being strong communicators.
Communication is important because warehouse associates work with their immediate teams, suppliers and vendors on a regular basis on things such as:
Assigning tasks or projects.
Giving instructions.
Describing challenges in the warehouse.
Asking questions on related tasks.
Explaining safe work practices.
Effective communication is necessary so everyone has the information they need to do their jobs correctly. Strong communication in a warehouse helps create:
Fewer errors.
Improved safety.
Higher performance.
Satisfied customers.
4. Being an effective problem solver.
At some point in your career, it's inevitable that you will need to overcome a challenge in the workplace. This is true for warehouse associates, too.
Being able to troubleshoot and analyze unexpected problems is a critical skill in a fast-paced, ever-changing environment like a warehouse. Finding solutions quickly ensures freight can get to its destination on time.
5. Being organized with tasks and time.
Since there's a lot of hustle and bustle in warehouses, associates may be assigned multiple tasks at once.
Associates need to stay organized and manage their time properly in order to meet strict deadlines. This will ensure:
Tasks are properly carried out.
Orders go out on time.
Warehouse processes continue running smoothly.
6. Having basic computer knowledge.
As technology advances, computer systems are becoming more integrated into logistics processes. At Schneider, for example, warehouse teams use EDI scanning technology and business systems to streamline processes for cross-docking.
In general, some warehouse employees may need to use a computer or tablet to:
Enter shipping and receiving information.
Update inventory data.
Process work orders.
You don't have to be a tech wizard, but it can be beneficial for warehouse associates to have some basic computer skills and be able to adapt to developing technology.
7. Having a desire to learn.
You don't have to know everything about a warehouse before you start the job. One of the many good warehouse skills you can have is being able to quickly learn new skills and processes while on-the-job.
The desire to learn could also create new opportunities to advance your career within the warehouse.
Ready to start applying for warehouse jobs?
Check out our blog to find out what to expect when you start applying for roles in a warehouse, including how to fill out an application and prepare for an interview.
About the author

Schneider Guy loves the "Big Orange." He's passionate about the trucking industry and connecting people to rewarding careers within it. He's been the eyes and ears of our company since our founding in 1935, and he's excited to interact with prospective and current Schneider associates through "A Slice of Orange."
More posts by this author