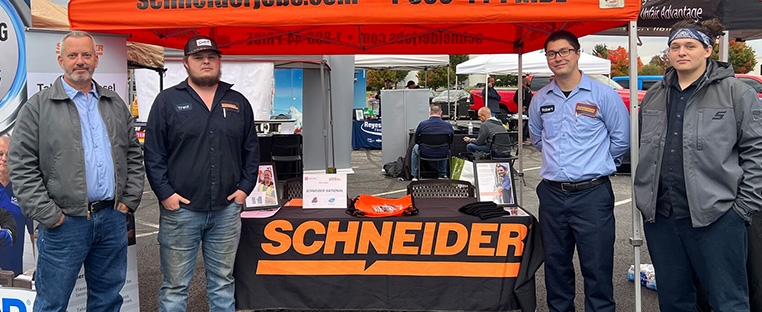 Students
Hiring the next generation of diesel technicians
Schneider sets recent college grads up for successful careers by providing exciting entry-level diesel technician jobs. Take what you learned in school and get started on your path to a rewarding career in the shop.
Jumpstart your career with an industry leader
Schneider uses state-of-the-art technology and tools to keep our trucks running. Our maintenance teams are some of the best in the business, and Schneider shops need up-and-coming diesel technicians just like you.
You'll hit the ground running with a competitive benefits package that includes healthcare options, paid time off, a 401(k) with company match and more. Plus, Schneider's wide variety of shop opportunities gives new diesel technicians the freedom to choose a schedule that works for them, grow their way into a specialized role or pursue a shop management position.
"Our mission is to provide state-of-the-art shops, technology and ongoing training to allow associates to be the best they can be."

A partnership that pays off for you
Schneider partners with technical colleges in every region of the U.S. to provide students with entry-level diesel technician job opportunities after graduation. Some of the schools we partner with include:

Nashville, TN
Grand Prairie, TX
Dallas & Fort Worth, TX
Indianapolis, IN
South Plainfield, NJ

Laramie, WY

Des Moines, IA
Memphis, TN

Lima, OH

Nashville, TN

Pittsburg, PA

Glendale Heights, IL
Sacramento, CA
Exton, PA
Rancho Cucamonga, CA
Houston, TX
Irving, TX
Avondale, AZ

Green Bay, WI
Career fairs
Schneider recruiters participate in career fairs at technical colleges nationwide. Meet with us at one of our upcoming events, or email us at
recruiting@schneider.com
for more information on exact times and locations.
Find a Diesel Technician job near you