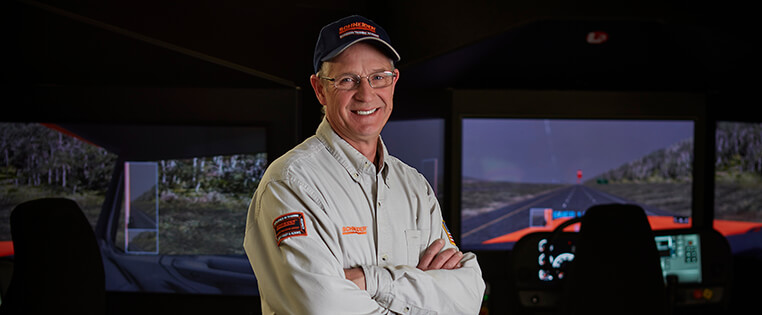 Career paths
A truck driver career path for every stage of your life
No matter what driving job you start with, your goals for your truck driver career path or where you want to go in life, Schneider has an opportunity that fits. From obtaining your CDL to entering retirement, we've got you covered.
Driving options that grow with you
Schneider has the widest variety of truck driving opportunities in the industry. We understand life changes and so do your career needs, so we offer lots of opportunities to advance your career in truck driving.
Opportunities for growth in your current role

We reward drivers' loyalty through anniversary reviews, pay increase opportunities, additional paid time off, entrance into Schneider's Advantage Club and so much more.

Transfer to a different Schneider driving job

Need more home time, a change of scenery or a new challenge? No need to leave the company. Our Transfer Team is always available to help drivers find a Schneider job that better suits their current needs.
"I'm very proud to be a training engineer, helping the new drivers learn the Schneider way, learn how to drive a truck and do it safely and work in the rail yard safely."

Christine
Training Engineer
Training and mentoring opportunities
As you become a more experienced truck driver, you'll know first-hand what it takes to succeed on the road. After you've been here six months, Schneider offers several opportunities to share your experience with new drivers — and get rewarded for it:
Training engineer (TE) – Run for about a week with a driver during his/her final stage of training, providing a positive first exposure to life on the road. Enjoy additional daily pay and bonus opportunities. Train full-time or part-time and earn up to $10,000 more than an average solo driver.
Driver Instructor – Teach new Schneider drivers how to drive safely and efficiently. Coach, mentor and onboard drivers as they attend training, and evaluate their skills to ensure they will be successful driver associates.
Driver Trainer – Act as a subject matter expert for new Schneider drivers. Take drivers out on the road to help them gain experience and show them how to properly complete inspections and common truck driving maneuvers.
Driver Mentor – Team up with new drivers for four-week periods to help them gain experience and increase their confidence on the road. Mentors earn $1,000 per week, plus $0.20 per mile for all dispatched miles the truck runs (both their miles and their mentee's).
"It was time for a change, and Schneider offered me the opportunity to work in the office. I really liked learning this side of the business, and the transition was seamless. The opportunities are definitely there for drivers."

Jeff
Client Services Manager of Operations
Find a job that grows with you.