Meet 2016 Ride of Pride driver, military veteran John Ritscher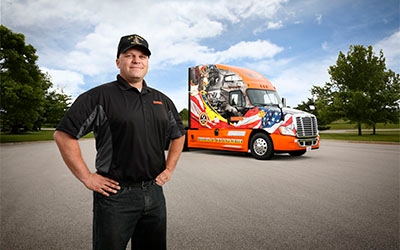 Schneider company driver and military veteran Jon Ritscher wasted no time jumping into his role as the 2016 Ride of Pride driver. From the time he was notified that he had been selected to the time he picked up his new military tribute truck was only about two weeks – and the pace hasn't let up since.
Jon traveled to Freightliner's Cleveland, N.C., manufacturing plant to pick up the truck and participate in a dedication ceremony. Seeing the truck for the first time was especially emotional since, coincidentally, one of the photographs on it shows a manned convoy similar to those Jon was in while he served in Iraq.
After the ceremony, Jon immediately drove to Washington, D.C., to meet up with Jay Hull, the 2015 Ride of Pride driver. Together, they participated in the Rolling Thunder motorcycle event on Memorial Day weekend. They met military veterans and hundreds of the nearly one million bikers who were there and took part in the event's parade – driving in the middle of the pack.
Jon, who works out of the Columbus, Ohio, office, was nominated for the Ride of Pride position by his driver leader, Dan Dutton.
"I knew Jon would be an excellent choice," said Dan. "Jon not only meets all of the necessary criteria, he's just a great guy. Jon is always happy to help drivers with issues and his performance is stellar. Plus, he keeps a clean truck – and I knew he'd take great care of the new unit. More important, he'd be a good representative of Schneider values."
Jon has a reserved and dignified personality, and he is still adjusting to the limelight.
"I am certainly more noticeable when driving the Ride of Pride. People stare and often wave; kids always make the horn-honking signal; people on motorcycles will often escort me for a while. I'm still not used to being the center of attention, but I just remind myself it's not about me, it's about all military veterans!"
Born and raised in central California, Jon was actively involved in the Boy Scouts, which continued until he became an Eagle Scout. His background in scouting made Jon think the military might be a good fit, and he joined the U.S. Army in 2002 when he was 20.
Jon started basic training at Fort Knox, Ky., and his first duty station was Fort Lewis, Wash. From there, he left for his first tour in Balad, Iraq. When he came back, he was stationed in Hawaii until he started his second tour in Tikrit, Iraq. Jon was part of a support unit that provided fuel.
"You could think of it like a full-service gas station for Army helicopters, but we also provided support and service to all types of aircraft from every branch of the military."
He went on to explain how the experience helps him in his current role as a truck driver: "It was easier for me starting out. I was used to moving around huge aircraft – towing them and maneuvering them into hangars – where one scratch could be a million-dollar mistake. So, backing a truck seemed like a fairly easy concept and less intimidating than it might be for other new drivers.
"Overall, I liked the experience of being in the Army – I worked with some of the best personnel, I got to work on some amazing equipment and see incredible aircraft up close. I learned some serious life lessons and I grew up a lot very quickly. I think it helped that I let a lot of things just roll off my back; I don't sweat the small stuff."
After eight years in the Army, Jon used his GI Bill® to obtain his Commercial Driver's License (CDL). Because Schneider has been accepted into the U.S. Department of Veterans Affairs' exclusive Military Apprenticeship Program, Jon was also able to earn a monthly educational benefit check during his first full year as a driver in addition to his Schneider paycheck.
Like most drivers, Jon says the hardest part about trucking is being away from his wife and 5-year-old son.
"My job causes all of us to have to make sacrifices; but in the end, my wife and I think it's worth the opportunities my job provides. When I am home, I make sure I enjoy and appreciate every moment."
Now that he's been named the 2016 Ride of Pride driver, Jon is ready for whatever comes his way.
"I'm looking forward to jumping in to the unknown. This wasn't an expected line in my career path, but I welcome all of the experiences yet to come, and I promise to give it my best effort. The Ride of Pride is a rolling tribute to all of those who have served in the military, and I'm honored to be its custodian and steward."
Learn more about our military benefits.
Learn more about how we show our appreciation to veterans by converting military experience to Schneider pay, offering competitive benefits and providing a flexible work schedule.
About the author

Schneider Guy loves the "Big Orange." He's passionate about the trucking industry and connecting people to rewarding careers within it. He's been the eyes and ears of our company since our founding in 1935, and he's excited to interact with prospective and current Schneider associates through "A Slice of Orange."