Schneider's 2020 Ride of Pride driver: Retired Marine Tom Lehr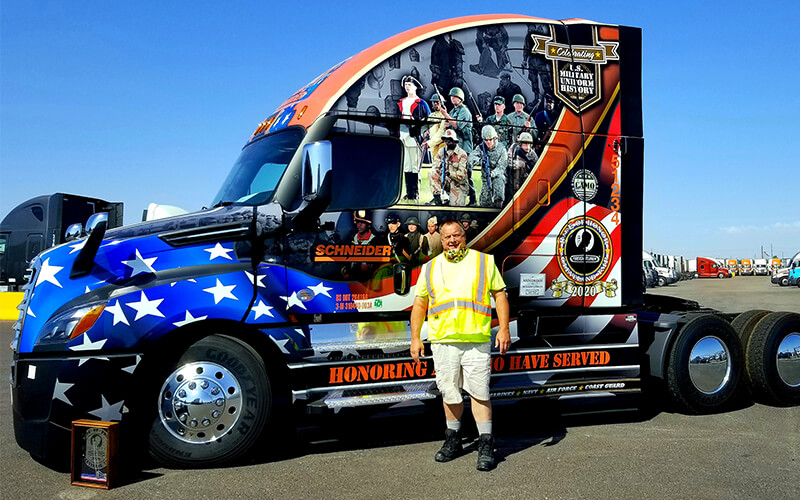 When Tom Lehr attended a Schneider hiring event at Camp Pendleton in 2001, he already had a lot of miles in his log book. Having spent 22 years in the U.S. Marine Corps, he knew a thing or two about traveling.
Now, after 19 years as a professional driver and training engineer with Schneider – one who has more than a million safe miles on record – Tom is taking on yet another role: Ride of Pride driver.
Serving in the military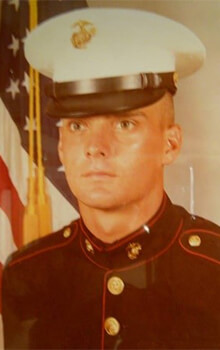 Tom was selected to become the 2020 Ride of Pride driver because his illustrious career as Marine. He received several service awards including: The Navy and Marine Corps Commendation Medal, Navy Achievement Medal, multiple Good Conduct Medals and the National Defense Service Medal.
Tom enlisted in the U.S. Marine Corps in 1978 and attended training at Camp Pendleton in California. His military background includes:
| | |
| --- | --- |
| 1978 | Enlisted in the U.S. Marine Corps |
| 1979 | Training at Camp Pendleton, CA; duty station with Dragon Platoon, Weapons Company 3rd Battalion 4th Marines, Camp Schwab Okinawa, Japan |
| 1980 | Anti-armor weapons instructor; attended Non-Commissioned Officer Academy (Quantico, VA) |
| 1981 | Promotion to Sergeant; member of the Color Guard for the Officer Basic School (Quantico, VA) |
| 1983 | Infantry Training School (Camp Pendleton, CA) instructor for 0351 Anti-Armor Assaultman and the Dragon instructor course; returned to Japan with TOW Platoon, 4th Marine Regiment |
| 1987 | Reassigned to 3rd Tank Battalion (Twentynine Palms, CA), serving as a squad leader and later section leader for the Scout Section in TOW Company |
| 1988 | Deployed with 1st Tracked Vehicle Battalion to Japan and Korea |
| 1989 | Attended Staff Non-Commissioned Officer Academy |
| 1990 | Selected for Recruiting Duty and served 40-month tour (Yuma, AZ); served as Non-Commissioned Officer in Charge of the Recruiting Substation (El Centro, CA) |
| 1993 | Assigned to 2nd Battalion 9th Marines for duty as a Platoon Sergeant with Fox Company; attended Platoon Sergeants Course (Camp Pendleton, CA) |
| 1994 | Deployed to Okinawa Japan for duty with the 31st Marine Expeditionary Unit (MEU/SOC) |
| 1995 | Chief Instructor at the Corporals Course (Camp Pendleton, CA) |
| 1996 | Promoted to Gunnery Sergeant; Weapons Platoon Commander for Fox Company; Deployed to training operations in Australia with Tandem Thrust; Fox Company Gunnery Sergeant |
| 1997 | Completed Staff Non-Commissioned Officer Advanced Course, after which became Operations Chief |
| 1998 | Reassigned as the Operations Chief for Headquarters & Support Battalion (Camp Pendleton, CA) |
| 2000 | Returned to Infantry Training Battalion and served as Logistics Chief until his retirement in 2001 |
When thinking back on his 22 years in the Marine Corps, one of the biggest things that sticks out to Tom is the people he worked with.
"Do I miss serving? Yes – of course," Tom said. "Especially the people. I got to train thousands of amazing Marines who went on to have much success, and I like knowing that they carried something I taught them forward out into the world."
In addition to serving his country, Tom also loves playing football. He was an offensive guard for Camp Pendleton's football team.
In fact, he was a member of four All Star teams, a recipient of two Golden Helmet awards, as well as two base Championships.
"My favorite team was the 1978 Oakland Raiders – and that's the rough style of football I played," Tom said. "I ended up playing so long that my football helmet got to be older than my coach!"
Becoming a Schneider driver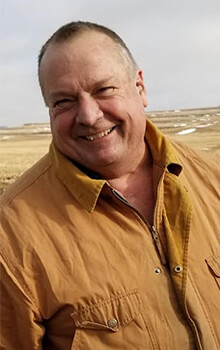 Today, Tom works in Schneider's Van Truckload division as a Midwest Regional Over-the-Road driver based in Iowa. Tom said he'll be representing the Urbandale, Iowa operating center while captaining the Ride of Pride truck.
"This selection doesn't just reflect on me, it's for all the people in Urbandale that support the drivers and make everything work for us," Tom said. "We are just a teeny little OC, so to have this kind of recognition focused on our humble location is a great privilege."
Visiting interesting new places and interacting with a variety of people are two reasons why Tom enjoys being an over-the-road driver.
"It has given me the opportunity to finally see the country that I had been protecting," Tom said. "When you roll through the Dakotas and watch a sunrise, or you cruise through the Rockies on a nice spring day, it makes all that effort you did in service worth it."
His new role as the Ride of Pride driver
As with all Schneider Ride of Pride tractors, Tom's has a name: Fidelity.
"I selected the name Fidelity for my Ride of Pride truck because the Marine Corps motto is Semper Fidelis, which means always faithful," Tom said. "That's what I strive to be as a Marine, as a driver, a husband and father."
Being able to talk with people and educate them on the military is the thing Tom is most looking forward to in his new role.
"Do I like being center of attention? No – not really," Tom said. "But I love talking to people; I like educating people. That's what is exciting about this truck – there's so much to talk about!"
Your next driving job starts here
Enter your ZIP code and find a Schneider truck driving job in your area that provides the stability and opportunities you've been looking for.
About the author

Schneider Guy loves the "Big Orange." He's passionate about the trucking industry and connecting people to rewarding careers within it. He's been the eyes and ears of our company since our founding in 1935, and he's excited to interact with prospective and current Schneider associates through "A Slice of Orange."
More posts by this author