Ride of Pride
Rolling tributes to military past and present
This special fleet of trucks acts as a rolling tribute to veterans and are captained by an elite team of drivers with military experience. Over the years, Schneider has received 13 Ride of Pride trucks from Freightliner.
Ride of Pride fleet close-up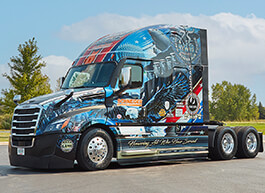 2022
The 2022 Ride of Pride truck, a Freightliner Cascadia®, honors the 75th anniversary of the United States Air Force. It includes images of military aircrafts, airmen, a bald eagle and features hood decals that pay tribute to prisoners of war (POWs) and those missing in action (MIA).

History of the Ride of Pride
The Ride of Pride originated in 2001, when Ed Keeter, a shift manager and U.S. veteran at Freightliner's manufacturing plant in Cleveland, N.C., proposed the project as a way to honor military veterans. It quickly became part of a national effort that includes participating in major events like the annual Ride for Freedom (Rolling Thunder) and Wreaths Across America.
"Schneider has shown a great commitment to the U.S. military since its very beginning. Freightliner is proud to share this special vehicle with a carrier that feels as strongly about those who serve as we do."
Mike
Freightliner Cleveland, N.C., plant manager
Discover more about what Schneider has to offer for military veterans.