Schneider's 2022 trucks introduce superior safety tech and enhanced engines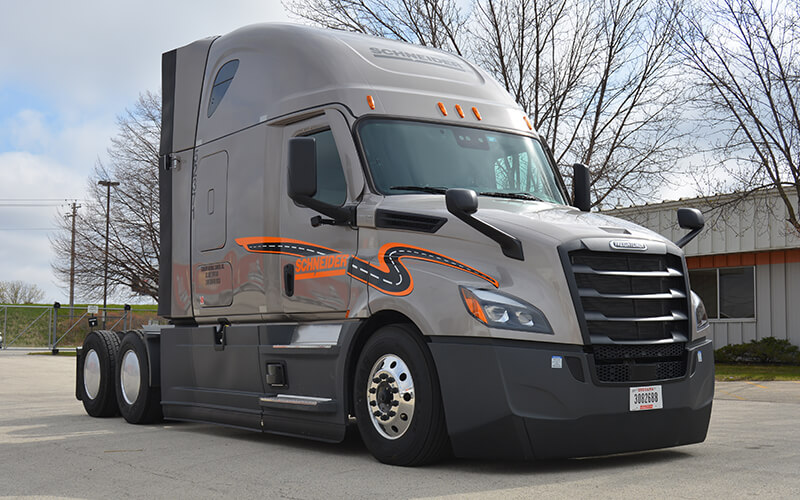 Schneider is passionate about innovation, improvement and driver safety. This dedication to improving the driver experience has led to continual investment in upgrading the technology and equipment drivers use every day.
This year, Schneider is enhancing the driver experience even more by rolling out new 2022 Freightliner Cascadias. The new Freightliner model is packed with Schneider-customized features that increase driver safety and truck efficiency.
The new trucks are being distributed to drivers throughout all of Schneider's service offerings. The following are just a few spec highlights of the new 2022 Schneider trucks:
Engine and power upgrades
15L engine: Detroit DD15 Gen5
All 2022 Freightliner Cascadias are equipped with the new Detroit Gen 5 engine. This engine has been engineered to increase durability, efficiency and performance and provides improved fuel economy.
Schneider's 2022 Freightliners also come with a new Aftertreatment System that includes increased ATS intervals, updated engine brake and ThermoCoasting. This system enhances vehicle reliability and provides better up-time and higher productivity due to extended maintenance intervals.

New engine features also include:
Further down-speeding.
Improved power training
Upgraded transmission.
Fuel efficiency enhancements that include lower air dam, tow hook covers, chassis fairing skirts, A-pillar vanes and side extender seals.
Battery shutoff switch.
Enhanced safety features
Driver safety is our number one concern at Schneider, and we are constantly looking for new ways to upgrade the safety of our fleet. Our dedication to safety innovation means the 2022 Freightliners are spec'd with industry leading safety features that are designed to keep our drivers safe.
The new 2022 Freightliner safety features include, but are not limited to:
LED headlights
These trucks are equipped with efficient LED headlights. The new headlights provide a "whiter" light than the average halogen headlight, increasing driver visibility by providing a better field of view.
LED headlights are also significantly more efficient, as they have up to 12 times the life expectancy of halogen bulbs.

Detroit Assurance 5.0
Detroit Assurance 5.0 provides industry leading collision mitigation for truck drivers. This braking system is always on and detects distances of objects ahead of the truck (including moving and stationary pedestrians) to determine if or when braking is necessary. Detroit Assurance then warns drivers using visual and audible warnings before partially or fully braking.
Air disc brakes on all axles
Having air disc brakes on all wheel axles means drivers can stop in shorter distances and feel less vibration and pull while braking. The addition of air disc brakes also improves driving performance on steep or mountainous roads.
Side Guard Assist
Side Guard Assist is an optional feature Schneider specifically chose to install within the new 2022 Freightliner trucks. This feature detects objects such as vehicles and pedestrians on the passenger side blind spot of each truck and warns the driver if it is unsafe to change lanes.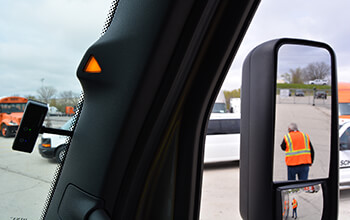 Lane departure warning
If a truck drifts from lane without a turn signal activated, this system makes a rumble strip sound and display a visual warning to alert the driver of the lane departure. This system assists drivers in staying safe and alert while driving.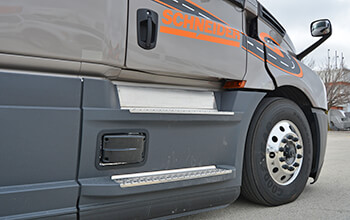 Continued improvement of driver comfort and safety
In addition to the new safety features listed above, all new Schneider 2022 Freightliner trucks come equipped with additional safety technology that has been standard in the Schneider fleet since 2020.
These additional safety features include:
Battery-powered APU and HVAC systems
Schneider's new trucks (full sized sleepers) come equipped with battery-powered Auxiliary Power Units (APUs), heating, ventilation and air conditioning (HVAC) systems, diesel-powered heaters and optimized idle. These systems work together to allow truck drivers to manage climate control in their cabs while they sleep without having to constantly run their engine.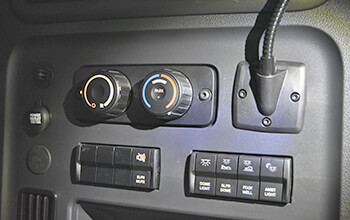 Mini fridges
Built-in refrigerators (included in full size sleepers) offer the convenience of cold food and drinks on the road. Having refrigerated food storage also allows drivers to prepare more home-cooked meals and eat healthier while they travel.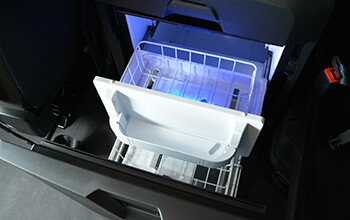 SmartDrive camera system
The forward-facing and rear-facing (not driver-facing) SmartDrive cameras, located on the front of the truck and on its mirrors, are used for video capture only (no audio recording, not driver-facing) and are separate from the Lane Departure Warning system. These cameras protect drivers by providing video on-demand when they need it most.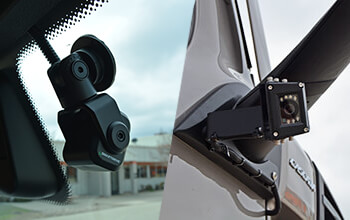 SmartDrive sensor bar
SmartDrive's sensor bar combines GPS, accelerometers and LEDs diagnostics to provide driver feedback. The analytics collected from the sensor bar are then used to improve driver efficiency, performance and safety.
SmartDrive keypad
This keypad, located near the steering wheel on the dash, helps technicians to run diagnostics and allows drivers to trigger manual video. This can be beneficial when a driver needs to time stamp or record a specific event while on the road.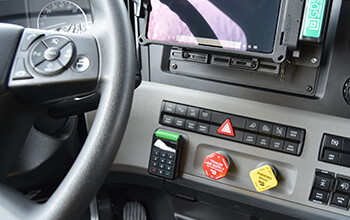 Schneider's fleet contains trucks with varying model years and specs, some of which may not be available at any given time or location. Drivers are encouraged to contact their team leader for more detailed truck spec information.
Want to learn more about Schneider's driver technology?
Driver safety is Schneider's top priority. That's why we are constantly working to improve driver safety through technological innovation. Check out our latest technological advancements.
About the author

Schneider Guy loves the "Big Orange." He's passionate about the trucking industry and connecting people to rewarding careers within it. He's been the eyes and ears of our company since our founding in 1935, and he's excited to interact with prospective and current Schneider associates through "A Slice of Orange."
More posts by this author