Artificial intelligence in the trucking industry and Schneider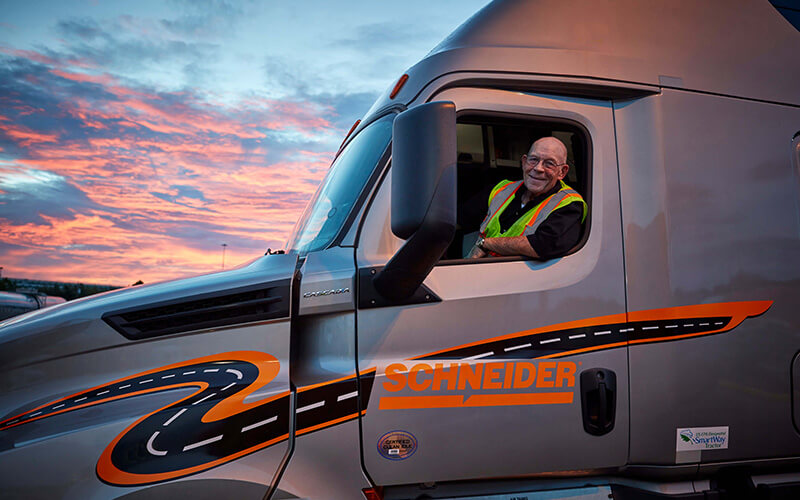 Artificial intelligence (AI) is currently one of the most talked about topics in trucking, and many other industries. The ability for technology to effectively perform tasks that have traditionally been done by people drives imaginations and raises questions about what the future could look like in terms of AI and autonomous (self-driving) trucks.
We turned to two Schneider subject matter experts, Eric Christenson, Manager of IT Advanced Analytics, and Shane Achterberg, Manager of IT Innovation, to learn a little more about AI in transportation.
Although both Shane and Eric have extensive backgrounds in AI, they indicated that their perspectives have been shaped by both their experiences and their opinions, and that everyone and every company has their own point-of-view of how AI is impacting the industry.
Q&A about artificial intelligence in the trucking industry
Question: What is artificial intelligence or AI?
Answer: Artificial intelligence (AI) is a set of capabilities that allow a computer to do something that would have required human intelligence in the past, and/or would take far too long for a human to do. In general, AI helps to:
Conduct analysis and make complicated decisions in a fraction of the time.
Take over mundane or repetitive work (freeing people to focus on higher-value tasks).
Perform visual tasks.
But it is not just about machines assisting humans. AI requires two main pieces – humans assisting machines and machines assisting humans. Humans are needed to train the machine to perform critical tasks, explain the outcome of those tasks and sustain the responsible use of the AI. These are vital for AI to be a valuable asset used by people or organizations.
Question: What are some of the misconceptions of AI?
Answer: When people think of AI, many often visualize using an Alexa in their home to play their favorite song or order a pizza. However, AI, especially in industries like transportation, goes far beyond that. Because AI is so dynamic and complex, we have only scratched the surface in discovering all we can do with it.
AI is not magic. It has limitations that are even harder to break through than human limitations. It is also important to keep in mind AI is not just machines assisting humans. AI requires two main pieces – humans assisting machines and machines assisting humans.
Question: How is AI improving the transportation industry?
Answer: While many people may assume AI is solely being used in transportation to create autonomous trucks, the main uses are much more general.
Schneider has been using AI to help improve the work experiences for drivers and other associates, along with helping customers conduct business more effectively and efficiently.
A simple example would be automating the extraction of key data fields from customer communications or documents and feeding them into decision processes. AI can be used to automate a response with the information being requested or automate decisions that would have historically required a longer response time with more human intervention.
Question: Can AI replace truck drivers?
Answer: Although no one can predict the future, we can assume AI will keep changing the lives of truck drivers for the better. Professional drivers will continue to perform critical work through delivering customers' freight, interacting with those customers and keeping our highways safe. AI is already, and will enhance each of those functions by:
Refining load assignments from millions of possible route combinations to match drivers with loads to maximize productivity or meet driver preferences, leading to better home time and earning potential.
Automating ETA (Estimated Time of Arrival) updates to improve customer visibility and create a more seamless delivery process.
Enhancing drivers' skills and reaction time through driver-assist technology, leading to safer roads.
Ultimately, AI can complement the great work of drivers and provide better quality of life.
Question: What are the positives of using AI in the transportation industry?
Answer: Although AI is still in the beginning stages, we have already seen the positive impacts it has, including:
It opens doors for associates to complete higher-level-thinking jobs and fewer repetitive tasks.
Companies can consume larger sets of data in a shorter amount of time.
Experts are making decisions quicker and with fewer errors.
Question: What are the drawbacks of using AI in the transportation industry?
Answer: Some of the biggest setbacks the trucking industry is facing in terms of AI include:
It can be difficult to convey and understand why decisions were made because AI has limited transparency of why it did what it did.
We have high expectations while using AI, when in reality, we are only scratching the surface right now with it.
Question: What is the number-one thing you wish people knew about AI and truck driving?
Answer: We are just in the beginning stages of using AI. There will continue to be an unimaginable amount of opportunity in almost every industry, including trucking, to use AI to improve the experiences of drivers and shippers.
Apply to a company that puts its drivers first.
At Schneider, we know the drivers are at the heart of the company. Search our job openings and see what we have to offer.
About the author

Schneider Guy loves the "Big Orange." He's passionate about the trucking industry and connecting people to rewarding careers within it. He's been the eyes and ears of our company since our founding in 1935, and he's excited to interact with prospective and current Schneider associates through "A Slice of Orange."
More posts by this author