How many hours can a truck driver drive? What you need to know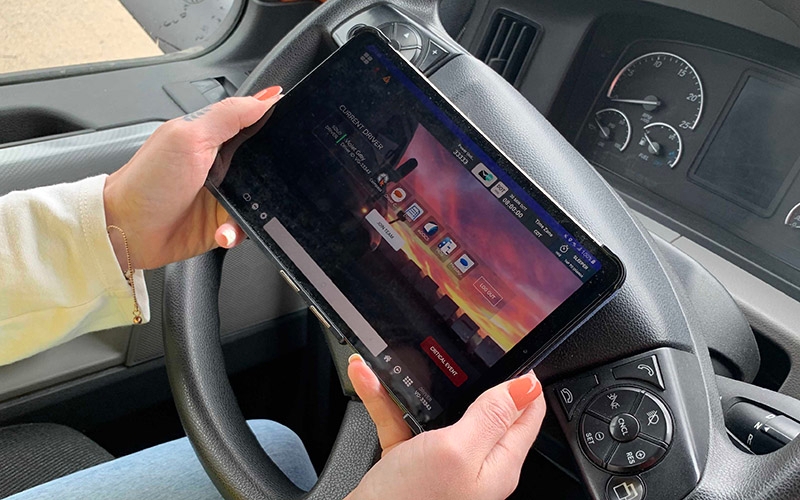 Estimated reading time: 4 minutes
Commercial truck drivers involved in interstate commerce must adhere to federal Hours of Service (HOS) regulations. These regulations include:
The maximum amount of time a driver can work.
The minimum amount of time a driver must rest before returning to work.
The regulations can be confusing. Many new drivers need time to fully understand the ins and outs of HOS rules. That's why many drivers ask, "How many hours can a truck driver drive?"
The 5 essential Hours of Service rules
These are five HOS rules all truck drivers should be aware of:
1. The 11-hour rule.
The driving time limit for truck drivers is 11 hours.
2. The 14-hour rule.
Drivers have a 14-hour window to drive a maximum of 11 hours. They are required to take a 30-minute break after eight hours of driving.
With the 14-hour rule, drivers cannot drive after the 14th consecutive hour they are on duty until they take 10 hours off duty.
3. The 10-hour break.
The 10-hour break is defined as 10 consecutive hours in an off-duty status. This can be:
10 consecutive hours in the sleeper berth.
10 consecutive hours of personal time.
A combination of Lines 1 and 2 for 10 consecutive hours.
4. The 60/70-hour limit.
Drivers cannot continue driving after they've reached:
60 hours on duty in a seven-day period.
Or, 70 hours on duty in an eight-day period.
5. The 34-hour restart.
The 34-hour restart rule allows drivers to reset their 60-hour or 70-hour clocks to zero.

Drivers can take advantage of the rule at any time by taking at least 34 consecutive hours off duty or in a sleeper berth.
The 4 truck driver log duty statuses
Truck drivers are required to log their off-duty, sleeper berth, driving and on-duty hours – each are recorded as a different status.
Most electronic logs capture driving time automatically. However, truck drivers are responsible for accurately recording their non-driving time.
Log statuses include:
1. Off duty (Line 1).
Line 1 includes all times a driver is not driving or performing other duties required by the job.
During this time, the driver is not required to be ready to work and can do other activities, like eat a meal, exercise, spend time at home or relax at a truck stop.
2. Sleeper berth (Line 2).
Line 2 includes all time a driver spends in their sleeper berth.
3. Driving (Line 3).
Line 3 includes all time a driver spends at the controls of a commercial motor vehicle (CMV) in operation.
4. On duty not driving (Line 4).
Line 4 includes the time a driver is doing non-driving work or must be ready to work, until they are relieved from work. It includes tasks like:
Loading/unloading freight.
Training other drivers.
Fueling a truck.
The 6 common exceptions to the Hours of Service rules

HOS regulations apply to most CDL drivers. Like most rules, there are some expectations.
It's up to every driver to understand what, if any, expectations apply to their role. Some of the more common ones include:
1. Team drivers.
Team drivers are allowed to spend up to two hours of off-duty time in the passenger seat while their teammate is driving.
2. Personal conveyance.
Personal conveyance includes using a truck for personal transportation. See FMCSA guidance for more information.
3. Yard moves.
Driving done in a limited-access lot or yard can be performed in on-duty not driving status.
4. Short-haul exemption.
CDL drivers who consistently operate within a 150 air-mile radius and begin and return to their terminal within 14 hours may be exempt from keeping logs. These drivers may report daily hours instead.
5. Adverse driving conditions.
Drivers may extend their maximum driving and the maximum workday limits by up to two hours when operating in certain driving conditions.
The FMCSA defines these conditions as conditions that could not have been known at the start of the run, including:
Snow.
Sleet.
Fog.
Highway covered with snow or ice.
Unusual road and traffic conditions
6. Direct emergency assistance.
Drivers may complete their run, even if they will exceed their HOS limits, under certain emergency conditions, such as a federal or state emergency declaration.
Read the full Hours of Service regulations and understand company-specific rules to stay compliant.
Why following the Hours of Service rules is important
HOS rules were established to protect the safety of professional drivers and the motoring public.
Drivers who violate HOS rules may be placed out of service and fined for a regulation violation. It can also negatively impact a driver's and carrier's Compliance, Safety and Accountability (CSA) score.
Depending on the severity of the violation, drivers and carriers may also face civil penalties.
Get the most for your time on the road at Schneider
At Schneider, we want our drivers to maximize their miles and earnings while they are on duty. Now is the time for you to start earning more.
About the author

Schneider Guy loves the "Big Orange." He's passionate about the trucking industry and connecting people to rewarding careers within it. He's been the eyes and ears of our company since our founding in 1935, and he's excited to interact with prospective and current Schneider associates through "A Slice of Orange."
More posts by this author