8 tips for positive communication etiquette in the workplace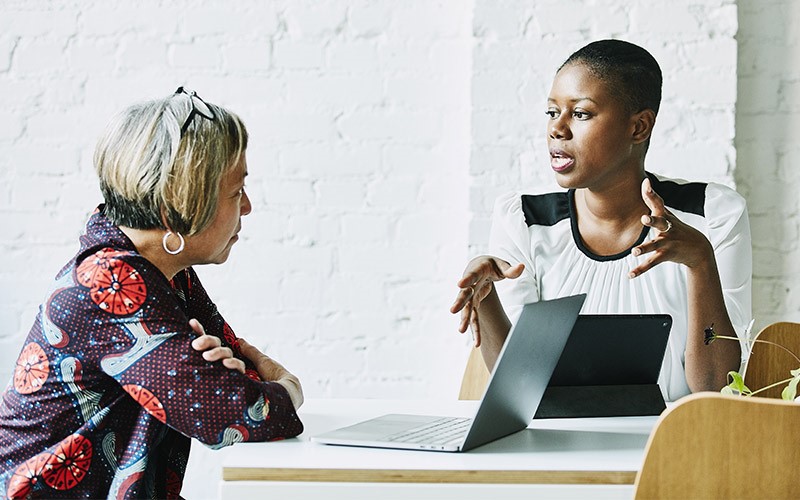 Estimated reading time: 3 minutes
Business communication etiquette is important in any workplace setting. It's the cornerstone of effective, productive collaboration between colleagues and customers.
Help foster a respectful office environment by following my eight tips for effective communication etiquette in the workplace.
Best practices for business communication etiquette
1. Avoid gossip and controversial topics.
Office gossip, politics and religion should always be avoided in the workplace. If you aren't sure if the topic is appropriate to talk about, it's probably not something that should be discussed.
2. Know your audience.
In addition to what's being said, good business communication etiquette takes into account both who you're talking to and how your message is being delivered.
Take the time to learn more about the people you're talking with, so you can craft your conversation in a way that resonates with them.
Figure out how your team prefers to communicate, whether that be:
In person.

Over the phone.
Via email or chat.

On a video call.
Knowing your audience will also help you decide how formal or informal your conversation should be. The way you communicate with your peers, for example, is different than the way you would talk to a customer or a potential candidate.
3. Understand the context.
While informal conversations may be appropriate with certain people in some scenarios, being too casual can come off as disrespectful or unprofessional in other situations.
For example, if you're attending a large presentation with your entire department, you'll want to be more formal with the way you talk to others or respond to questions. Meanwhile, if you're in a weekly meeting with your team, your conversation can be more informal.
Just be aware of the dynamics of the situation you're in, so you can change the:
T

one

of your co

mmunication.

C

ontent

of your co

mmunication.

S

tyle of your communication.
4. Start your conversation with a greeting.
Greeting people goes a long way in maintaining a professional and courteous work environment.
Something as simple as saying "good morning" to fellow team members when you go into work or start a meeting can set an overall positive tone for the day.
This is also good communication etiquette when communicating electronically: A standard "Hello John" at the beginning of an email can affect how well your message is received.
5. Give others your full attention.
Whether you're in a virtual meeting with your colleagues or attending an in-person seminar, concentrate on being present in the moment and fully engaged in the conversation.
You should:
Maintain eye contact.

Put down your phone.
Mute your chats.

Close your email.
Staying focused during conversations will show others you appreciate their time and thoughts.
6. Listen before you respond.
Active listening is another key step in business communication etiquette. It allows you to hear and process what someone else is saying, rather than just waiting for your turn to share and respond.
Doing this can help avoid:
Interruptions.

Miscommunication.

People talking over one another.
Overall, active listening can lead to more productive conversations where everyone feels heard and valued.
7. Be clear and concise.
Don't be too long winded or use too much jargon when presenting your ideas – get straight to the point so your message is easy to understand.
Being clear and concise is especially important in email communication etiquette. Since the person receiving your message can't see your facial expressions or body language, it can be difficult to interpret messages that have a witty or funny tone.
Keep your emails short and professional by:
Open

ing

your email

with a greeting.
Convey

ing

what

information

you're

looking for.

Explain

ing

why

you're

looking for that information.

Giving a date you need the information by.

Includ

ing

a pre-emptive thank you for their help.
8. Wrap up the conversation.
As your conversation finishes, ensure the main points of your conversation have been addressed. You can do this by:
Summarizing the discussion.

Asking clarifying questions.

Going over

next

steps (if there are any).
End by thanking the people you're talking to for their time and input. Showing your appreciation can go a long way in developing healthy office relationships.
Success starts with asking.
It's OK to admit when you don't have all the answers. Knowing how to ask for help professionally can make all the difference in your career. Follow these six steps to get started.
About the author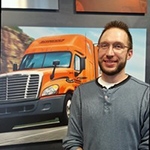 Joe is a senior corporate recruiter focusing on the company's outside sales positions. He has been with Schneider for more than 15 years, holding roles such as a driver recruiter, divisional recruiting manager and senior outbound recruiter, before joining the Corporate Recruiting team. In his spare time Joe enjoys hunting, fishing and spending time with his wife and son.