What are diesel technician working conditions like?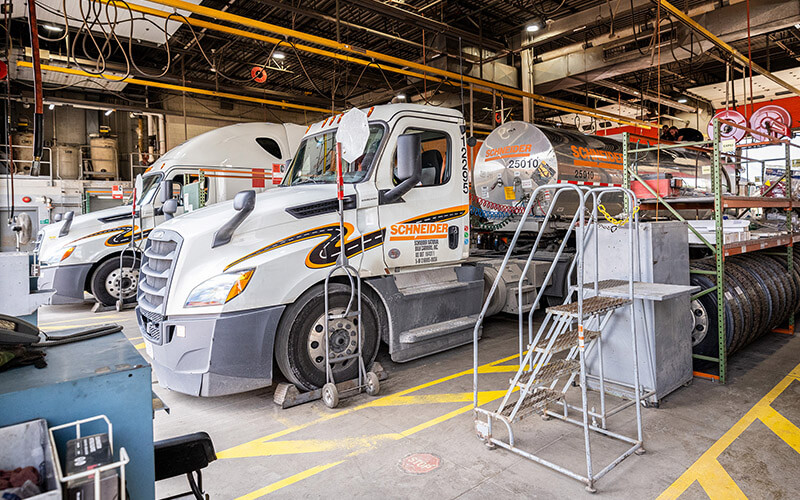 Estimated reading time: 2 minutes
If you've been searching for a career where you can exercise your mechanical skills, the diesel industry is full of engaging opportunities.
A career as a diesel technician involves performing maintenance and repairs in a fast-paced environment where unique challenges are common. Here we provide some insight into the working conditions of a diesel technician to help you understand if this is the right fit.

Diesel technician working conditions often involve:
Roles inside and outside the shop
Diesel technicians typically work in repair shops that are ventilated and heated. In southern climates, air coolers are provided for relief from the heat.
Shop environments can be noisy with the combination of diesel engines, power and air tools, forklifts and other heavy-duty equipment. Schneider supplies its technicians with hearing protection, which is recommended by the National Institute for Occupational Safety & Health to prevent hearing loss.
Most Schneider shops are located at our operating centers, which provide amenities such as air-conditioned technician break rooms, cafeterias, workout rooms and one-on-one rooms for training.
Some technicians travel offsite to work on equipment. For example, Schneider's service truck technicians work mainly outside the shop performing repairs at customer sites, distribution centers and rail yards. Our technicians do not perform roadside repairs.
Some shops may have their technicians perform roadside work, which can be dangerous due to fast-moving traffic nearby.
Strong emphasis on workplace safety
A technician may be exposed to a number of potentially hazardous conditions on a day-to-day basis, including flammable materials, hot surfaces, live electrical wiring and noxious fumes. Schneider diesel technicians have access to various types of company-provided Personal Protective Equipment (PPE), including:
Steel toe boots.
Face shields and safety glasses.
Welding helmets and welding jackets.
Bump caps.
Gloves, of multiple varieties.
Knee and elbow pads.
Reflective vests (or reflective uniforms depending on the role).
Fall protection (varies by shop based on the equipment worked on).
Becoming a diesel technician requires a thorough understanding of proper safety procedures in order to ensure the safety of yourself and your co-workers, as well as drivers, customers and the motoring public.
Safety has always been a key focus area at Schneider. Our shops perform safety inspections on a weekly and monthly basis, and all new diesel technicians must complete an On-the-Job (OTJ) Safety training program that includes safety modules.
Physically demanding work

A career in or outside of the shop can be labor-intensive and requires a certain level of physical strength. Technicians are often tasked with lifting heavy equipment and must utilize various tools, including torque wrenches, pliers, drills and screwdrivers.
Repairs often involve standing or reaching in awkward and sometimes uncomfortable positions to work on equipment.
Customer service duties
As a diesel technician, you'll likely work with drivers whose livelihoods depend on the equipment you're servicing. Tensions can run high, so effective communication skills are critical for technicians who interact with customers/drivers.
Being able to clearly articulate what the problem is and what work needs to be done will be key. These conversations can take place face-to-face, over the phone and sometimes through email.
Working with state-of-the-art technology

Diesel trucks are no longer the simple machines they once were. They are now like rolling computers, requiring advanced diagnostic software to pinpoint problems.
A technician must work through the complex systems and find the true root of the problem before repair work can begin. If you love a challenge and working through problems, this is a great career for you.
Flexible work schedules
The average diesel technician works full time at about 40 hours each week. Since the U.S. transportation industry relies heavily on diesel truck and busses, many shops provide 24-hour maintenance and repair services. That means first-, second- and third-shift opportunities, weekend shifts and overtime hours are readily available.
Schneider offers a full-time 10-hour work schedule that allows every other weekend to be a 4-day weekend off. Many companies, including Schneider, also offer part-time job opportunities that are ideal for students enrolled in a diesel technician degree program.
Considering becoming a diesel technician?
Thinking a career in the shop is the right fit for you, but not sure how to get started? Check out our step-by-step guide to starting a rewarding career as a diesel technician.
About the author

Schneider Guy loves the "Big Orange." He's passionate about the trucking industry and connecting people to rewarding careers within it. He's been the eyes and ears of our company since our founding in 1935, and he's excited to interact with prospective and current Schneider associates through "A Slice of Orange."
More posts by this author