Top 11 reasons to become a diesel technician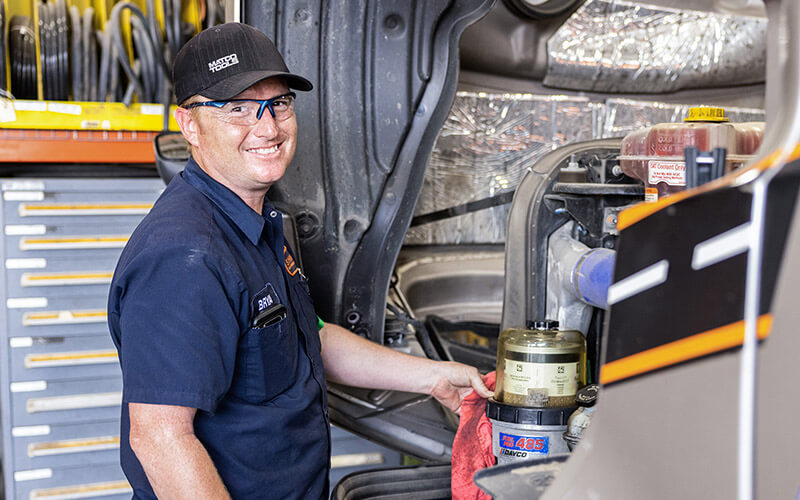 Estimated reading time: 5 minutes
Between freight and public transportation, agriculture and manufacturing, many of our nation's most important industries are powered by diesel. That's why there's a constant demand for skilled maintenance professionals that can help keep American fleets moving.
If you're wondering what a career in the shop can do for you, check out our top eleven reasons to become a diesel technician.
11 reasons to become a diesel technician
1. Promising job outlook.
The job outlook for diesel technicians is great right now, and experts say it will continue to increase over the decade.
According to the U.S. Bureau of Labor Statistics (BLS), the employment of diesel service technicians is projected to grow 8% from 2020 to 2030, with about 28,100 new job openings each year.
Schneider's maintenance teams alone help keep a fleet of over 10,000 trucks in motion. As more freight is shipped across the country, more diesel-powered trucks will be needed to keep up with the demand. That means we'll need more diesel technicians than ever to keep those new trucks in working condition.
2. On-the-job training.
For aspiring diesel technicians, on-the-job training opportunities are a fundamental part of learning the trade. Schneider offers the opportunity to participate in OEM training as well as individual training from more experienced technicians.
Many companies, including Schneider, also offer part-time options for individuals who are interested in gaining hands-on experience while going to technical school.
3. Less student loan debt.
Though not required, employers prefer applicants who have completed a diesel tech degree, and most companies offer higher starting pay for technicians who hold degrees. It takes about two years to earn an associate degree in diesel technology, while a certificate can take up to a year to complete.
Many employers offer tuition reimbursement or tuition assistance to graduates or students who work part time while in school. Schneider's Tuition Assistance Program is available to regular full-time and part-time diesel technicians paid through U.S. payroll.
4. Engaging work environment.
Not everyone is meant to sit in a cubicle. A diesel technician's work is hands-on and every day brings its own unique challenges. One moment you might be replacing a blown tire and the next you could be engaged in an intensive engine repair. If you like problem solving, this is a great career for you.
Some diesel technicians even travel outside the shop for repairs. Schneider's service truck technicians travel to customer sites, distribution centers or rail yards to work on Schneider equipment.
5. Work with the latest technology.
From truck components to specialized tooling, diesel technology is constantly evolving and transforming diesel technician careers. As a technician, you'll have the opportunity to work with the industry's most cutting-edge technology and develop new skills to keep up with the industry trends.
Schneider invests heavily in its shops by supplying them with the latest diagnostic software and specialty tooling. As our trucks continue to evolve, our technicians receive ongoing industry training that keeps them up-to-speed on technology as it advances.
6. Advancement opportunities are endless.
Skilled diesel technicians are highly sought-after, so there's a wide variety of ways to advance your career. You'll find opportunities for promotions and raises by continuing to develop your skills, work experience and education. Experienced technicians with leadership abilities may find opportunities to advance to a team lead, supervisor or manager role.
Schneider offers company-paid training programs to help you stay on top of your game or prepare for the next step in your career path. We also offer a High Potential Program specifically for technicians who are looking to advance their careers in leadership or in the technical path of a Master Technician or Technical Trainer.
7. Flexible shift options.
Our nation's transportation system is always moving, so it's common for truck and bus repair shops to offer 24-hour maintenance and repair services. With first-, second- and third-shift opportunities readily available, it's easy for fleet technicians to find a work schedule that aligns with their home life.
Schneider offers all three shift opportunities, and most of our technicians enjoy four-day workweeks. They still work full-time, but work is done in 10-hour shifts instead of the usual eight hours. This arrangement allows more flexibility for appointments, less time spent commuting and an overall better work-life balance. It also means that every other weekend is a four-day weekend!
8. Choose where you want to live and work.
There's hardly any place where diesel technicians aren't needed. Wherever diesel engines operate, there's bound to be a career opportunity nearby.
One of the biggest advantages of working for a large, stable company is the freedom to go where you want to go. Schneider has a nationwide network of shops located near many of the country's major transportation corridors. We also have positions available at many of our customer locations, so it's easy to find a job opportunity that fits your geographic preferences.
9. Competitive base pay.
According to the BLS, the median pay for diesel service technicians was $50,200 per year in 2020—or about $24.13 an hour. How much a technician makes depends on several factors, including geographic location, shift and level of technical skills and abilities.
Schneider diesel technicians benefit from market-driven, competitive pay rates. An entry-level technician that has a relevant technical degree can expect to start out making about $18-25 an hour at Schneider. Highly skilled technicians who are hired for one of our senior tractor technician roles can expect to start at about $25-35 an hour.
10. Opportunities for overtime and additional pay.
Since diesel technicians are in high demand, opportunities to collect additional overtime hours are common. Some technicians receive a commission in addition to their base salary.
As one of the nation's busiest carriers, Schneider shops are generally able to offer overtime. Diesel technicians who work second or third shift make an additional $1.50 per hour in shift differential at Schneider.
Most technicians work every other weekend, and during those weekend shifts, they make an extra $.65 an hour. Technicians who prefer to work only weekends can make an additional $3 pay differential for working a shift every Friday, Saturday and Sunday.
11. Careers that make a difference.
Becoming a diesel technician takes a wide range of specialized skills and abilities that not many people have. You need someone who has the expertise needed to work with new technology and diagnostic software and the hands-on capability to fix the issue.
There's a lot of pride that comes with putting a 6-ton truck back on the road. In your role, you'll have the opportunity to make a difference and see your hard work pay off.
Schneider hauls over 9.6 million miles of freight for businesses across the U.S. every day. Our trucks keep our nation's economy moving, and none of that would be possible without our nationwide network of skilled technicians.

Looking to start a career as a diesel technician?
Now that you know what a career as a diesel technician can do for you, it's time to make it happen. Learn more about how to get a job in the shop.
About the author

Schneider Guy loves the "Big Orange." He's passionate about the trucking industry and connecting people to rewarding careers within it. He's been the eyes and ears of our company since our founding in 1935, and he's excited to interact with prospective and current Schneider associates through "A Slice of Orange."
More posts by this author