How to become a diesel technician: 5 steps to take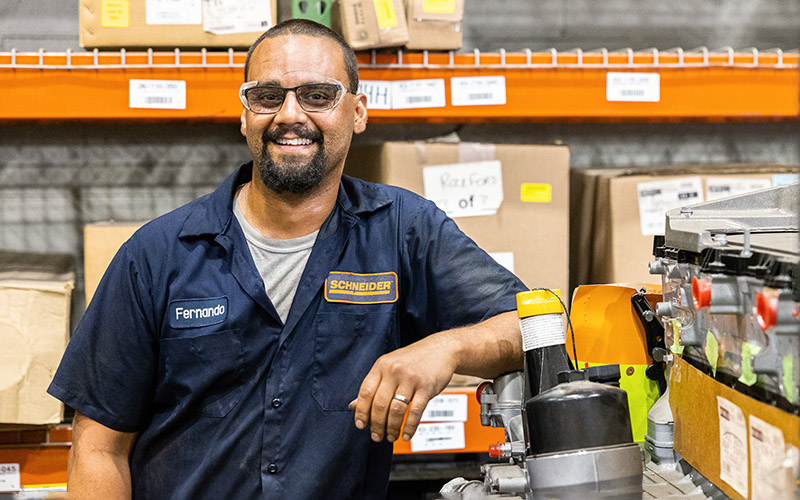 Estimated reading time: 3 minutes
With trucking technology rapidly advancing, now is the perfect time to consider a career as a diesel technician. Right now, there's a high demand for well-trained diesel techs who have the skills to keep fleets moving so goods can be delivered to communities.
Like many professions, there are certain diesel technician requirements that need to be fulfilled in order to become one, as well as other steps that are worth considering but are not necessarily required.
Read more to find out how to become a diesel technician:

5 steps to become a diesel technician
1. Have a high school diploma or GED.
Requirements for diesel technician jobs vary by company. However, most employers expect diesel technicians to have a high school diploma or equivalent.
Those who didn't finish high school can enroll in classes to work toward a GED.

2. Make sure this is the right career path for you.
Before investing your time in becoming a diesel technician, it's a good idea to make sure that it's truly the industry you want to get into.
There are many ways you can dabble in the diesel technician field and gain some basic experience without working directly in a shop, including:
Work on family members' cars.
Become an automotive lube or tire technician.
Repair other types of equipment, like motorcycles or 4-wheelers.
If you're still in high school, take courses in general shop or welding.
Shadow someone you know who is a diesel technician.
Learn more about the industry by reading articles like these or watching videos on YouTube.
3. Attend a post-secondary training program.
Although it's not always a requirement for entry-level diesel tech positions, many companies require postsecondary training for their mid- to senior-level roles.
When it comes to postsecondary training programs, you have two main options:
Obtaining an associate degree.
Getting a certificate or technical degree.
Option 1: Obtaining an associate degree.
Getting an associate degree in diesel technology typically takes about two years to complete.
Most programs combine hands-on technical skills with general education courses.
Classes to develop technical skills may include training on:
Diesel engine technology.
Brake systems.
Control systems.
Fuel systems.
Hydraulic systems.
Preventative maintenance.
Diagnostic software programs.
The general education requirements for this type of program will include core subjects, such as:
The advantages of obtaining an associate degree include:
Receiving a well-rounded education.
Having more office job options.
Earning higher starting pay.
Option 2: Getting a certificate or technical degree.
Getting a certificate or technical degree in diesel technology usually takes anywhere from a couple months to one year to finish.
These programs focus on teaching technical knowledge and showing students how to find problems and make repairs while optimizing hands-on job skills in areas such as:
Starting systems.
Computer systems.
Truck steering systems.
Preventative maintenance.
Diesel engine basics.
The advantages of obtaining a certificate or technical diploma include:
Starting hands-on experience sooner.
Spending less than tuition for an associate degree would be.
4. Pursue on-the-job training.
You may decide you want to work part-time while pursuing a degree or certificate. Or, maybe you've decided school isn't the best route for you.
Some companies will hire candidates without post-secondary training for entry-level roles and provide on-the-job training. These are great opportunities for those who do not want to further their education and are okay with possibly earning a lower starting salary because of it.
Some companies also offer part-time entry-level opportunities for those in school. These roles provide great on-the-job training and often lead to full-time job offers once the technician graduates.

5. Land your first diesel tech job.
As you prepare to apply for your first maintenance job, you'll want to familiarize yourself with companies that hire diesel technicians. You can find job openings by:
Visiting company websites.
Going to career fairs.
Checking job boards.
Going to your school's career services center.
Is this the right career for you?
If you're considering a career as a diesel technician, check out our blog on the pros and cons of being a diesel technician.
About the author

Schneider Guy loves the "Big Orange." He's passionate about the trucking industry and connecting people to rewarding careers within it. He's been the eyes and ears of our company since our founding in 1935, and he's excited to interact with prospective and current Schneider associates through "A Slice of Orange."
More posts by this author