13 ways Schneider has enhanced Intermodal trucks and equipment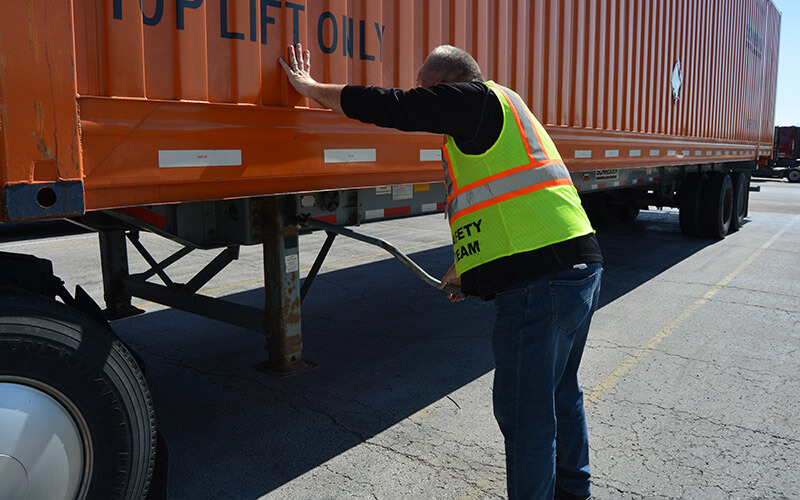 Estimated reading time: 4 minutes
Schneider understands that the equipment truck drivers use affects more than driver efficiency. It also directly impacts the safety and comfort of drivers.
That's why we specially spec our trucks and equipment to enhance drivers' experience across all lines of our business.
Over the last 30 years, we've made a number of improvements that are specific to our Intermodal operations, including providing Intermodal drivers with 100% company-owned chassis and investing millions of dollars in the development of new and improved Intermodal technology.
Schneider's Intermodal equipment upgrades
The following are some of the most recent enhancements that have been made to our Intermodal equipment:
1. Relocated airline and electrical connections.
We've moved the airline and electrical connections on the trailer/chassis away from the center of the trailer. Now, drivers can access the connections without having to climb up on the back of their tractor.
2. Modern air release 5th wheel.
Our 5th wheel air release system allows drivers to release their trailer with a push of a button instead of having to manually unhook their trailer. This feature also helps decrease the risk of shoulder or back injury caused by manually cranking the handle to release the trailer.
3. Advanced lift and dump valve.
This unique piece of equipment allows drivers to use their axel air bag to adjust the height of their tractor when coupling or dropping off a trailer. The lift and dump valve also automatically centers its height when the tractor is driving.
4. Strong cast corners on front bolster.
We've strengthened the corners of the front bolsters on our trailers with a piece of steel designed to prevent damage and protect the trailer's handle and pin.
Now, drivers don't have to worry about their chassis being disabled if the front bolster gets hit.
5. Wider landing gear.
Schneider has extended the landing gear on our chassis by roughly one foot. Widening the stance of the landing gear shortens the landing gear handle, making it less wobbly and easier for drivers to crank.
6. Helpful EZ Pull tandem release system.
Schneider's EZ pull release system allows truck drivers to shift the weight their truck is carrying without having to struggle to adjust their tandem pins. We've done this by adding a spring to the handle mechanism that can then assist in keeping the force needed to adjust the tandem pins.
Now, even if the pins still won't budge, drivers can simply engage the spring and move their truck to release the pins in the correct hole.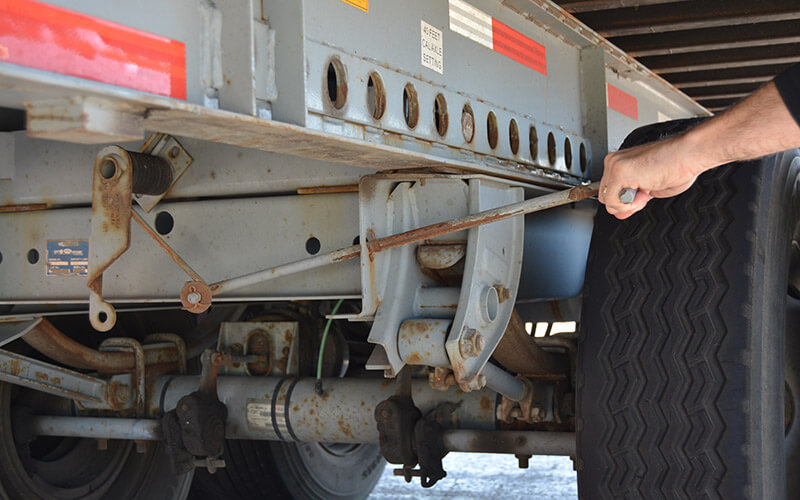 7. Specially designed oval pin holes on the chassis slider.
The slider pin holes on chassis are usually round, however we've noticed that as a chassis is used more, the padding below these holes wears down due to the weight it supports. This usually results in issues with pins aligning with the holes properly.
To solve this problem, we've designed oval pin holes so the pins will continue to fit in the holes regardless of padding wear.
8. Reliable radial tires.
These tires are stronger and more durable than the bias ply tires found on many pool chassis. Plus, radial tires are the standard trailer tire in the industry, making it easier to find a replacement should a driver need a repair.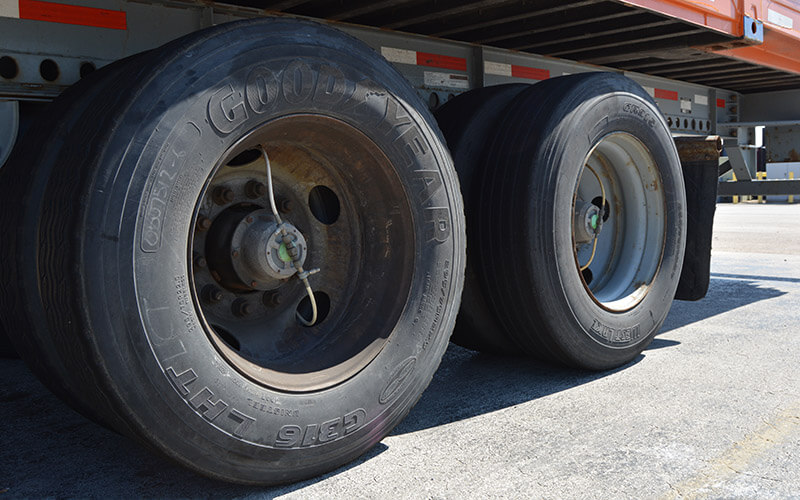 9. Automatic tire inflation system.
Schneider's chassis are also equipped with an auto inflation system that connects to the tires and brakes and maintains tire pressure.
This airline fills the tires with air whenever the truck is running and helps prevent the need for tire maintenance.
10. Updated rear bumper.
The rear bumper on our trailers now includes an additional intermediate step to make it easier to climb up into the trailer. The steps on the bumper are also textured to prevent slips and ensure driver safety.
11. New grab handle on container.
Schneider's Intermodal containers now have a handle on the back of the trailer door to make it safer and easier for drivers to get in and out of the container.
12. Enhanced chassis brake lights.
Our new company chassis are spec'd with LED brake lights that are brighter and don't burn out. These taillights are secured with a stainless-steel bezel with stainless steel rivets to ensure that no one can remove or steal taillights.
13. More secure container doors.
We've installed anti-bypass plates on our container doors to protect freight and prevent anyone from wrenching open locked containers.
Plus, our containers are equipped with welded door hinges, which make it more difficult for people to tamper with locked doors.
Want to see even more equipment enhancements?
Schneider's dedication to improving drivers' experience has resulted in a variety of exciting technology and equipment upgrades. See for yourself how we specially spec our semi-trucks.
About the author

Schneider Guy loves the "Big Orange." He's passionate about the trucking industry and connecting people to rewarding careers within it. He's been the eyes and ears of our company since our founding in 1935, and he's excited to interact with prospective and current Schneider associates through "A Slice of Orange."
More posts by this author