Conestoga vs flatbed trailers – What's the difference?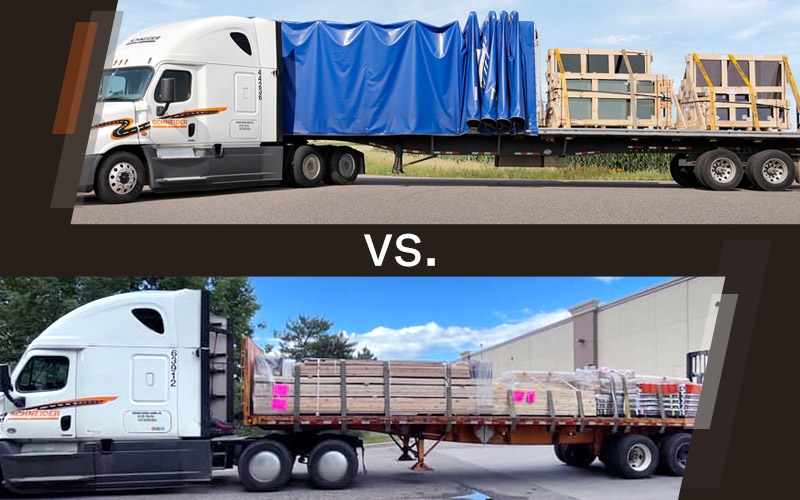 Estimated reading time: 3 minutes
Truck drivers use different types of semi-trailers depending on the kind of freight they haul. For example, someone who hauls liquid bulk freight uses a tanker trailer while someone who hauls refrigerated freight uses a reefer trailer.
However, when a driver hauls freight they can't load in a normal closed trailer, they will often use a flatbed or Conestoga trailer. But what is a flatbed or Conestoga trailer?
In this blog, we'll explain the differences between Conestoga vs flatbed trailers and share the benefits of using each.
What is a flatbed trailer?
A flatbed trailer is a trailer without sides or a top and is open to the air and elements. It's a flat-surfaced trailer that helps drivers transport abnormally sized or shaped goods like:
Lumber.
Metal and steel.
Building equipment.
Machinery.
Small storage containers.
Other vehicles.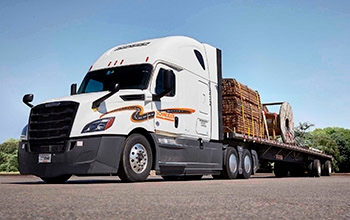 Flatbed trailer dimensions
Flatbed trailer lengths usually range from 48 feet to 53 feet, with a standard width of eight-and-a-half feet.
Generally, the weight limit of standard flatbed trailers is about 48,000 – 52,000 pounds.
Other styles of flatbed trailers
Lowboy trailer: This trailer is great for hauling taller freight like excavating equipment because the trailer rides lower to the ground than a standard flatbed trailer.
Step deck trailer: This trailer has a lower back deck and a higher front deck. The front deck is usually about three to four feet taller than the back deck. It's good for hauling things like lumber, heavy equipment, steel, etc.
Double drop trailer: The bed of this trailer drops between the axels, leaving a step deck at the front and the back of the trailer. It's good for hauling things like industrial or construction equipment.
Benefits of using flatbed trailers
Makes loading/unloading easy: Not having trailer walls lets drivers use tools like cranes and forklifts to move freight on and off the trailer.
Allows for custom securement: Flatbed drivers can make sure cargo is safely secured by strapping and tarping the cargo wherever they need to on the trailer.
Lets you haul oversize loads: Flatbed trailers allow you to haul freight that may be wider or longer than the trailer you're using.
What is a Conestoga trailer?
Conestoga trailers are unique trailers that combine the versatility of flatbed trailers with the coverage and protection of dry van trailers.
This style of trailer comes equipped with retractable curtains made of durable tarp on a metal frame. Drivers can retract these curtains completely when loading and unloading and then use them to cover their freight while in transit.
Schneider uses Conestoga trailers for dedicated driving jobs that have unique loading and unloading needs, like our Viracon Glass account does.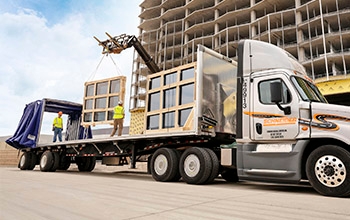 Conestoga dimensions
Conestoga trailer dimensions are the same as a standard flatbed's dimensions. But the main difference between a Conestoga and a flatbed is the weight limit.
Due to the extra weight from the rolling curtain and frame, Conestoga flatbeds can only carry about 44,000 pounds instead of the 48,000 pounds a standard flatbed can.
Other types of Conestoga flatbed trailers
Step-deck Conestoga: This Conestoga has two levels, a lower deck and smaller upper deck (like a standard step-deck flatbed trailer). These trailers are used to haul tall freight like machinery and construction supplies.
Double drop Conestoga: This trailer has a very low middle part, a single step deck at the back and a front level that is twice as high as the single step deck at the back. This trailer is also used to haul tall freight like oversized equipment.
Benefits of Conestoga trailers
Saves time: Not having to tarp your freight by hand means being able to load and unload freight faster.
Reduces physical labor: Rolling a tarp over freight is not as physically demanding and difficult as tarping goods by hand is.
Protects freight: Using a tarp that doesn't touch the product can protect freight from damage to paint, finishes or delicate pieces.
Wondering if you'd make a good flatbed driver?
Get a better idea if flatbed trucking is the driving style for you. Click the link below to learn more about flatbed truck driving and discover some of the top pros of this unique type of truck driving.
About the author

Schneider Guy loves the "Big Orange." He's passionate about the trucking industry and connecting people to rewarding careers within it. He's been the eyes and ears of our company since our founding in 1935, and he's excited to interact with prospective and current Schneider associates through "A Slice of Orange."