8 truck driver injury prevention tips you should know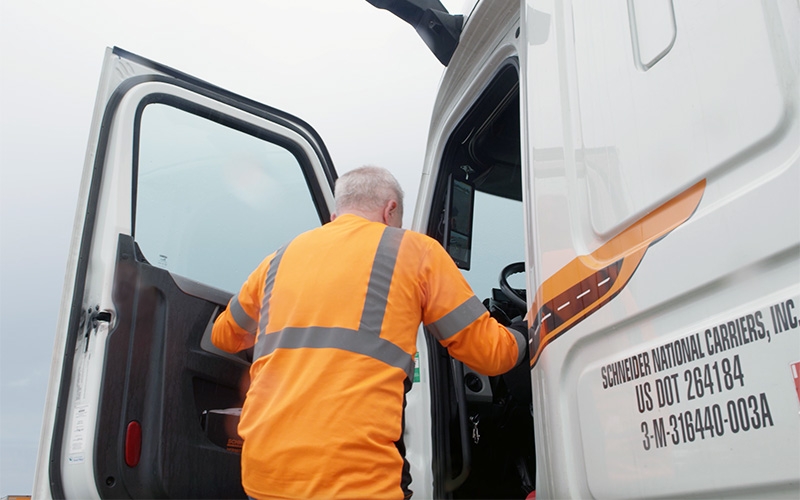 Estimated reading time: 4 minutes
Truck drivers tend to focus a lot of their attention on how they can minimize their risks while on the road. However, the road is not the only place drivers can get injured. In fact, the most common truck driver injuries occur when the truck isn't even moving.
The leading cause of truck driver injuries are slips, trips and falls, especially when entering or exiting the truck or trailer. Here is our list of the top eight truck driver injury prevention tips that can easily be added to your day-to-day routine.
8 rules for preventing common truck driver injuries
1. Use three points of contact when entering or exiting the truck.
Slipping and falling from the truck is the most common cause of truck driver injuries. Making use of the "three points of contact" rule is a must.
The three points of contact rule is the proper procedure for safe vehicle entry and exit. It means adequately supporting your body by making contact with the truck in three spots at all times. Three points of contact can include:
Two hands and one foot.
One hand and two feet.
2. Invest in proper footwear.
Drivers use their feet every day to climb in and out of their cab, walk around shipping yards and, the most obvious, drive. Investing in the best work boots possible for truck drivers is an easy way to avoid accidents from happening.
There is no substitute for high-quality work boots that:
Have leather uppers.
Are oil-resistant and waterproof.
Come with slip-resistant soles.
Have a steel or composite toe (if necessary for your specific driving job).
In icy conditions, it's vital to attach ice cleats to your boots.
Plus, at Schneider, drivers receive a free pair of work boots at each work anniversary. They can also purchase discounted boots at any time.
3. Slow down and pay attention to your surroundings.
It's tempting to always move as quickly as possible, whether it be while trip planning, doing your CDL pre-trip inspections or just walking into a customer location.
Rushing can lead to accidents, though, and set you back more than if you completed your tasks at a more controlled pace. Take the time you need to assess your surroundings and look for potential hazards.
Moving at a measured pace gives you a better chance to:
Notice uneven ground.
Dodge puddles.
Avoid oil spots.
Stay away from any other hazard that could result in an injury.
4. Don't jump off anything, ever.
Every time you jump, your joints and lower back must absorb an impact that is the equivalent of 12 times your body weight. You risk joint damage over time and the more immediate risk of landing incorrectly and injuring yourself in the present.
Use the ladders and stairs provided, whether it be when exiting your cab, climbing down from a tanker trailer or leaving a customer site.
5. Be careful when opening trailer doors.
When opening the trailer doors of a dry van or reefer trailer, you should follow a safety process to check for shifted freight. This process includes:
Stand behind the left-side trailer door.
Feel the right-side door for pressure from fallen or shifted cargo.
If there is no pressure, open the right-side door slightly and check again.
If freight has shifted, secure the door shut and ask for help.
If cargo falls out after you've already opened the door, let it drop. Do not try to catch it.
6. Use proper lifting techniques.
Whether you have to do an unload or just need to pick up something you dropped, it's important to follow the proper lifting technique.
The proper lifting technique Schneider drivers are taught is:
Bend your hips and knees.
Squat down to grab the object.
Keep it as close to your body as possible.
Straighten your legs to lift.
A few other tips to keep in mind when lifting heavy objects include:
Never lift a heavy object above your shoulders.
Avoid twisting your body when you are holding the object.
Take small steps when carrying a load.
Squat, using only your hips and knees, to set a heavy object down.
Lastly, if you are concerned that an object is too heavy for you to lift on your own, do not risk getting injured by trying to lift it anyways. Find someone who can help you.
7. Get proper rest.
Driving is a physically and mentally demanding job. Rest is vital for:
Improved mental health.
Reduced stress.
Better physical health.
Injury prevention.
A great night's sleep gives the muscles and tendons a chance to repair and recover from a hard day's work. This helps truck drivers prevent overuse injuries and stay alert while driving.
8. Eat well.
Healthy eating gives your body the nutrients it needs to stay strong and prevent injuries. A general suggestion is to include a variety of fruits, vegetables, whole grains, legumes, lean meats, poultry, fatty fish and nuts and seeds in your daily diet.
If you want to improve your diet out on the road but aren't sure where to start, check out our grocery list for truck drivers.
Become a safer driver
If you want to see more tips, guides and how-to articles that will help you be safer both on and off the road, check out more of our driver-focused safety blogs.
About the author

Schneider Guy loves the "Big Orange." He's passionate about the trucking industry and connecting people to rewarding careers within it. He's been the eyes and ears of our company since our founding in 1935, and he's excited to interact with prospective and current Schneider associates through "A Slice of Orange."
More posts by this author