How to create a diesel technician resume in 6 steps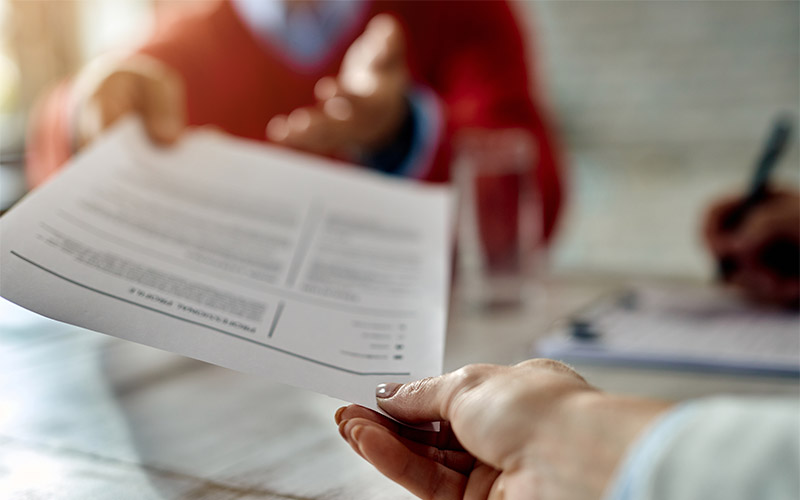 Estimated reading time: 3 minutes
Crafting the perfect resume can be challenging. But with the right approach, you can create a resume that showcases your expertise and skills as a diesel technician.
Follow this step-by-step guide to help you build an effective diesel technician resume that'll help you stand out from other job applicants.
6-step guide to building a diesel technician resume
1. Create a header.
At the top of your resume, create a header that lists your full name and contact information, including an email address and phone number. If you'd like, you can also include the area where you live.
Keep the formatting clean and simple. Put your name in a larger, bold font to make it stand out. Add your contact information under your name.
2. Open with a professional summary.
Add a compelling professional summary at the top of your resume to help you stand out from other applicants. This statement should be concise and powerful. Highlight:
Your strongest skills.

Your recent work experiences.

Your career objectives.
Your professional summary should be two or three sentences long and tailored to the specific role you're applying for.
3. Highlight relevant skills.
In the maintenance industry, it's important for employers to understand what skills job candidates can bring to the table.
Use bullet points to list out all the technical skills you've acquired over the years, such as:
Diesel engine repair skills.

Diagnostic skills.

Hydraulics knowledge.

Power tools usage.
You can also include soft skills, like problem solving and communication, to show you're capable of working well with a team.
4. Showcase your experience.
Your work experience is the most important part of your resume. It's important to showcase your relevant jobs, internships and apprenticeships.
For each position you list on your resume, you should include:
Your job title.

The company you worked for.

The dates you were employed at the company.

Your job responsibilities.

Your achievements (quantify results when possible).
When writing out your job experiences, follow these formatting tips:
List your most recent work experience first, and then write the rest in reverse chronological order.

Start each bullet point with an action verb.

Use present tense for your current job and past tense for any previous work experience
5. Include your education and certifications.
To wrap up your resume, list your educational background and any certifications relevant to the role. You can put this information at the bottom of your resume or in a separate section on the side.
If you have an associate or technical degree in diesel technology, include:
The name of the degree you obtained.

The name of the school you attended.

The years you attended the school.
If you have any certifications from organizations like the National Institute for Automotive Service Excellence (ASE), be sure to include them.
6. Proofread your resume.
Proofreading your resume will ensure there are no grammatical errors or typos, which could reflect poorly on your professionalism. Consider having a colleague, friend or family member review your resume for any mistakes you may have missed.
Diesel technician resume

ex

ample
John Smith
123-456-7890 | johnsmith@gmail.com | Green Bay, WI 54302
Professional summary
I am a certified diesel technician with over 10 years of experience maintaining and repairing various types of diesel engines. I can diagnose issues accurately and promptly, which has led to a 20% decrease in downtime for fleet vehicles at my current employer.
Skills
Proficient in diagnosing and repairing diesel engines

Expert

in hydraulic systems

Excellent problem-solving skills

Strong knowledge of safety protocols and regulations

.
Experience
Senior diesel technician | XYZ Company | July 2015-Present
Diagnose and repair issues

with

semi-trucks.

Perform preventative maintenance and annual vehicle inspections.
Complete routine rebuilds and replacements.

Train junior technicians, increasing team productivity by 15%

.
Diesel technician | XYZ Company | June 2013-May 2015
Diagnosed and repaired issues

with

s

emi-trucks

.
Conducted regular maintenance checks, improving vehicle lifespan by 30%

.

Communicated status updates to customers.
Education & certifications
Associate

degree

in Diesel Technology, ABC Technical College, 2011

-

201

3.
Certified Diesel Technician, National Institute for Automotive Service Excellence (ASE)

.
Brush up on your interview skills.
Once
you've
finished your resume and
started applying
for jobs,
prepare for
interviews
with these commonly asked
diesel technician
questions.
About the author

Schneider Guy loves the "Big Orange." He's passionate about the trucking industry and connecting people to rewarding careers within it. He's been the eyes and ears of our company since our founding in 1935, and he's excited to interact with prospective and current Schneider associates through "A Slice of Orange."
More posts by this author