Is recruiting a good job? Everything to know about choosing this career path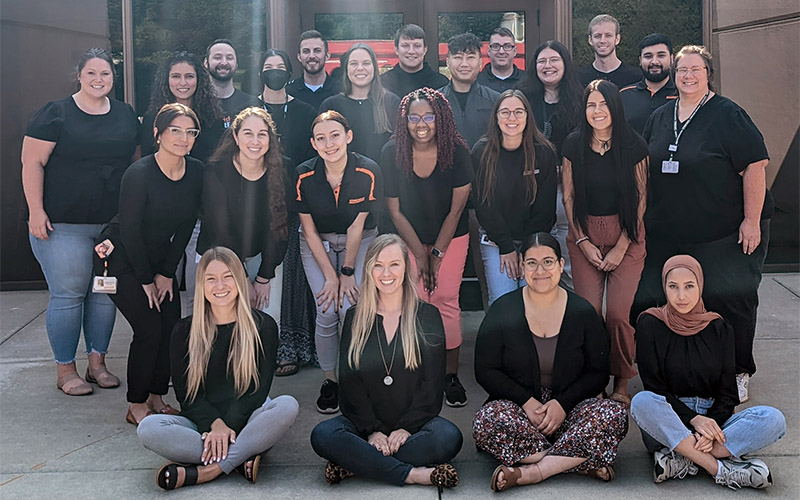 Estimated reading time: 4 minutes
Imagine having a career where you get to help people land their dream job. It could be people who are unemployed, people who are just starting their career or people who are looking for a new challenge after 20 years at the same company.
As a recruiter, you get to do that and more.
As someone who has worked in this industry for over seven years, I can confidently answer 'yes' to the question, "Is recruiting a good job?" I love being a recruiter because I get to work with people day in and day out.
So, if you're someone who's considering this career path, continue reading for all the information you need about what the job consists of, the benefits and challenges of the role and what makes someone a successful recruiter.
What do recruiters do?
There are two types of recruiters – recruiters who work for staffing agencies and corporate recruiters who work in-house for a company. Both usually work first shift (around 8 a.m.to 5 p.m.), and their day-to-day duties typically look something like the following:
Review job applicants' resumes.
Conduct phone screens and phone interviews.
Source for candidates via job boards.
Network with potential job candidates.
Meet with hiring managers to discuss new job openings and what they are looking for in an ideal job candidate.
Keep hiring managers up-to-date on how the candidate search is going and what the status of a job opening is.
Extend job offers to applicants.
All these responsibilities may make recruiting seem like a hard and stressful job. While it's rarely easy to fill a job opening, staying organized and being a good communicator are the keys to being successful in the role.
What are the advantages of being a recruiter?
Many of the benefits of being a recruiter are the same, whether you choose to work for a staffing agency or in a corporate setting. In my opinion, some of the top reasons to become a recruiter include:
Entry-level job options. There are a ton of recruiting jobs out there that require little-to-no experience and can help you get your foot in the door.
Advancement opportunities. If career growth is one of your priorities, recruiting may be the perfect fit, as the potential to climb the ladder is huge.
Job security. Companies will always need employees, which means they will always need recruiters to find and hire those employees.
Similar job options. If you don't end up enjoying being a recruiter, your skills are easily transferable to other roles within human resources.
Impactful work. What you do as a recruiter truly makes a difference, for both employers and employees.
What are some challenges of being a recruiter?
Like any job, being a recruiter does come with some challenges. The top ones I run into as a corporate recruiter include:
Staying committed. Recruiting comes with a lot of phone tag, candidates backing out of jobs and failed background checks. You have to stay patient and work through these obstacles as they arise.
Being creative. Especially in recent years, recruiters have to think outside the box to find candidates. This requires a lot of time spent sourcing, joining networking groups, attending career fairs, etc.
Finding the perfect fit for the role. Just because someone looks like a good fit based on their resume, doesn't mean they will mesh well with the hiring manager or team. A lot of consideration goes on behind the scenes to find the right candidate for a role.
In my opinion, these challenges do not outweigh the positives that come with being a recruiter.
What makes a successful recruiter?
Because recruiters spend so much time interacting with others, having strong people skills is imperative to being successful in the role. I would never recommend someone who dislikes talking on the phone or via video chat to become a recruiter.
Some other skills I've seen the most successful recruiters possess include:
Strong customer service and sales skills.
Motivation and determination.
Doesn't take "no" for an answer.
Attention to detail, especially when reviewing job openings and applications.
Great verbal and written communication skills.
And while a college education is often very helpful when applying for recruiter roles, not having one will rarely disqualify you when applying for an entry-level recruiting job.

So, is recruiting a good job?
Personally, I love being a recruiter. The satisfaction I get from helping someone land a job makes it all worth it. To me, being a recruiter is a great job.
Now, it's up to you to decide if becoming a recruiter is the right career path for YOU!
Ready to apply for a recruiting job?
Schneider has a huge variety of both entry-level and experienced recruiting-type roles. With Recruiting Specialist, Human Resources Driver Recruiter, Corporate Recruiter roles and more, you will find your perfect recruiting job at Schneider.
About the author
Tom is a graduate of the University of Wisconsin-Eau Claire. He has worked in the staffing industry since 2015 and joined Schneider in May 2021 as a Corporate Recruiter who focuses on the Driver Recruiting and Security teams. Tom is your typical Wisconsinite – cheering on the Packers, Badgers, Bucks and Brewers in his free time.
More posts by this author