Jeff O'Hern: From intermodal driver to client service operations manager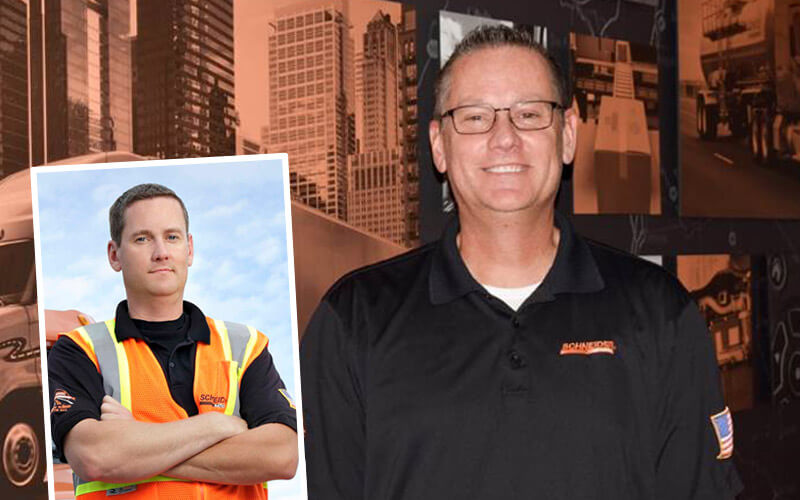 Estimated reading time: 4 minutes
When Jeff O'Hern started working in the loading docks of a package distribution center in 1988, a career in transportation wasn't his dream. What he didn't know at the time is that the side gig was the first step in a 34-year career that would take him all over the industry.
Taking the wheel in his first truck driving job
When Jeff and his wife started having kids, he needed a job that would put food on the table. He transitioned from the warehouse to a truck driving role in 1990 and immediately fell in love with the job.
"I love the chaos of the streets in Chicago – trying to find the customers and backing in between two trucks," he said. "That was back in the day before Google Maps and everything electronic. You essentially had to either read the directions or try to open up a map and find your way."
Discovering a new career opportunity in the rail yards
After 16 years of navigating the city in a big rig, Jeff's career came to a fork in the road when his branch at the company he was working for closed, and he was left without a job. Jeff considered a career outside of truck driving, but his curiosity led him to another exciting opportunity in the field.
"I saw some of Schneider's Intermodal trucks when I was going in and out of the rail yards, so I struck up a conversation with a couple of the drivers," he said. "It seemed like a respectable company that I really wanted to work for."
Starting as an Intermodal truck driver at Schneider
Jeff's journey with Schneider started in 2007 when he was hired as an intermodal truck driver for the Chicago fleet. Jeff's job was to haul containers across the city – from one rail to the next.
"You have the traffic and the rush hour patterns, and when there's a street closed, you have to find your way through the city instead of on the highways," he said. "It's a definite hustle, but you can do everything safe and legal and still make money."
Helping new drivers as a training engineer
Jeff had already been working with new students, doing three to five ride-alongs every week, when Schneider introduced the training engineer program around 2009. Jeff said he didn't have to think about it twice when he was offered a spot on the training engineer team.
"The driver role was near and dear to my heart, but after nearly 25 years behind the wheel, I really wanted to give back to the drivers," he said.
This desire to give back would continue to influence his career decisions over the next ten years.
Serving Schneider's drivers in a dispatch analyst role
In 2013, with over two decades of driving experience under his belt, Jeff transitioned to a dispatch analyst role in Schneider's Chicago office to see what went on behind the scenes.
"In the beginning, the way we would dispatch was very archaic," he said. "You would take two exports from Excel and you would pick loads that go through. I worked with developers on creating the new dispatch tool for Intermodal, so I was able to see how the system put those pieces together."
In this role, he found an opportunity to help drivers better understand what all goes into dispatching a load.
"Sometimes drivers don't understand the big picture of what goes into the dispatch side of it," he said. "I have a high level of respect for anyone who has worked in the truck, so being able to see how it works from the inside and explain this all to them was a pretty fun challenge."
Leading the Chicago division as intermodal operations manager
When the intermodal operations manager position for Chicago opened six months later, Jeff saw it as an opportunity to have a bigger impact on his drivers while also giving back to the company as a whole.
He applied and was selected to lead Chicago's Intermodal Operations.
"It was a big learning curve," Jeff said. "Suddenly you're responsible for all the drivers as opposed to just being a part of the team. But when you get into it, you can really make a difference not only for the organization but for the drivers as well. Those two things meant everything to me."
Seeing the bigger picture as a market manager
In 2015, Jeff transitioned to a market manager role and moved about 200 miles north to Schneider's corporate headquarters in Green Bay, Wis.
In his new role, he took ownership of the market strategy for Schneider's Intermodal operations in his designated region. It involved monitoring how many containers were coming in, how many containers needed to go out and how many drivers it would take to get the job done.
"I got to see the bigger picture of not only the enterprise but also what we're responsible for," he said. "Every decision you make will have a direct impact. It's a thrill of a job to have, but it's also scary because if you make a mistake, everybody sees it."
Jeff said his experience in the role helped him grow as a leader and as an expert in the field.
"I learned so much about the different markets and so many different people," Jeff said. "You work with these different methodologies that people have for achieving success and how they define success. You take bits and pieces of all of that and everything that you learn makes you stronger along the way."
Transitioning to his new role as client service operations manager
As Jeff looked for the next step in his career path, he decided he wanted an opportunity to have a bigger impact without losing touch with Schneider drivers.
He found his chance to do just that when a client service operations manager role opened in 2022. Jeff applied and was selected for the role based on his problem-solving skills, commitment to driving results and passion for working with drivers.
"The transition has been a blast," Jeff said. "I really love my job. Not only do I get to work with the customer side, which was a gap that I had in my resume, but I also still get to work with drivers and operations."
Looking back on over 30 years in transportation
Today, Jeff's work as a client service operations manager is a culmination of his experience working in transportation over last three decades – from the old days of hauling freight through Chicago to his experience supporting company drivers from the office.
"When I was in Chicago, I didn't know I could transfer to just about any role," Jeff said. "Have faith in yourself and the process. Schneider has proven they're willing to give you the opportunity if you're willing to put in the work."
Start a career without limits
Schneider lets you take control of your career path with endless opportunities to advance in your field or explore different careers within the organization. Read more about the associates who work at Schneider and their paths to success.
About the author

Schneider Guy loves the "Big Orange." He's passionate about the trucking industry and connecting people to rewarding careers within it. He's been the eyes and ears of our company since our founding in 1935, and he's excited to interact with prospective and current Schneider associates through "A Slice of Orange."
More posts by this author