From new hire to retirement: Todd Jadin reflects on 37-year Schneider career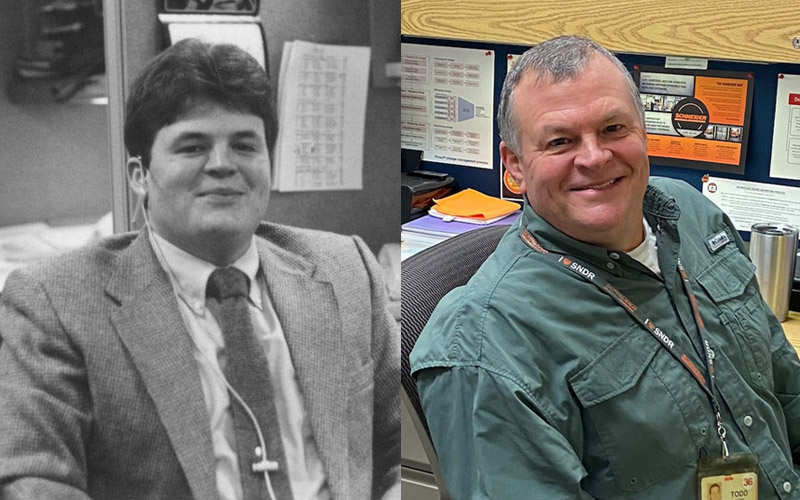 Estimated reading time: 5 minutes
After a distinguished 37-year career, Todd Jadin, vice president of Talent Management and Associate Relations at Schneider, announced his retirement.
Those who have been lucky enough to work with Todd know he is vivacious when it comes to storytelling, tenacious when it comes to doing what is right – especially for drivers, and gracious when it comes to sharing his time and knowledge and mentoring others.
When we sat down to hear the stories behind some of his career highlights, in typical Todd fashion, he began with, "Well, I've got 37 years of material, where do you want to start?"
Hometown roots and an illustrious mentor
Todd said his career journey began in his hometown at the University of Wisconsin-Green Bay. As a senior, Todd was selected by a Schneider recruiter for a screening interview, which resulted in an interaction with Scheider's CEO at the time, Don Schneider, and a job offer.
As Todd remembers it, "He had me at hello. I said to myself, 'If I get an offer, I'm going to explore it just based on the energy and enthusiasm of this guy.'"
Todd originally planned on working at Schneider for a few years to gather business knowledge before working at his family's bar-restaurant, but once he started at Schneider, he was hooked.
"Don was my business hero," Todd said, "I had a front row seat to watching him take a small, family-owned union business into a newly deregulated industry and turn it into the giant success it is today. And suddenly it's 37 years later!"
Career progression – to the extreme
Todd has held roles in nearly every corner of the company – from driver team leader, senior service team leader of Transport Operations Support, operations manager to sales/marketing project manager, Todd has truly done it all.
However, one of his most notable contributions to Schneider's history was the work he did to help establish Schneider's presence in Mexico.
Starting Schneider's Mexico operations
In the early 90s, Don Schneider asked Todd to go to Mexico to consult with the government on their rail system and dray network. This 90-day assignment eventually turned into a four-year process of establishing Schneider's Mexico Operations.
Despite never having been out of the country and not knowing any Spanish, Todd chose to reframe the situation as an adventure.
"It taught me so much: How to be a better leader. how to lead through the unfamiliar and unknown and how to balance work and family," Todd said. "It was tough, but one of the most rewarding things I've done."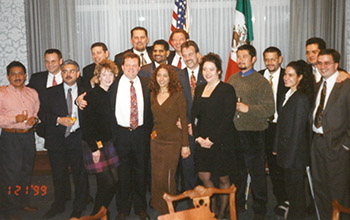 Moving up in the company
After his return to the U.S., Todd held the roles of director of network planning, vice president of Alliance Capacity and eventually led Operations, Dedicated and Logistics.
After having worked in every operational component of Schneider, Todd finally moved to the people side of the business in 2012 and assumed the role of vice president of Talent Management & Associate Relations.
As Todd explained, "Every role I'd had prepared me for this role, and it's the perfect match for me. I have the best position in the company because it's all about people, and you cannot be successful in this industry without great people."
Driving driver experience
Since his early days as a driver team leader, Todd developed the special affinity he has for drivers, which is just as strong today. As he emphatically stated, "Without drivers we don't have a business. They're the lifeblood of our company."
Going above and beyond to serve drivers
One of Todd's favorite stories from his time as a driver leader was when he had a phone call with one of his Green Bay drivers. The driver called because he was upset that he was delayed at a customer and wouldn't be home in time to prepare dinner before his wife got home.
Todd didn't make light of the situation, and instead, he offered to personally take care of it. He got instructions on where to find their spare key and headed over to the driver's house.
After dinner was on the table, the driver talked to Todd one last time that night and said, "I can't believe you did that!" to which Todd replied, "If it's important to you, it's important to me. If it's important to your wife, it's even more important to me."
"That created trust and loyalty," Todd said. "Obviously, that's not going to work in every situation, but it's just an example of the lengths you go to serve the people who work for you, simply because it's the right thing to do."
Lessons in leadership
One of Todd's favorite quotes comes from Teddy Roosevelt, who said, "People don't care how much you know until they know how much you care." It's a viewpoint that has informed Todd's leadership style.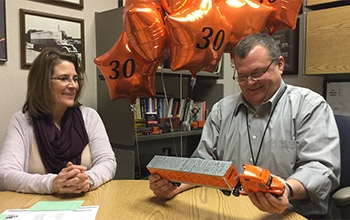 "Show people you care, and it will return to you tenfold," he advised.
When asked what advice he would give to leaders, Todd said, "When you are making decisions, get understanding and alignment first; don't expect people to just fall in line. If you believe in something, talk to people about it and get them on board and in the process, be true to who you are."
What's next for Todd?
Todd said he is proud to have worked at Schneider for his entire career.
"For a kid who was born and raised in Green Bay, Wisconsin, Schneider gave me the opportunity to expand my horizons and perspectives without having to leave my hometown," Todd said. "It allowed me to travel the world, grow up along the way and really become the individual I am today."
Although Todd loved every minute of his time at Schneider, he said he looks forward to using his retirement to spend more time with his family.
He said Associate Relations will be in good hands with his successor, Robert Soto.
"Hire to retire" is more than just a motto at Schneider
People are the differentiators that set Schneider apart from every other company in the industry. Find out how our Talent Management department works to bring the hire to retire philosophy to life.
About the author

Schneider Guy loves the "Big Orange." He's passionate about the trucking industry and connecting people to rewarding careers within it. He's been the eyes and ears of our company since our founding in 1935, and he's excited to interact with prospective and current Schneider associates through "A Slice of Orange."
More posts by this author