Joel Torres-Sanchez: First year driver shares his Schneider story and advice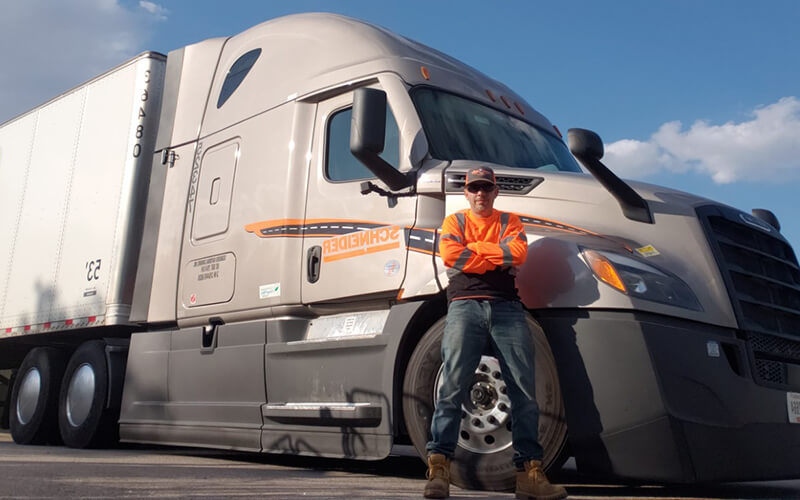 Joel Torres-Sanchez is a Dedicated driver based out of South Boston. Joel has been driving with Schneider since 2020 and has since been promoted to the role of driving mentor.
Before becoming a professional truck driver, Joel gained driving experience during his nine years as a foreman at a cold storage construction company, hauling trailers and heavy machinery to work sites.
"I had pulled trailers and machinery and met all kinds of drivers over the years," Joel said. "I had the experience, so I thought 'why not try truck driving.'"
However, his journey to truck driving began before he got behind the wheel of a truck. Joel is originally from Puerto Rico and spent many years traveling to visit his mother in New York before he eventually moved to the city with his family.
"Traveling has always been in my blood," Joel said. "I'm the kind of person that needs to work, needs to be motivated and be moving all the time, and what better way than driving."
Why Joel drives with Schneider – A company that cares
Schneider is the first and only company Joel has driven for. He began his career at Schneider as an Over-the-Road driver, but eventually transferred to a Dedicated account to get home more often.
Although there are many reasons why Joel drives with Schneider, he said that the amazing people he works with and the company's appreciation for their drivers are why he chooses to drive with Schneider.
"One thing I love about Schneider is the appreciation. It goes a long way," Joel said. "A little appreciation on a gloomy day can be what it takes to keep going."
Earlier this year, Joel received a letter from Schneider recognizing his dedication and safe driving. He said it was his first time receiving this kind of appreciation from an employer.
"To get a letter after a long week and see that your company really appreciates what you do, for driving safely, being courteous, for doing your job at 107% and to get acknowledgement for that really brightens your day," Joel said.
What makes truck driving special
When asked what motivates him as a truck driver, Joel said he drives to make an impact on the lives of others.
"I drive for the people who count on us as drivers," Joel said. "People rely on the products we haul every day and that makes a huge difference.
But Joel doesn't just drive for those who rely on the products he hauls. He also drives for the people who count on him the most. His family.
Being away from family for so long can be challenging and take a toll on drivers. But Joel said that being away from his loved ones makes him value the time he gets to spend with family even more.
In fact, he said that his proudest moment as a truck driver is coming home and seeing the smiles on his kids' faces.
"I pull up in my rig and my kids come out to greet me. I've got teenagers and they get as excited as kids in a candy store when they see me," Joel said. "They love what I do. To be able to accomplish that has been great."
Joel's wife and children are his biggest supporters both on and off the road. Video chatting and messaging his family allows Joel to stay in close contact with his loved ones and reminds him why his job is so important.
"There are times you want to be home more than usual, but I'm so blessed to have a family that understands what I'm doing and that I'm doing this for them," Joel said. "My son even told me that truck drivers are like superheroes. We're in the truck and the trailer is our cape."
Lessons and advice from Joel's first year driving
Joel has learned many things during his first few months as a professional truck driver and being a driver mentor allows him to share these experiences with new drivers he meets.
The following are a few of the key lessons Joel has learned during his first year as a truck driver:
Safety is key: Safety practices should begin before a driver even starts their engine. That's why drivers should always pre-trip their truck and get out and look at their equipment. Joel believes that drivers should take their time and avoid rushing themselves.
"It could be pouring rain but get out of your truck and check," Joel said. Check every detail, because the minor details that may not cause you a problem now can cause you big issues down the line. So, when you're in doubt, get out."
Being a truck driver is a huge responsibility: Drivers need to be aware of any potential danger that they may face on the road and drive defensively. It's important to stay alert and always keep your eyes on the road.
"Whether it's someone else on the road being distracted on their phone, someone cutting you off, the weather, curves or hills," Joel said. "Everything is a risk. So, keep your eyes wide open, scan far and wide, keep your distance, watch your speed."
Get to know your team: Joel believes that drivers shouldn't just learn their truck. They should also learn their team. Teamwork and communication are a major part of being a successful and efficient driver.
"Learning your team and knowing who they are is huge," Joel said. "It's all about teamwork, togetherness and family."
What's next for Joel?
These days, it can be difficult to know what the future may hold. That's why Joel likes to live in the moment and makes it his goal to always be better than he was the year before.
"My 2022 goal is to be in an even better position than I am now," Joel said. "Right now, I'm a mentor and next year I want to either be a Training Engineer or somewhere even farther down the line. I want to keep going higher and higher."
Get to know even more Schneider drivers.
See what makes Schneider drivers so special. Meet the amazing people that make up our team and learn what inspired them to become truck drivers.
About the author

Schneider Guy loves the "Big Orange." He's passionate about the trucking industry and connecting people to rewarding careers within it. He's been the eyes and ears of our company since our founding in 1935, and he's excited to interact with prospective and current Schneider associates through "A Slice of Orange."