Schneider company history an orange goldmine
Could Schneider be the next chapter in your book?
Search our job openings and make your next career change with Schneider.
About the author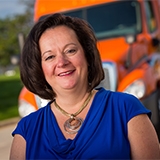 Storytelling is a big part of the work Janet does each day at Schneider. In her role as Public Relations Manager, she is responsible for finding and developing stories that speak to current and future Schneider associates and customers. Janet has been with the company for 11 years. Her storytelling role includes working with all types of news media and internal subject matter experts to share industry, technology, safety, business and human interest stories related to The Big Orange.