My experience as Schneider's first marketing intern in over 15 years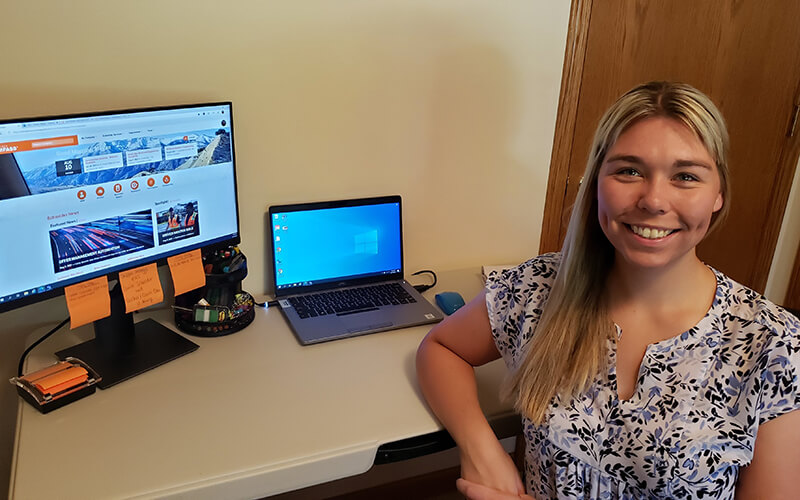 Estimated reading time: 4 minutes
On my first day as an intern at Schneider, I did not know what to expect. Across the country, the pandemic changed the way many things operated and cancelled a lot of internships, so I was grateful to just simply have one.
Little did I know I was the first intern Schneider's Marketing Department has had in over 15 years. I was excited to see what projects I would work on and what tasks would be thrown my way!
Kicking off my marketing internship by meeting the Marketing team
I spent my first week at Schneider meeting everyone on the Marketing team. I was introduced to associates from digital marketing, corporate communications, media relations and creative services.
I quickly saw just how much the Marketing team is responsible for and was excited to see what I could learn from each division of the team. Even though I, and most of the department, worked remotely, I never felt alone. Everyone on the team was only a chat away when I needed help.
Connecting with the other summer interns
During my first week, I also got to know the other summer interns were. Even though we were scattered throughout the United States and Mexico and part of different departments, there was still a sense of community among us.
We attended various virtual sessions about Schneider and were able to talk with top-level executives. We even had a trivia bingo night where we learned about Schneider and fellow interns in a fun and relaxed way.
My responsibilities as the marketing intern
The greatest challenge I faced as a Schneider intern was optimizing the 10 weeks I had with the organization. I appreciated the daily check-ins and constant communication I had with my leader because they made sure I stayed on track and that the questions I had were answered.
A few highlights of my responsibilities included:
Measuring the approach to and effectiveness of digital marketing campaigns.
Updating website content.
Recommending enhancements to advertising campaigns based on analysis.
During my internship, I felt my skills were valued and I was challenged, making this experience valuable to both myself and the team. I was never just given busy work.
Top three takeaways from my Schneider internship
After spending 10 weeks at Schneider, I learned a lot about myself and the organization. Some of my top takeaways include:
1. Schneider's core values really do come first.
When I was interviewing for the summer marketing internship, one of the questions I was asked was, "Describe a time when you exhibited one of the four values of Schneider: Excellence, Safety, Integrity and Respect." I quickly learned that those values pop up everywhere you turn.
For example, associates demonstrate 'respect' by valuing one another and welcoming others to the Schneider team. From day one, everyone I met and worked with was helpful, welcoming and willing to assist in any way they could.
2. Collaboration is key to success.
In my limited working experience, I had never met a more collaborative group of employees than those who I worked with here at Schneider. For example, I learned the Marketing and HR departments work closely together. As a double major in both marketing and human resources, I really appreciated this.
Communication and collaboration move a company forward. Without them, both sides are in the dark and left to fill the holes with assumptions instead of answers.
3. Having a strong company culture is vital.
This internship showed me what kind of team member I want to be and what it feels like to work with a welcoming, hard-working and collaborative group of individuals. I realized the importance of culture and the impact it has on associates.
The Marketing team welcomed me into their department by showing me what everyone does and giving me responsibilities of my own. A strong culture means strong associate performance and an overall positive team experience – something every worker and company strives for.

Interesting in interning at Schneider?
Learn more about our internship program, what intern positions we have to offer and how to apply for one.
About the author
Megan is in her last year of college at the University of Wisconsin-Eau Clarie and was Schneider's Marketing intern during the Summer of 2021. She is double majoring in marketing and human resources. In her free time, Megan loves being with friends and family, watching sports, doing arts and crafts and playing golf.

More posts by this author