Military-wrapped trucks honor Schneider veterans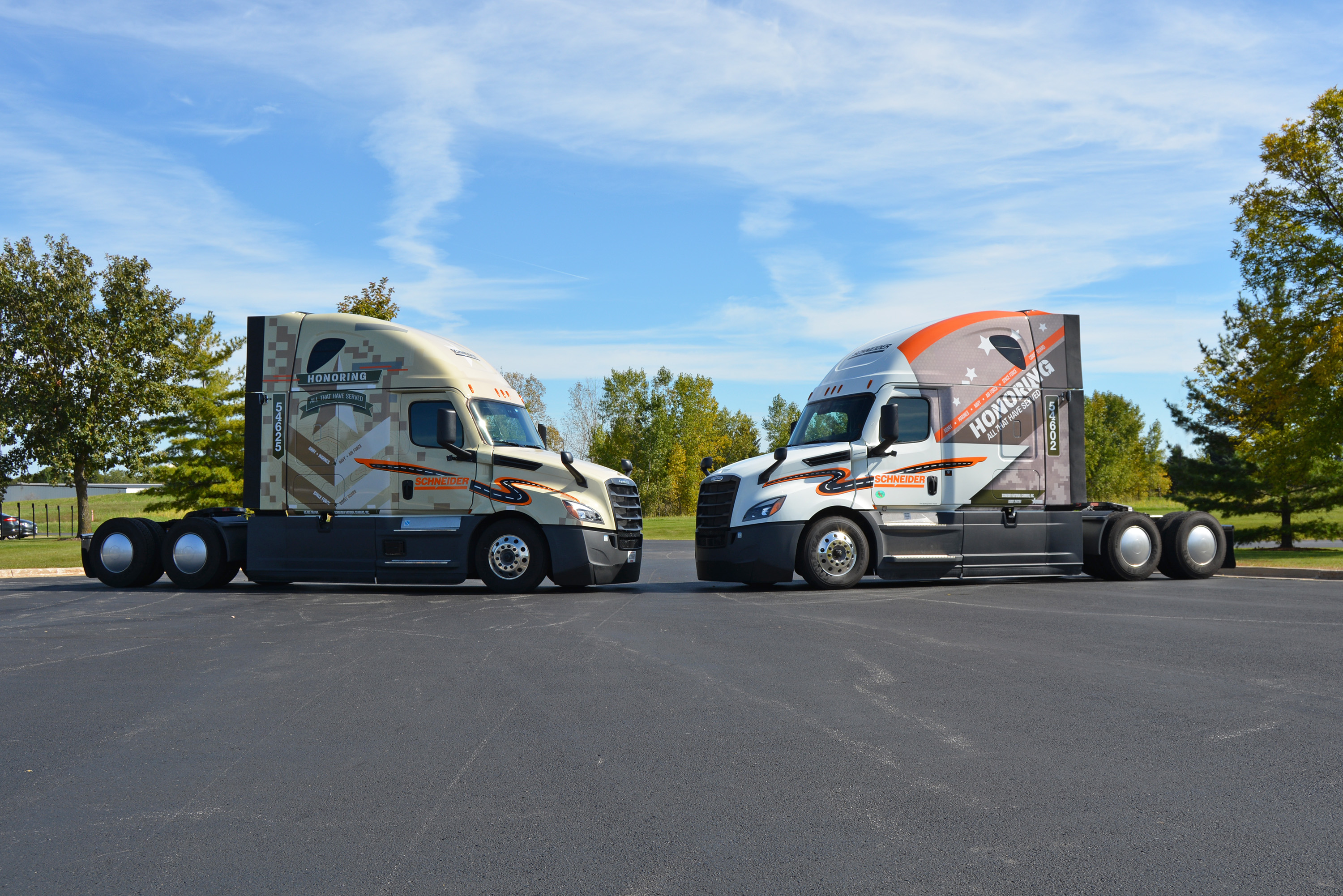 Estimated reading time: 4 minutes
In November 2022, Schneider unveiled its three new military-wrapped trucks that honor those who've served in the United States military. These trucks are exclusively designed and managed by Schneider to recognize the many current and former military members on the Schneider team.
Behind the wheel of these trucks are three experienced drivers – and military veterans – who've been with Schneider for roughly 70 years combined.
The men shared stories from their time in the U.S. Armed Forces and talked about why they're embracing the opportunity to captain these trucks.
Doug Huber
Doug Huber grew up around the trucking business. His father was a driver who worked in all facets of the industry – he even hauled the Apollo 15 command module through Ohio, where it was once on display.
It's a career Doug would pursue as well, but not until after he served in the U.S. Marine Corps for 20 years.
Becoming a member of the U.S. Marine Corps
Doug enlisted in1975, when he signed up for field artillery duty as a cannoneer. He then served several years in Okinawa, Japan, before being selected as a highly skilled warrant officer in 1981.
Doug later served in Beirut, Lebanon and in Grenada, a country in the West Indies. He also served in Kuwait during Operation Desert Storm.
Finding his way to trucking
After retiring from the military, Doug looked for work in transportation. He decided on Schneider because of the company's focus on safety.
Doug has been a driver with Schneider since 1995. His career has included:
"I like the freedom, the scenery and getting to go through different climates," Doug said. "I want to guide the rookies with their issues, point them in the right direction and help them succeed."
Paying tribute to fallen service members
Unfortunately, Doug knew many people who died in the 1983 vehicle explosion that targeted barracks of the 1st Battalion 8th Marine Regiment – also known as the Beirut Battalion. The bombing killed 220 Marines, 18 sailors and three soldiers.
Doug was a member of the battalion but had been transferred out shortly before the incident. It's an emotional thought for him, knowing his name could have been added to the Beirut Memorial in Jacksonville, North Carolina.
"I know a lot of the names on that memorial," Doug said. "That's why I'm honored to be driving this truck."
Bobby Brown
Bobby Brown has always been a truck driver. Before he joined Schneider in 1992, he served more than eight years in the U.S. Army and drove a large variety of military trucks. Bobby's driving experience gave him an edge when he retired from the military.
Becoming a member of the U.S. Army
In 1988, Bobby went to Germany as part of the 56th Field Artillery Command, which was responsible for handling the Pershing missiles based there.
Before that, Bobby was part of an infantry unit, driving trucks into Berlin through communist-controlled East Germany.
"That was the most nerve-wracking thing we ever did," Bobby said. "You can't even drive in a convoy. They had us all split up. We had live ammunition with us in case anything happened."
Using his military experience to become a

Schneider

driver
During his time in the Army, Bobby drove tactical trucks, cargo trucks and everything in between. His skills caught Schneider's attention in the early 1990s.
"They hauled a lot of government contract supplies with HAZMAT and ammunition," he said. "I was able to handle sensitive material."
Bobby is now based in Pennsylvania as an over-the-road driver because he likes the variety it provides. The career has suited him well for over three decades.
"When I tell people how long I've been with Schneider, they just look at me, dumbfounded, saying, "It must be good,'" Bobby said.
Vernon Rasmusson
Vernon (Vern) Rasmusson served in the military for 22 years, starting in 1987. He began as a combat ground medic in the U.S. Army before serving as a flight medic for the last 18 years of his military career.
Applying his military skills to truck driving
Over time, Vern took on various responsibilities like:
Coordinating battalion movements onto bases overseas.
Supervising emergency operations.
Training military vehicle drivers.
Each of those roles taught him something he still uses as a driver today.
"We would do a pre-flight check on our aircraft every morning," Vern said. "From the time I got the call, it had to be done in less than five minutes. When a plane is in the air, it's too late to fix things. It has to be right every time. That's why I can tell you if there's anything wrong with a trailer in a heartbeat."
Transitioning to civilian life
When he retired in 2009, Vern and his wife moved to Green Bay, Wisconsin. His first civilian jobs were working in logistics with a healthcare company and carrying packages on a straight truck.
Vern was later introduced to Schneider through a friend and a job fair at Fox Valley Technical College, where he got his CDL. He has been a dedicated driver for nearly eight years, which he likes because of the consistency and reliable teamwork.
Honoring others who've served by driving Schneider's military-themed truck
Vern's new truck specifically recognizes the National Guard and Reserve. Although he didn't serve in those capacities, he's proud to represent them.
"As I started reflecting, I thought about how I served with a lot of Reserve and National Guard members, and how I have a lot of respect for them," Vern said. "I understand now why I'm in that truck. It gives me a sense of honor. We're recognizing what they've done and what they're still doing."
Join a military-friendly company.
Schneider is proud to hire those who've served. As one of the country's largest and most decorated employers of current and former military members, we offer a wide range of benefits for military associates.
About the author

Schneider Guy loves the "Big Orange." He's passionate about the trucking industry and connecting people to rewarding careers within it. He's been the eyes and ears of our company since our founding in 1935, and he's excited to interact with prospective and current Schneider associates through "A Slice of Orange."