Schneider's 2022 Ride of Pride driver: Patrice Cook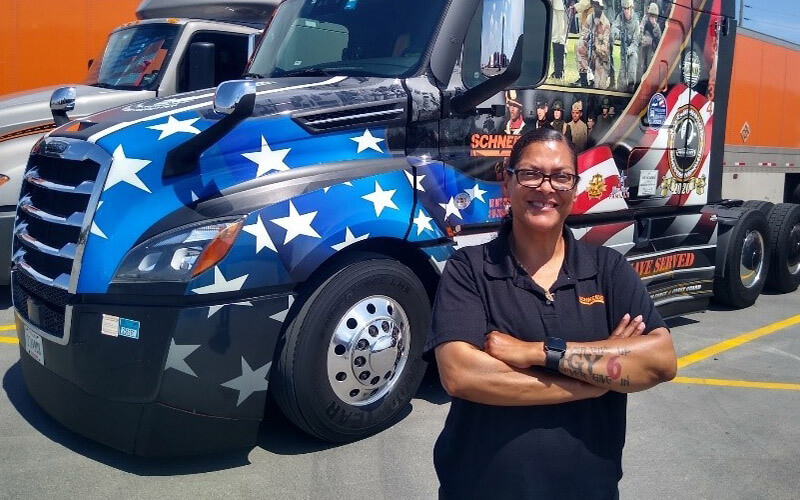 Schneider driver Patrice Cook always knew she wanted to explore the world beyond her small hometown in Pennsylvania.
Just five days after graduating high school, she enlisted in the U.S. Army. Longing to travel, Patrice immediately felt drawn to transportation and set off on what would turn out to be a 24-year military driving career.
Joining the military
Patrice began her military career as a transport motor operator. She gained experience driving a multitude of military-grade equipment and hauling supplies on everything from flatbeds to dry van containers, heavy equipment transport systems, Humvees and even tanks.
Her time in the Army brought Patrice across the world, serving two tours in Bosnia and one in Iraq.
Upon her exit from active duty, Patrice stayed close to the Army by preparing soldiers for deployment as a unit administrator at Fort Jackson in Columbia, South Carolina.
Transitioning from the Army to civilian life
In 2012, an Army friend contacted Patrice and asked her to help manage a transportation department at the company where she was working. Patrice stayed in the position for five years before the open road called her back to truck driving.
Both Patrice and her friend used a military waiver to obtain their CDLs and became team drivers based out of Schneider's Indianapolis facility.
"Driving is something I've loved to do since the first time I got my hands on a steering wheel," Patrice said. "I felt like Schneider was the right fit for me from the beginning because of their consistent efforts to go above and beyond with their military program, safety and training."
After her time as a team driver, Patrice took on new roles as a training engineer (TE), instructor and over-the-road driver. Now, she's taking on another new role as Schneider's first female Ride of Pride (ROP) driver.
Becoming Schneider's first female ROP
When Patrice joined Schneider in 2017, she had never heard of the ROP Program.
"It wasn't until I was working as a TE in 2019 when two fellow drivers approached me saying I should look into becoming a Ride of Pride Driver." Patrice said. "Not knowing what that meant, I looked into it and instantly knew I had to be a part of the program."
She got to work by networking with people involved in the program and talking with her leader. Patrice said the day Schneider selected her as the 2022 ROP driver was one of the greatest of her life.
"Being selected is so special because it allows me to stay connected to the military even though I'm not in uniform anymore," Patrice said. "I'm looking forward to participating in events, being able to talk to other veterans and embody what it truly means to be a Ride of Pride driver."
Being a woman in the trucking industry
This isn't the first time Patrice has been recognized for her achievements. In 2018, she was named Schneider's first Featured Female Truck Driver.
Patrice said being a woman in the transportation industry has never scared her. Instead, she feels empowered doing something outside the norm.
"I've been doing things that are predominately male dominated my entire life – from joining the military to driving trucks to now being the first woman to ever drive a Ride of Pride truck at Schneider," Patrice said. "I love seeing how people react to the truck, but also their reaction when they see me, a woman, in the driver's seat!"

Doing the things she loves when she isn't driving
Though Patrice's love for driving is strong, it doesn't outweigh the love she has for spending time with her family.
"If I'm going down for my reset and my family is within an hour, they're coming to visit me," Patrice said. "My favorite time is spent with my mom, daughter and brothers."
Patrice is also an avid reader – she enjoys all different types of books that she reads on her Kindle.
See more of our Ride of Pride fleet
Explore our entire fleet of Ride of Pride trucks and learn more about the history of the Ride of Pride program.
About the author

Schneider Guy loves the "Big Orange." He's passionate about the trucking industry and connecting people to rewarding careers within it. He's been the eyes and ears of our company since our founding in 1935, and he's excited to interact with prospective and current Schneider associates through "A Slice of Orange."
More posts by this author