What to expect as a Schneider National Dedicated Fleet truck driver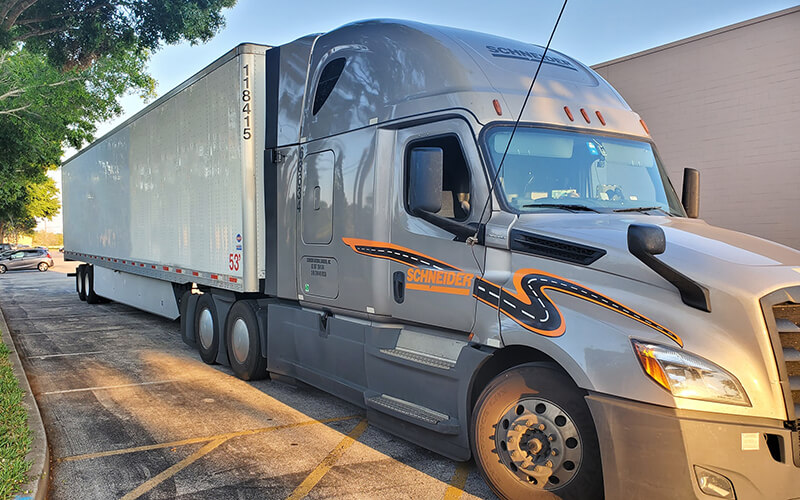 Are you looking for a driving job with the consistent pay of a Dedicated driver and variety and adventure of Over-the-Road driver? Then you should consider becoming a Schneider National Dedicated truck driver.
Unlike a typical Dedicated truck driver who transports goods for one customer, Schneider National Dedicated truck drivers are deployed all over the US to drive temporarily on a variety of Dedicated accounts. These accounts usually need extra drivers to provide vacation coverage, support for a new business start-ups or additional driving help during seasonal spikes.
National Dedicated truck driver work schedule
National Dedicated drivers work full-time and drive for a minimum of three weeks at a time. Within that three-week time frame, drivers may either work on one Dedicated account or multiple accounts.
Drivers receive assignment notifications on a weekly basis. These notifications tell drivers if they will remain on their current account assignment or be sent to help a new account. If a driver receives a new account assignment, they are assigned a load and sent directly to their new account location.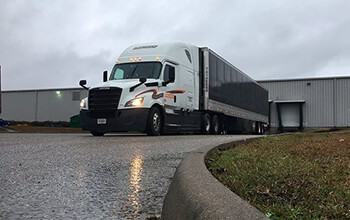 How much do National Dedicated drivers earn?
On average, National Dedicated drivers can earn $63,100 to $77,100 annually, with top drivers earning up to $87,000 each year.

Drivers can earn bonus pay for staying out on the road longer.
Drivers gain a $250 premium during their third week out on the road. The premium then increases to $400 after four weeks on the road. Drivers can continue to earn the $400 weekly premium for every additional week they drive after the initial four-week period.
Pay premium breakdown:
Week 1 = Base pay.
Week 2 = Base pay.
Week 3 = Base pay + $250 premium.
Week 4 and longer = Base pay + $400 premium per week.
So, how do drivers benefit from joining this fleet?
Unique benefits of being a National Dedicated driver
The National Dedicated Fleet offers drivers a variety of benefits that include:
Variety – Test out different driving styles
One of the biggest benefits of joining the National Dedicated fleet is the variety it provides drivers:
Different distances: The National Dedicated Fleet sends drivers where they are needed most. Drivers can experience a variety of driving routes by driving on Local, Regional and Over-the-Road accounts.
Account variety: National Dedicated drivers may work on one account for the entirety of their three-week driving period, or they may be assigned a new account each week. Meet new people and haul new kinds of freight. No two accounts are exactly the same.
Trailer types: Drivers will get the chance to drive a variety of trailer types including van trailers, reefers and flatbed trailers and learn a variety of new driving skills. Additional training required for specific equipment will be provided as needed.
Extra Experience - Learn new skills
Adaptability is a great skill for both new and experienced truck drivers to have. Driving on a variety of accounts means drivers learn new skills and gain even more experience than they might on an average Dedicated account. If necessary, drivers will also receive the account-specific training when they transfer to help a new customer.
Plus, hauling different types of freight using different trailer types means National Dedicated drivers can develop a more diverse set of adaptable driving skills. That's why drivers on this fleet stand out in the transportation industry.
Freedom to travel – See the United States
Don't get stuck driving the same route for months at a time. The National Dedicated feet utilizes drivers in all 48 states, meaning that each account brings drivers to new travel destinations. Drive for Dedicated customers without sacrificing the freedom and excitement of traveling to new locations across the United States.
Rewarding work – Help those in need
One of the most rewarding parts of being a driver on Schneider's National Dedicated fleet is being able to help customers who are in dire need of driver support. Drivers can finish their day feeling the pride of having made a difference in a customer's day and helping others when they need it most.
But the impact of National Dedicated drivers doesn't stop there.
National Dedicated drivers aren't just providing support for customers, they're also providing a first impression. National Dedicated drivers are often the first professional drivers to work with business start-up customers. That means that fleet drivers get the chance to create a positive first impression of Schneider and the transportation industry.

Interested in becoming a National Dedicated driver?
Getting started is as easy as submitting an application. Click the link below to learn more about the National Dedicated fleet and or start your application
About the author

Schneider Guy loves the "Big Orange." He's passionate about the trucking industry and connecting people to rewarding careers within it. He's been the eyes and ears of our company since our founding in 1935, and he's excited to interact with prospective and current Schneider associates through "A Slice of Orange."