How to prepare for a one-on-one meeting with your manager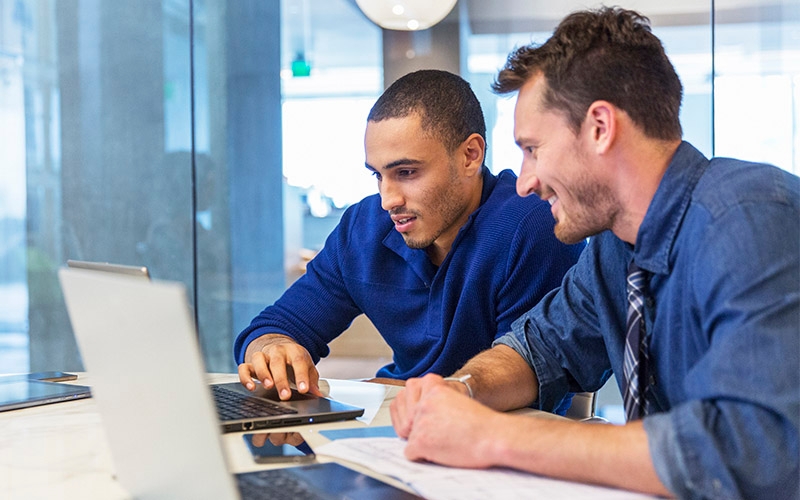 Estimated reading time: 3 minutes
The most effective one-on-one meetings are discussions that include a blend of updates, questions and feedback. You need to be strategic with what topics you cover with your manager to ensure there's enough time to discuss everything you want.
In this blog, we'll break down how to prepare for a one-on-one meeting with your manager to help you make the most of your time together.
8 steps to prepare for a one-on-one with your boss
1. Understand the purpose of the one-on-one.
First, you need to determine the primary objective of the upcoming one-on-one. Is it:
A routine, informal check-in?

A performance review?

A discussion about a specific project?
If you don't know what the purpose of it is, don't be afraid to ask your manager. Knowing what the overall goal of the one-on-one is will help you prepare talking points for it.
2. Follow up on topics from

the

previous

one-on-one.
Before you meet with your manager, review your notes from your previous one-on-one (if there was one).
If anything has gone unresolved since your last meeting, bring it up again. Anything you were able to get done should also be mentioned so your manager knows it has been completed.
3. Provide updates on your completed projects.
Your one-on-one is an excellent opportunity to highlight what you have been working on. Discuss projects and big tasks you've completed since your last meeting.
Be ready to share:
What the project entailed.

What went well when working on it.

Any challenges you overcame.

The results you achieved.

Any feedback you received.
4. Discuss the status of your current projects.
The next step to preparing for a one-on-one with your manager is to summarize what projects you're currently working on.
When writing your notes, include:
Where you're at with the project.

When you plan to finish the project.

What is going well with the project.

Any questions you may have regarding the project.
5. Share professional development updates.
Your one-on-one is a great time to talk about the progress you've made on your professional development plan.
You can share anything you've done to help you reach your goals, such as:
Any courses you've taken.

New skills you've learned.

Recent sit-ins you've had.

Articles or blogs you've read lately.
6. Prepare questions.
One-on-ones are also the perfect opportunity to ask questions and get guidance from your manager. Think about:
Project-related questions.

Professional development-related questions.

Day-to-day tasks-related questions.
7. Create an agenda.
Once you know what you want to discuss during your one-on-one, create an agenda to help you stay organized and on track during the meeting.
Here's an example of what an agenda can look like:
Purpose of upcoming one-on-one:

Bi-weekly check-in with manager.
Follow-ups from last meeting:
Completed projects:

Project A: Completed last Friday and moved to IT for the integration work; implementation scheduled in two weeks.

Feedback from the IT team: Our preliminary build is excellent.

Project B: Phase 2 of the build is stalled due to a technical issue with the developer; the staffing shortage on our team has delayed progress as well.

Do we have an option to bring in temporary help?

Professional development progress:

Shadowed implementation project lead. Three key takeaways:

Gained insight into how strategic decisions are made.
Learned how to maintain a collaborative work environment.
Developed new conflict resolution techniques.

Questions:

My next focus area is the data conversion project. Do you have any suggestions for how I should tackle it?

Do you have any recommendations for professional development courses I could enroll in during the upcoming quarter?
8. Determine your next steps.
Make the most of one-on-one meetings with your manager by writing down everything you talk about. Your notes should include follow-ups and to-dos from each of the categories:
Completed projects.

Current projects.

Professional development objectives.
Follow through on your action items before your next one-on-one. You can also reference these notes when you create follow-up items.
Achieve your goals.
Are you feeling
overwhelmed by your
long list
of projects
? Follow these steps to
help you stay on track
, no matter what challenges you might face.
About the author

Schneider Guy loves the "Big Orange." He's passionate about the trucking industry and connecting people to rewarding careers within it. He's been the eyes and ears of our company since our founding in 1935, and he's excited to interact with prospective and current Schneider associates through "A Slice of Orange."
More posts by this author