7 tips on how to stick to your goals despite obstacles you face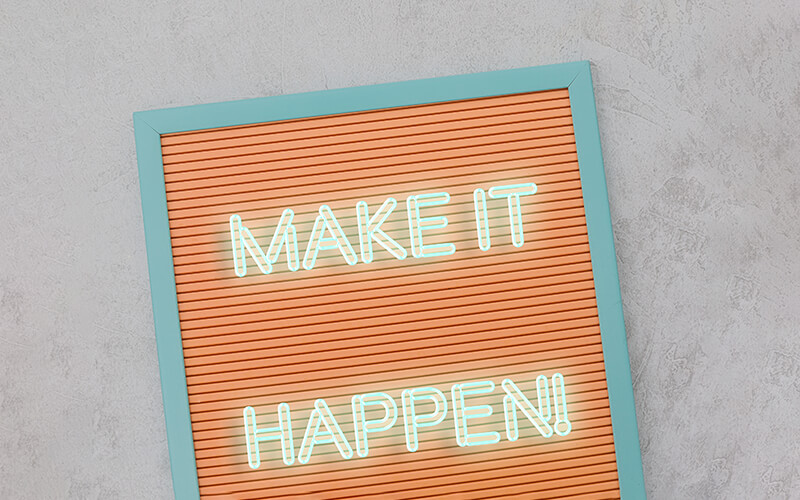 It's the beginning of a new year and what do most of us do? We decide we're going to set all these wonderful goals for ourselves to accomplish over the next 12 months.
We have a lot of ideas and grand illusions of what we want to accomplish. Whether it be professional goals, weight loss goals or healthy living goals, the list goes on.
However, the burning question is, "How to stick to your goals and what can you do to reach them despite obstacles you face throughout the year?"
Check out my tips below on what you can do to achieve those goals, so by the end of the year or whatever the time frame you set, you are seeing awesome results!
7 tips on how to stick to your goals
1. Make a plan and write it down.
The first thing you want to determine is what your plan is going to be. A well-thought-out plan will give you direction and structure. Write down what you want to achieve and the time frame in which you want to achieve it. The physical act of writing down a goal makes it real and tangible.
2. Ensure your plan is specific.
Make your goals specific. Vague goals are difficult to stick with and will set you up for failure. Goals must be clear and well defined. This means they're specific, measurable, attainable and include a timeline.
Example of a specific plan: You want to run a 5K race, and you want to complete it in 25 minutes. You should create a training plan to help you work up to achieving the 25-minute mark – this includes tracking your progress along the way and setting weekly and monthly goals to hit.
By giving yourself the appropriate amount of time to prepare and tracking your progress and training, you are setting yourself up to achieve your goal.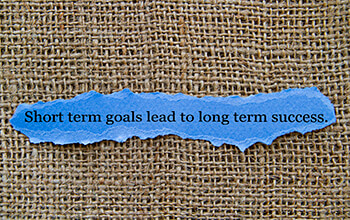 3. Make your goals feel easier to achieve.
Break your goals into smaller portions that are easier to achieve and that will ultimately bring you closer to sticking to and achieving them. Ambitious goals are inspiring, but they can also be intimidating and without an attainable action plan, you are setting yourself up for failure.
To achieve your goal, define it, and with the end in mind, work backwards and focus on the sub-goals or tasks that will get you there.
Example of making your goal feel easier to achieve: You want to run a marathon. Start by having a smaller goal of running two miles a day and work your way up to five miles a day, then ten and so on. You can easily make daily improvements that will build your confidence to take on the next step.
You'll ultimately reach your goal of running and completing that marathon.
4. Hold yourself accountable.
Another idea of how to stick to your goals is to create accountability for yourself. One way of doing this is to share your goals and progress with someone who is directly involved in the goal. Tell a friend or a co-worker about your goal, or you could even join a group where you have the ability to share your progress.
When you share your goal with others or if you have a goal that directly impacts others based on your progress, you will hold yourself more accountable for getting things done.
5. Stay motivated.
Being motivated is also a huge part of sticking to your goals. One of the most significant things scientists have found is that staying motivated throughout the journey is a matter of working on tasks that are just on the edge of our current abilities – tasks that are not too ambitious or difficult but not too easy either. They're just enough to keep us invested in the challenge.
Staying motivated is easier than it sounds. Some ways to keep yourself motivated include:
Measure and track your performance. This will help boost your self-esteem and drive you to keep pushing for your goals.
Have long-term and short-term goals.
Have goals for yourself, not chores.
Surround yourself with like-minded people.
Build around your passion. When you do something you truly love, it's not hard to find the motivation needed to succeed.
If you manage to maintain optimal levels of motivation throughout your journey, you will start to make significant progress.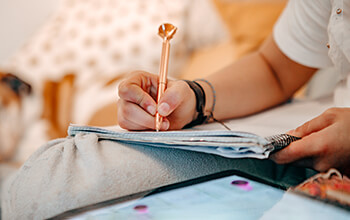 6. Be consistent.
Staying consistent is extremely important if you want to achieve your goals, because if you take time off, it will be tough to get back into the routine of working toward them. If you struggle with consistency and discipline, try:
Writing things down.
Staying consistent in your thinking and mindset.
Creating a schedule for yourself.
Having reminders of your goals and plan on action on your phone and calendar.
And if you make a mistake or miss a day, keep on going!
7. Celebrate every win (big or small).

Focus on the journey, not the destination. Celebrating each win is an important way to track your progress and achievements along the way, which helps you feel good and keeps you motivated so you eventually crush your goals!
Good luck – now go make it happen!
Are your goals career-specific this year?
Looking to grow in your career? Join a company that encourages professional development through mentorship programs, tuition reimbursement and ongoing training. Apply today and see where you could go at Schneider.
About the author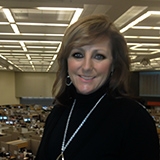 Rene is a Schneider Corporate Recruiting Manager in Green Bay, Wis. She started her career at Schneider in September of 1997 as a Logistics Technician and continued to progress as a Team Coordinator, Customer Service Manager and eventually landed in Corporate Recruiting, where she has been hiring in top talent since 2005. Rene also owns a home-building construction company with her husband and enjoys working with clients on design aspects.