Truck driver orientation checklist: Essentials for Schneider orientation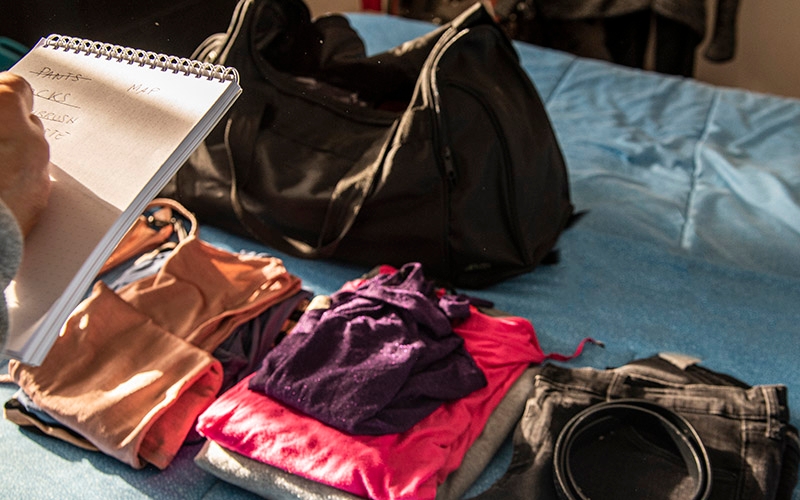 Estimated reading time: 4 minutes
So, you have decided to join Schneider as a truck driver. Now, what's next?
Once you have accepted an employment offer at Schneider, the next step is to attend driver orientation.
Make sure you have everything necessary to set yourself up for success once you arrive at orientation by packing all of the items outlined on Schneider's truck driver orientation checklist. These items apply to both experienced and inexperienced drivers, as well as non-CDL holders.
Essentials to pack to be prepared for truck driver orientation
This list is a short overview of the important items needed for Schneider's orientation. Your recruiter will give you more insight about orientation during the hiring process and answer any questions you may have as your orientation date gets closer.
In the meantime, here are the essentials items you need to pack for orientation at Schneider:
1. Forms and documentation.
Possibly the most important items to remember for orientation are your identification documents to complete the I9 document on your first day of orientation. These forms of identification include:
CDL / Class A Commercial Learner's Permit (most recent/not expired)
Social Security card.
Original or certified copy of birth certificate.
U.S. Passport.
Permanent Resident Card or Alien Registration Receipt Card.
Employment authorization document with photo.
Driver license or ID card issued by the U.S. government.
School ID card with photograph.
Voter registration card.
U.S. military identification.
Tribal ID.
Schneider also requires new drivers to present the following documents before they start orientation:
Commercial Driver's License (CDL).
TWIC Card (if applicable).
Documents to set up a direct deposit.
2. Work appropriate clothing and gear for all types of weather.
We get a lot of questions about how many clothes drivers should pack for orientation. Your recruiter will tell you how many days long your orientation will be, which will help determine how much you need to pack. Your recruiter will also let you know if laundry services are available at your orientation location.
The specific clothing that you bring will depend on the type of truck driving job you applied for and where you are attending orientation. If you are traveling to Wisconsin in the middle of winter, you will want to bring additional winter items (winter hat, heavy winter coat, warm gloves etc.) in addition to the clothes listed below.
However, in general, you'll want to pack:
Shirts with sleeves.
Sweatshirt or zip-up jacket.
Jeans.
Work pants.
Gloves.
Rain jacket
We do not permit sweatpants, joggers or tank tops. If you are hiring on to a flatbed or tanker position, be sure to bring long-sleeved shirts.
3. Schneider approved footwear.
Footwear will also be dependent on the type of account you are hiring on to. Appropriate truck driver footwear usually consists of:
Boots with non-skid soles.
Closed-toe shoes with non-skid soles.
Steel-toed boots (for flatbed and tanker drivers).
Schneider provides boots at orientation if you do not have a pair. These boots are provided at a discounted price of $50, which is deducted from your first paycheck.
4. Miscellaneous items.
You will need to bring a few additional things to ensure that your orientation and training process goes smoothly.
Money
Bring money for meals. We recommend bringing cash.
Classroom supplies
Pen.
Pencil.
Notebook.
Calculator.
Flashlight.
Highlighter.
Gloves.
Medical forms/prescriptions
DOT Medical Card.
Medications.
CPAP machine.
If you have any additional questions about what to bring to orientation, contact your recruiter directly for further assistance or give our recruiting team a call at 800-44-PRIDE. Welcome to Schneider!
Download and print Schneider's complete packing checklists here: