What kind of clothes do truck drivers wear?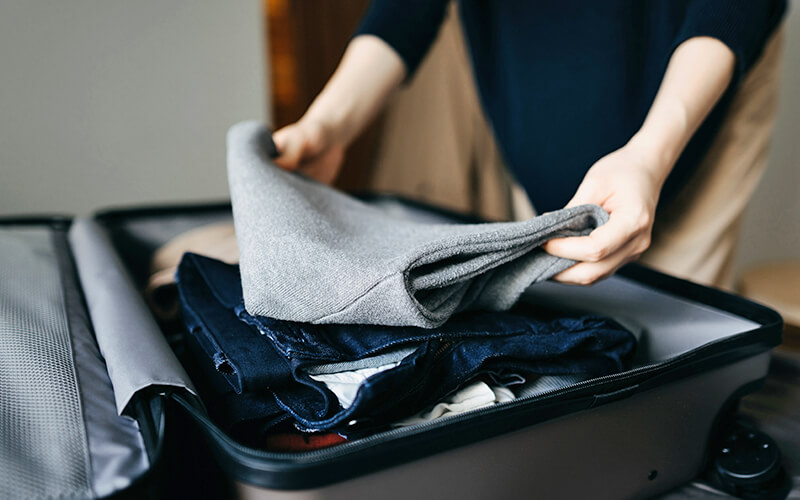 When putting together your truck driver packing list, some of the most important items you don't want to leave home without are clothing items. The last thing you want is to be out on a three-week trip and realize you forgot to pack an essential.
As an inexperienced driver who is ready to head out for the first time, you may be wondering, 'what kind of clothes do truck driver wear?' How should you present yourself in a way that's professional but still comfortable?
Continue reading for insight into what professional truck drivers wear and what the must-pack clothing items for the road are.
What kind of clothes do truck drivers wear?
If you work for a company that requires a uniform, then that makes things easy. For drivers who aren't supplied a uniform, the best clothes for truck driving are those that are professional yet practical.
Why professional?
There's a good chance that at some point during your trip, you'll need to get out of your truck and interact with a customer. Not only are you representing yourself, but you're representing the company you drive for.
Why practical?
As a truck driver, you're going to be sitting for about 11 hours per day. You want to be comfortable so you can focus on driving and safety. Also, depending on what type of driver you are, you may be required to load and unload the freight you're hauling, so you'll want to wear clothing that allows you to do so without restriction.
Truck driver outfit example
An example of a professional yet practical outfit could be a clean pair of jeans with no rips, a white undershirt with a zip-up over it that isn't wrinkly and a pair of work boots. This type of outfit would keep you comfortable while still looking like a professional truck driver.
What do female truck drivers wear?
As a woman who is joining the industry, it can be tough to figure out what kind of clothes female truck drivers wear and what you should specifically pack. Although women are not expected to dress any different than men, Schneider driver and Women in Trucking Ambassador, Kellylynn, put together this video with her clothing advice for female truck drivers.
Best clothes for truck driving list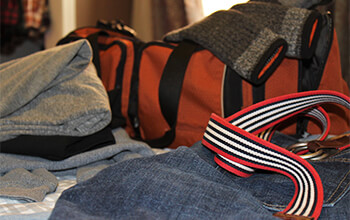 We recommend packing enough of each item to last you for about seven days. You may only need a few of some items, like jeans and flannels, because they can be worn a couple times without being washed. While other things, like socks, you will need at least one pair of for each day.
Tops
Solid-colored short sleeve and long sleeve shirts: Consider buying shirts that are breathable and wick away moisture.
Sweaters, zip-ups, flannels or sweatshirts: These are great to throw on over a shirt when you're too cold for short sleeves but would get too hot with a jacket on.
Rain jacket: You may find yourself doing pre-trip inspections in the rain now and again.
Winter jacket: You never know when you'll be assigned to a load that takes you through Wisconsin in the winter.
Pants
Jeans: Pajama pants are great for sleeping but not for driving. Jeans are both practical and professional. Look for pairs that don't come with holes in the legs and feel comfortable yet durable.
Sweatpants: Having a pair or two of sweatpants for hanging out in your truck is always convenient.
Shoes
Work boots: Not only does your footwear need to be comfortable all day, but it needs to be durable for pre-trip inspections and loading/unloading freight. Work boots are the perfect shoes for truck drivers to wear daily.
Shower shoes: Don't forget to bring a pair of water-resistant shoes to wear while showering.
Sneakers: Pack a pair of sneakers that you can use for working out or walking during your off time.
Undergarments
Socks: Pack socks that pair well with work boots.
Underwear: Remember you will spend most of your time sitting, so find a type that fits you comfortably.
Undershirts: They go well under things like sweatshirts and flannels.
Items you didn't think of
Gloves: Canvas work gloves, leather work gloves and cold weather gloves are all on the must-have gloves for truck drivers list.
Reflective vest: Wear it to stay safe when working outside of your truck and doing things like pre-trip inspections.
Pajamas: Don't forget to bring comfy clothes to sleep in, but make sure to use them for sleeping and not while driving.
Sunglasses: Invest in a decent pair of sunglasses to protect your eyes from the sun.
Looking for a full truck driver packing list?
Review all the truck driver essentials, in addition to clothing items, to make sure you're ready for your first trip out on the road.
About the author

Schneider Guy loves the "Big Orange." He's passionate about the trucking industry and connecting people to rewarding careers within it. He's been the eyes and ears of our company since our founding in 1935, and he's excited to interact with prospective and current Schneider associates through "A Slice of Orange."
More posts by this author