How long does it take to get a CDL? 5 factors to consider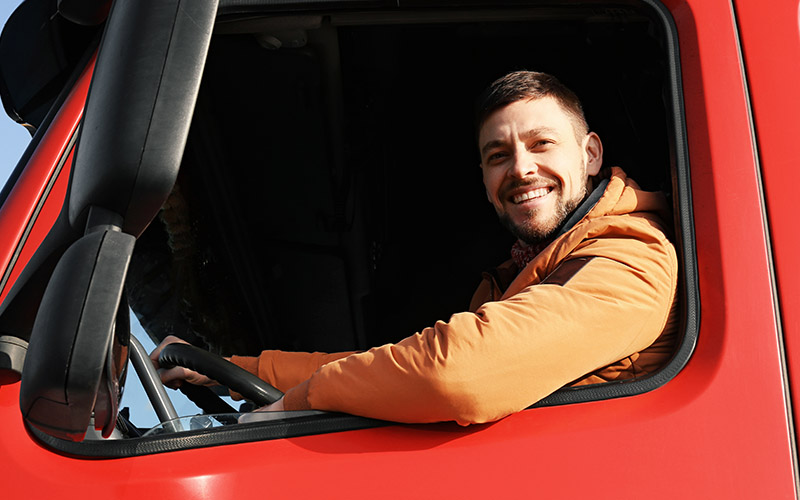 Estimated reading time: 4 minutes
Getting a Commerical Driver's License (CDL) is one of the first steps when beginning your professional truck driving career. You're probably wondering, "How long does it take to get a CDL?"
Obtaining a CDL can take as little as three weeks or as long as six months. But, on average, it takes about seven weeks to get a CDL when attending a full-time driver training program.
This training timeline varies due to the factors listed below.
5 factors that can affect how long it takes to get a CDL
1. The type of CDL you get.
There are three classifications of CDLs people can choose from:
Class A CDL.
Class B CDL.
Class C CDL.
Each of these CDL classifications allows you to drive trucks of varying weight ratings and with different hazardous classifications. Because of this, they all have different training requirements.
If you are interested in becoming a professional truck driver, you'll need to choose between getting a Class A CDL or a Class B CDL.
2. The additional endorsements you add to your CDL.
There are six endorsements that can be added to your CDL. Which one(s) you choose to add will affect the overall time it takes to get a CDL. Endorsements include:
(P) Passenger Transport Endorsement.
(S) School Bus/Passenger Transport Combo Endorsement.
(N) Tank Vehicle Endorsement (Tanker).
(X) Tanker/HAZMAT Combo Endorsement.
While having endorsements added to your CDL is not required for many driving jobs, it does open opportunities to choose from a wider variety of specialized driving jobs and the potential to earn a higher salary.
3. If you attend a full-time versus a part-time training program.
To get your CDL, you'll have to complete an official training program. CDL training programs are usually held at trucking schools or community colleges. But exactly how long is CDL school?
These courses come in two different schedules:
Full-time programs
Full-time programs usually run five days a week (often Monday through Friday) for five weeks, allowing students to complete their training at a much faster rate. If you're wondering how to get a CDL quickly, a full-time CDL training program is the way to go.
Part-time programs
Part-time programs usually consist of Saturday and Sunday classes and last for, at minimum, five weeks. Part-time CDL training is great for people who work full-time or don't have the flexibility to attend class five days a week.
4. How much time you spend in the classroom versus in the yard/out on the road.
When you attend a CDL training program, the classroom part of training usually ranges from 30-80 hours in total. The amount of time you spend in the classroom will vary based on the program you enroll in. Typically, students in CDL training programs spend about one third of their time in the classroom and the rest in the yard or on the road.
Before choosing a program, consider your learning preferences:
Would you prefer to spend more time in the classroom learning through instruction?
Or, would you rather learn through doing hands-on training outside in a yard?
Once you determine which learning style would be best for you, do some research truck driving schools to figure out which would be the best fit for you.
5. How quickly you can schedule your CDL test.
Once you've started your CDL training, you'll probably be excited to schedule your CDL test so you can become a professional driver right away. However, many states require drivers who have just obtained their Commercial Learner's Permit (CLP) to wait at least 14 days before they can take their CDL test.
Drivers usually schedule their CDL test through their local Department of Motor Vehicles (DMV). Each state has its own timeline for CDL testing, with most requiring that the test be scheduled 48 hours in advance. Make sure to check your local DMV's website to find the necessary steps for scheduling and completing your test.
How long does a CDL last?
A CDL stays valid for four to eight years, depending on which state you get it in. Certain endorsements, such as a Hazardous Materials endorsement, may require renewal more frequently.
Most states do not make you retake any knowledge exams to renew your CDL, unless your CDL has expired. If you let your CDL expire, you will have to redo all testing for renewal.
While some states allow you to renew your CDL online, most still require you to do some of the process in-person. Regardless of how you renew your CDL, there are a few things you may need to provide to the DMV:
Proof of identity and/or residence.
Recent vision exam results.
Self-certification forms.
CDL Medical Certification.
Renewal fees.
Note that these requirements vary greatly by state. Be sure to check with your DMV when it comes time to renew your CDL.
Let Schneider cover the cost of your CDL.
Interested in getting your CDL but worried about the cost? Schneider offers company-paid CDL training programs and tuition reimbursement to help new drivers pay for their CDL training.
About the author

Schneider Guy loves the "Big Orange." He's passionate about the trucking industry and connecting people to rewarding careers within it. He's been the eyes and ears of our company since our founding in 1935, and he's excited to interact with prospective and current Schneider associates through "A Slice of Orange."
More posts by this author