Top truck stops in America: 11 stops to check out next time you're on the road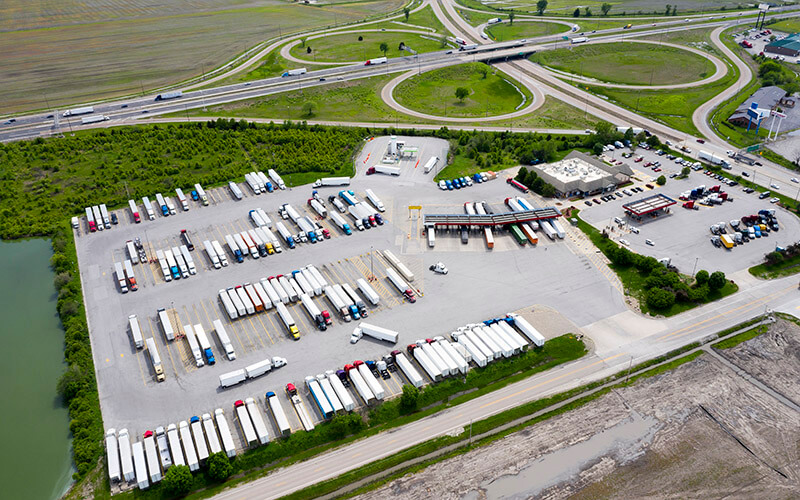 Estimated reading time: 4 minutes
Many professional truck drivers spend days or weeks away from home. While they're out on the road, they rely on their company's facility network and truck stops to provide the everyday essentials.
In addition to their company's facility network, there are thousands of unique truck stops across the country for truck drivers to access while traveling. Some of which are full-service stops equipped with laundry facilities, private showers and restaurants.
In this blog, we compiled a list of the top truck stops in America. This list includes famous truck stops, major truck stop chains and hidden gems you need to check out next time you're on the road.
Famous truck stops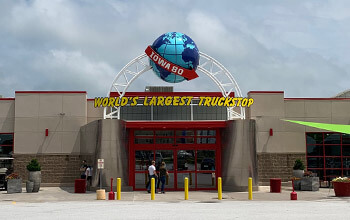 1. Iowa 80 - Walcott, Iowa.
Located in Walcott, Iowa, this famous truck stop claims to be the world's biggest. While visiting the Iowa 80 truck stop, drivers can choose between eight different dining options, visit a chiropractor, rinse off in private showers or even enjoy a movie in the truck stop's own theatre.
The Iowa 80 is open 24 hours a day, 365 days a year and is the epitome of a one-stop-shop for all drivers.
2. Dixie Travel Plaza – McLean, Ill.
Established in 1928, the Dixie Travel Plaza is regarded as the oldest truck stop in America.
This vintage stop attracts truck drivers for not only its historic quality, but also because of its delicious food. At the Dixie Café, customers can treat themselves to a buffet that is raved about by professional drivers and travelers alike.
3. Jubitz Travel Center – Portland, Ore.
The Jubitz Travel Center should be considered heaven for any driver craving entertainment. The stop has its own cinema and country western lounge & grill, which features live talent every night.
If a driver is looking for somewhere comfortable to spend the night, they can even choose to stay at Jubitz's on-site hotel, The Portlander Inn.
4. Boise Stage Stop – Boise, Idaho.
The Boise Stage Stop was built over 100 years ago as "The Regina Store" and has since evolved into a full-blown truck stop.
This stop gives drivers access to private shower rooms, 24-hour laundry services, an arcade and free satellite television. The stop also has its own restaurant, which offers a convenient online ordering system so drivers can order their food without leaving the comfort of their truck.
Top truck stop chains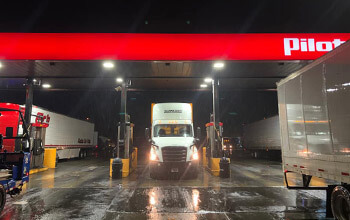 5. Pilot Flying-J.
Some of the top truck stops in America include drivers' favorite chains that they rely on most. Pilot Flying-J originated over 60 years ago with the mission to "connect people and places with comfort, care and a smile at every stop".
Pilot locations are known for having some of the best truck stop showers. Other amenities include reliable Wi-Fi subscriptions, parking reservations, CAT scales, laundry facilities and plenty of other features that will add comfort to your life on the road.
6. Travel Centers of America (TA).
While the chain is over 50 years old, Travel Centers of America makes sure to stay fresh. Along with building new locations, TA has renovated many of their facilities to include updated restrooms, showers, refurbished driver lounges and improved televisions and seating.
TA also makes sure to diversify their dining options by partnering with over 600 restaurants and nine proprietary restaurants. These restaurants include fast dining options and full-service dining.
7. Love's Travel Stops & Country Stores.
With over 500 locations, Love's is a major truck stop chain that can be found throughout the United States.
This family-owned chain offers excellent roadside assistance, a 24-hour travel shop and great food and beverage choices.
8. Sapp Bros.
There are 17 Sapp Bros. locations throughout the U.S. and this chain takes cleanliness and customer service to another level.
The chain claims their restrooms are "mom approved," meaning they have some of the best and cleanest truck stop showers and bathrooms on the road. Many locations feature a button outside of the restrooms, so if a driver finds that the restroom is not cleaned to their standards, they can hit it and a Sapp Bros. team member will be on their way to help.
Hidden gem truck stops
9. 7 Feathers Truck & Travel Center – Canyonville, Ore.
If drivers are looking to refuel on the road, 7 Feathers in Canyonville, Oregon is the place to go. The travel center has a coffee bar, a deli serving made-to-order sandwiches and fresh produce that drivers can take on the go.
10. Workman's Travel Centers - Ark.
In 2007, the first Workman's Travel Center opened in Arkansas. Today, there are three Workman's stops located throughout the state. Their mission is to provide a clean, friendly environment with a variety of services.
Workman's Travel Centers offer clean showers, on-site laundry, free Wi-Fi, 24-hour on-site security, a game room and a full-service restaurant.
11. Clearwater Travel Plaza – Clearwater, Minn.
The Clearwater Travel Plaza considers itself Central Minnesota's premier truck stop and for good reason. Aside from offering free Wi-Fi, warm showers and a lounge area designated for drivers, the travel plaza also has an on-site restaurant, pub, bakery and food court.
If drivers would rather rest than wait at a table for food, any menu item can be delivered hot and ready to the Clearwater Travel Plaza's driver's lounge. With the multitude of services offered, it's clear that this Minnesota joint truly wants drivers to feel at home away from home.
Looking to improve your fitness on the road?
Finding ways to stay active on the road can be a struggle. Thankfully, there are workout facilities throughout the United States that drivers can access to increase their activity. Learn all the tips and tricks for finding gyms on the road in this blog.
About the author

Schneider Guy loves the "Big Orange." He's passionate about the trucking industry and connecting people to rewarding careers within it. He's been the eyes and ears of our company since our founding in 1935, and he's excited to interact with prospective and current Schneider associates through "A Slice of Orange."
More posts by this author