Top semi-truck organization ideas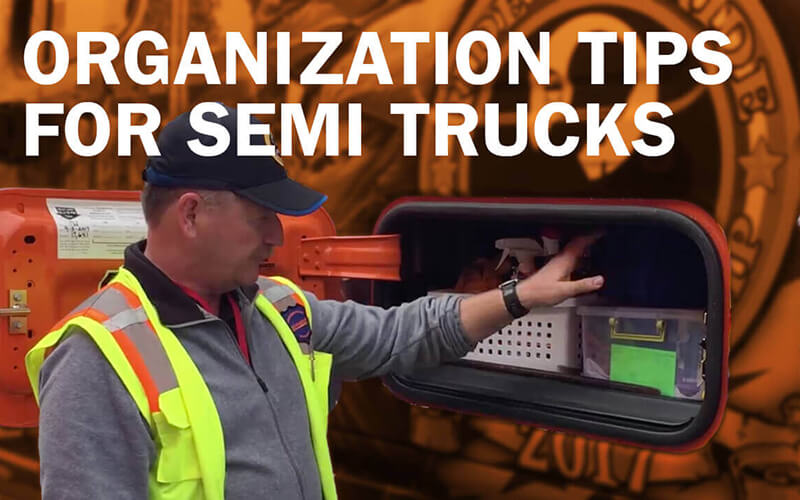 Truck drivers bring many things with them on the road, but with limited storage for semi-trucks, drivers need to get creative to make the most of the available space.
We recently connected with veteran driver David Buck to compile his best semi-truck organization ideas, many that he learned from other drivers.
Watch the full video walkthrough or use the summary below to better organize the 54 must-have truck driver items on the road and anything else you want to fit in your truck.
Exterior semi-truck organization ideas
Driver side box
What to store: Exterior cleaning supplies (including a place to put both clean and dirty rags), small tool bag, gloves for fueling, travel exercise equipment
Pro tip: Use clear plastic boxes with notecard contents list facing truck exterior to keep everything visible, accessible and organized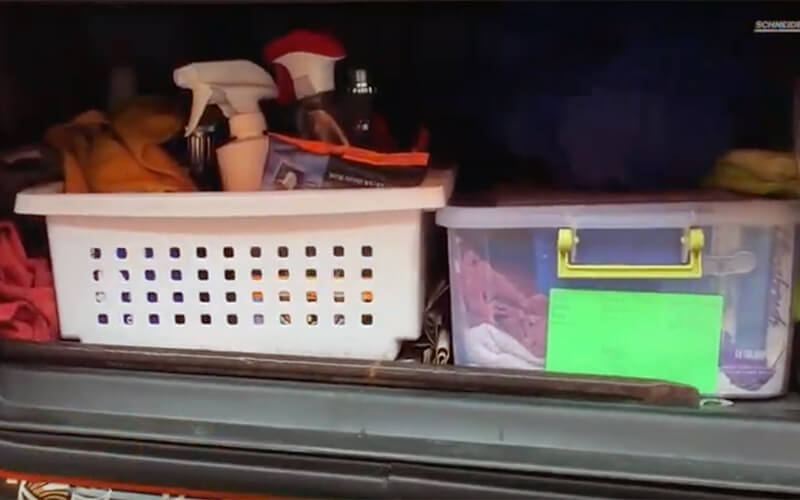 Passenger side box
What to store: Step stool, washer fluid, engine oil, antifreeze, flares, boot covers, larger toolbox with 13 key truck driver tools, extension cord, straps, extra rags
Pro tip: If you break down on the side of the road, it's safest to have your most important tools and emergency items on the passenger side for easiest access.
Interior semi-truck organization ideas
Driver overhead
What to store: Kleenex, napkins, quick-grab snacks, gum, day planner, directions to key facilities, small maps, truck stop books, calculator, list of friends' truck numbers
Pro tip: Hang carabiners from the overhead for quick access to sunglasses, reading glasses and safety glasses.
Middle overhead
What to store: Spare paper logs and tally sheets, extra paperwork, paper towels, quick reference guides, administrative/office supplies (scotch tape, paper clips, stapler, etc.), medicine, toothpicks
Pro tip: Hang your paper towel from a bungee or cord connected to either side of the bin to maintain quick access while also keeping it out of the way.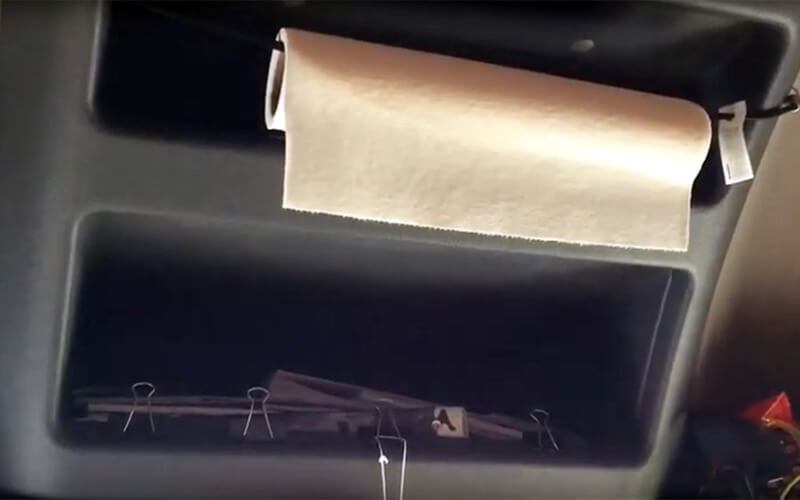 Passenger overhead
What to store: Extra sunglasses and safety glasses, antibacterial wipes, duster, hand wipes, spare pens and pencils, Febreze and other quick-access cleaning supplies
Pro tip: Find a container to store all your pens and pencils so they don't get lost or fall out of reach under seats, in the back of the bin, etc.
Behind driver's seat
What to store: Trash can (Velcro to floor to keep from tipping over), duct tape over seat belt base, newspapers for cleaning windows (won't leave streaks), first aid kit, gloves, padlock for trailers
Pro tip: Use a Command strip hanger for a broom handle so it stays in place while driving but won't leave residue on the truck interior.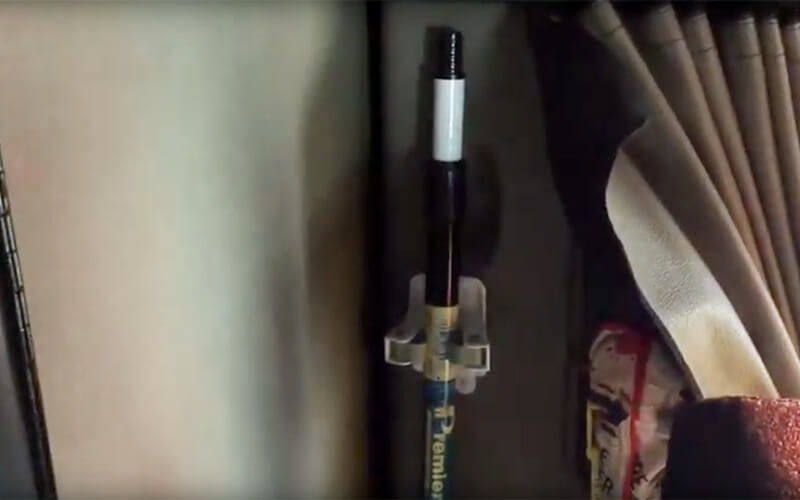 Under the passenger seat
What to store: More duct tape, spare boots, shower shoes, screens for windows when the truck is stopped, ice scraper, umbrella
Pro tip: Keep your shoes and boots in one place in the truck so you always know where they'll be.
Driver's side cabinet
What to store: Hanging clothes and jackets, nonperishable food items used frequently, shelf for CPAP machine if you're a truck driver with sleep apnea, indoor thermometer, desk supplies with pull-out drawer, portable printer
Pro tip: Printers don't have to take up much room, and you can print items securely on the road through a WiFi hotspot.
Passenger's side cabinet
What to store: Other administrative supplies, archived trip sheets, spare paper, paper plates, TV/DVD and/or microwave and/or refrigerator (depending on truck spec and layout), lawn bags, semi-truck cooking supplies, other interior cleaning supplies
Pro tip: Use a bungee cord to secure items from shifting while driving, particularly breakable things, like a lid on a crock pot.
Top and/or bottom bunk
What to store: Backpack, bedding, food crate with ingredients, personal bag with additional clothing, shower kit
Pro tip: Use plastic crates (open end up to prevent items falling out) instead of cardboard boxes for durability and ease of grasping them.
Ultimately, each truck driver needs to develop a semi-truck storage system that works for them, but hopefully these ideas have given you a good starting point to better optimize your truck organization.
Need more semi-truck organization ideas?
Check out all our blog posts about storage for semi-trucks to help you make the most of the space in your truck
About the author

Schneider Guy loves the "Big Orange." He's passionate about the trucking industry and connecting people to rewarding careers within it. He's been the eyes and ears of our company since our founding in 1935, and he's excited to interact with prospective and current Schneider associates through "A Slice of Orange."