Wreaths Across America and Schneider's Ride of Pride changed me forever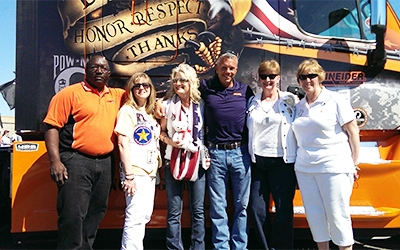 During my time as Schneider's 2013 Ride of Pride military tribute truck driver, I had the honor of participating in the Wreaths Across America (WAA) convoy. It moved me so much during my tour that I'll be taking my wife Elaine with me during this year's convoy — which left Maine yesterday en route to Arlington National Cemetery this weekend. That is my big vacation for the year.
As I reflect back on 2013, I wanted to share with you a letter I wrote describing my WAA experience and many other life-changing opportunities I had as Ride of Pride driver:
What it meant to me to be the 2013 Ride of Pride Driver
About midway through my tour as the 2013 Ride of Pride driver, Jenny Wesoloski, then the coordinator of Schneider's Ride of Pride program and fellow veteran, asked me a question. She asked, "What does it mean to you to be the Ride of Pride driver?" She wanted me to write a few words about it. Well, that was a tough question.
Getting the word I was selected as the 2013 Ride of Pride driver, I was floating on air. Wow, I thought, here I get to represent my company and be with my fellow veterans around the United States.
Little did I know it was much, much larger — bigger than me and my company. Only after assuming command of the Ride of Pride, named Lady Liberty, and taking her around the country, would I realize just how big of a deal it was when sharing her with others.
Was it on our first mission to Washington, D.C. with nearly a million motorcycles and veterans during Rolling Thunder? Being able to witness the pain in the reflections at the Vietnam Wall memorial? Was it dealing with my own pain after watching my father suffer from the effects of a brutal war so far away, which changed him and my family forever?
Was it the first time meeting a Gold Star mom and her family at a veteran's event? Looking into her granddaughter's eyes and hearing her say she has forgotten what her daddy's voice sounds like?
Or was it standing with more than 300 Gold Star families, feeling firsthand the pain these people still felt? Witnessing the bond that no family would ever wish to have in common?
Was it visiting a veterans' home in Illinois and seeing "America's Greatest Generation"? Seeing the World War II veterans shedding tears over a beautiful memorial that I — a small-town kid from south Georgia — brought to share with them? Knowing what these giants meant to our freedoms and seeing them on the doorsteps to heaven just blew me away. We are losing more than a thousand of them per day.
Was it standing there at the VA hospital in Houston and just happening to meet a true American Hero, Clarence Sasser — a Congressional Medal of Honor recipient during the Vietnam War? The citation for his acts of heroism and love for his fellow soldiers in a rice paddy that day in 1968 is simply amazing. What an honor to be in his presence that day.
Then I got to meet Gary Wetzel, another Medal of Honor recipient, shortly after in Wisconsin's capitol building in Madison, Wis. He is another true American hero whose citation reads of super-human feats to save his fellow soldiers on the battlefield of Vietnam.
Was it seeing the broken bodies and minds of 20-year-old kids who volunteered to defend our country and others that they don't even know? Then to survive and come home unrecognizable to those who once knew them as innocent kids — now home as wounded warriors.
It is indescribable to look into their young eyes and see into their devastated souls and the pain they experienced on such a violent battlefield. The honor I feel and hope for my country — that these kids that are keeping all of us capable of living the American dream. They give us the freedom to go to the store or ride a bus without fear of being terrorized as in other countries. We owe them so much.
Through Morrill Worcester Company's Wreaths Across America program, drivers deliver wreaths to honor more than 900 cemeteries across the U.S. and around the world. In Arlington National Cemetery alone, a convoy of 12 tractor-trailers (including Lady Liberty) and drivers helped Gold Star families honor our veteran's graves company.
During the convoy journey, I made it my personal mission to have a different Gold Star mom join me for each day during the trip from Maine to Virginia. To have a mother who raised such a patriot with me every day was so special. The things they each shared were so candid and private and personal.
To see the smiles on these mothers' faces when they spoke of their sons — it was almost as if that little boy was right there. Then to hear their story of their warrior sons being taking away from them during combat operations so far away: the pain they feel jolted me every time. I have a connection with these women and their families and I will forever.
This wonderful Ride of Pride is a precious memorial to their sons and daughters. The Ride of Pride drivers before have taken loving care of those special memorials and those in the future will continue to do so.
Thank you for giving me the opportunity to represent Schneider as a Ride of Pride driver. It truly became my passion. I am forever a changed man. I have seen firsthand what it took to serve and for our great nation to prosper. None of it is free. That "blank check" was written by our veterans from the founding of our country.
Semper Fidelis.
Chuck Ceccacci
Schneider 2013 Ride of Pride Driver
I encourage you to follow this year's Wreaths Across America convoy and check out some photos from previous convoys:
We are a military-friendly employer.
As a Schneider driver, your military experience will translate as Schneider experience, meaning a higher pay starting out. Learn more about other benefits we offer to our service members.
About the author

Schneider Guy loves the "Big Orange." He's passionate about the trucking industry and connecting people to rewarding careers within it. He's been the eyes and ears of our company since our founding in 1935, and he's excited to interact with prospective and current Schneider associates through "A Slice of Orange."
More posts by this author