6 reasons why truck driving is a great career for veterans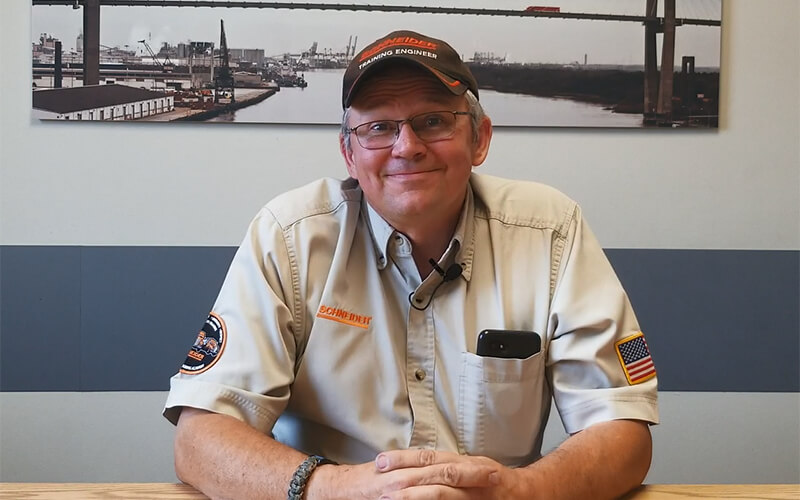 Estimated reading time: 4 minutes
You may not realize it, but truck driving is an extremely popular career option for veterans. In fact, 15% of Schneider drivers have military experience. That's over double the rate of other occupations in the United States.
But what exactly makes professional truck driving such a great career for those with military experience?
Top reasons why truck driving is a great career for veterans
Brian Johnson is an Air Force veteran who decided to become a truck driver after retiring from his prior career. After joining Schneider, Brian became a Training Engineer, a role that allows him to train new driving students and prepare them for life on the road.
Brian said that students with military experience tend to stand out during training because of their work ethic and desire to learn.
"Most of them listen, work hard and really want to do this job," Brian said. "When I have someone like that, it makes training so much easier for everyone."
However, there are plenty of other reasons why Brian believes veterans succeed as professional truck drivers, like:
1. Safety in every action.
Safety is Schneider's number one core value and is also one of the most important values within the military. The military teaches service men and women to identify specific situations and act in a way that provides the safest outcome.
Truck drivers also have a duty to stay safe and keep the motorists around them safe on the road by practicing proper safety habits and procedures every day. As a Training Engineer, it's Brian's job to make sure every new driver learns how to be as safe as possible on the road.
2. Commitment to doing the job the right way.
Integrity is another one of Schneider's core values. This integrity extends to both the services we provide and our reputation. Not surprisingly, integrity and commitment are also core values within the military.
"I think military people take a lot more pride in their job," Brian said. "There is a dedication to do the job the best you can. That's what the military trains you to do."
Brian said he's seen this pride and commitment first-hand in the drivers he works with every day.
"There are several guys on our team that are former military, and one of them has been with Schneider for 28 years," Brian said. "There's more to it than just being military, it's about Schneider pride too."
"There are checklists, inspections and steps drivers take to make sure their trucks are safe," Brian said. "The structure is there, and I think military veterans are so good at the job because they are wired to check everything off the list and do the job well."
3. Ability to travel the country.
During his time in the Air Force, Brian flew planes, drove trucks and saw the world. Over the years, he spent time in Texas, Colorado, Alaska and even spent four years in Germany.
Brian decided to become a truck driver after retiring because it allowed him to continue his passions of traveling and helping others.
One of his favorite things about being a professional truck driver is that he gets to take in the beauty of the open road every day. Brian said he looks forward to seeing beautiful sunrises and scenery during his trips and enjoys meeting new people along the way.
4. A strong team atmosphere.
Those who have served in the military share a bond like no other. Veterans share experiences, memories and values that extend beyond their time in the military.
That's why military-friendly companies like Schneider tend to have a strong sense community and culture. Brian said this community creates a deeper relationship with his fellow drivers and former servicemen and women.
"A lot of guys have 'army vet' or 'marine vet' stickers on their trucks," Brian said. "It's just another connection throughout the company."
5. Experience and skills that carry over.
Servicemen and women learn a variety of transferable skills during their time in the military. Additionally, veterans often gain experience driving heavy equipment and trucks during their military service, which carries over well to professional truck driving.
That's why Schneider allows service members and veterans to apply their military driving experience through our Credit for Military Experience Program.
6. Freedom of the open road.
Although there are plenty of similarities between the military and truck driving lifestyle, Brian said there is one major difference.
"It's the independence," he said. "The independence truck drivers get is a nice break from the over-the-shoulder supervision you experience within the military."
Schneider drivers are the captains of their own trucks, meaning they get to experience the freedom of the open road.
"The fast-paced environment with as much work as you want carries over well, but I think what carries over better is the fact that you can speed up or slow down your workload," Brian said. "You have more control over your own schedule than you did in the military."
Put your military skills to use as a professional truck driver.
Join Schneider, one of the nation's largest and most decorated employers of veterans. Learn even more about Schneider's military benefits and fill out a pre-qualification form today.
About the author

Schneider Guy loves the "Big Orange." He's passionate about the trucking industry and connecting people to rewarding careers within it. He's been the eyes and ears of our company since our founding in 1935, and he's excited to interact with prospective and current Schneider associates through "A Slice of Orange."