Inexperienced orientation
Train thoroughly, and start earning quickly
You got a solid foundation in truck driving school, but Schneider's orientation will make you one of the best, safest drivers on the road. We've earned our reputation for high-quality training and commitment to safety. See why when you find your perfect driving job, schedule an orientation start date and hit the road as a proud Schneider driver.
Inexperienced driver orientation schedule and pay
The length of orientation for inexperienced drivers depends on what kind of freight you'll be hauling and can vary depending on your needs but here is what you can generally expect for in-person or remote options:
All drivers are paid for attending and completing the orientation sessions, but the amount may vary by driving opportunity. Talk to a recruiter (800-44-PRIDE or live chat) for more specifics.
How to prepare for inexperienced driver orientation
Transitioning out of driving school or another job doesn't have to be difficult. Our recruiting, training and operations teams work together to make the process easier for you. Orientation classes start every week, so we'll help you lock in a start date that works and help you think through what you need to do.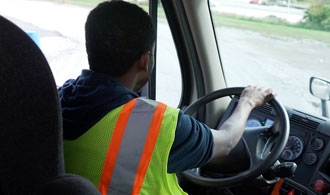 What you'll do during inexperienced driver orientation
We'll take the skills you learned in driving school to the next level, putting them in a real-world context. We'll review the basics, while also teaching you "The Schneider Way." A few highlights:
Pre-work screen

Most positions don't require this anymore due to equipment upgrades and customer delivery improvements, but for our more physically demanding jobs, we'll do a quick assessment to make sure you can do the work. Learn more about

what to expect during a pre-work screen.

Classroom training

Learn what the day in the life of a Schneider driver is like, including how to use our tablets, log correctly within our systems, make the most of our benefits, work with maintenance and of course learn how to live out the core values and practices that set Schneider drivers apart.

In-truck and in-simulator time

We'll check and strengthen the skills you learned in CDL training, introduce a few more, practice in the yard and on local roads and highways, and make sure you're comfortable and safe behind the wheel.

Training engineer

In this over-the-road phase, you'll actually drive the truck, do the work that you'll be doing as a driver and learn the rhythms of day-to-day life on the road. Your training engineer will be in the passenger seat to observe, answer questions and help set you up for success.
Ongoing training initiatives to help you grow
Everyone wants to continue growing and improving, and we'll help you do that. Never be afraid to ask for skill refreshers as you grow in your career and stay fresh with quarterly video training that you can do anywhere through our tablets. Our investment in your success doesn't stop when orientation ends, which our experienced drivers love!
Inexperienced driver orientation testimonials
Get firsthand perspective from drivers and instructors
Apply sooner, start orientation sooner!