Inexperienced orientation
Train thoroughly and start earning quickly
You got a solid foundation in truck driving school, but Schneider's orientation will make you one of the best, safest drivers on the road. We've earned our reputation for high-quality training and our commitment to safety. You'll see why when you find your perfect driving job, schedule an orientation start date and hit the road as a Schneider driver.
Inexperienced driver orientation schedule and pay
The length of orientation for inexperienced drivers depends on what kind of freight you'll be hauling and can vary depending on your needs, but here is what you can generally expect from training:
Drivers are paid to attend and complete orientation, and pay rates vary by driving opportunity. Please talk to a recruiter (800-44-PRIDE or live chat) for specifics.
How to prepare for inexperienced driver orientation
Transitioning out of driving school doesn't have to be difficult. Our recruiting, training and operations teams work together to make the process easier for you. Plus, orientation begins on a weekly basis, meaning you can pick a start date that works best for you without having to wait long.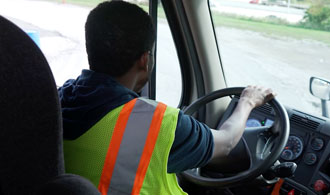 What you'll do during inexperienced driver orientation
We'll take the skills you learned in driving school to the next level by putting them in a real-world context starting the first day of orientation. Here's what to expect from Schneider's inexperienced driver orientation:
In-truck and in-simulator time

On day one, get out in the yard to watch demonstrations and get in-truck practice. To make sure you're comfortable and safe behind the wheel throughout orientation, your progression will be based on proficiency tests, not a rigid, time-based schedule.

Over-the-road training

During this part of orientation, you will go out on the road with an experienced training engineer. You will haul loads, do the work that you'll do as a driver and get familiar with the day-to-day life of a truck driver. Your training engineer will be in the passenger seat to answer all the questions you may have.
Ongoing training initiatives to help you grow
Our investment in your safety and success doesn't stop once orientation ends. Schneider drivers continue to learn through quarterly video training they can do anywhere via their convenient driver tablet. Plus, you can expand your learning even further by taking part in optional skill refresher courses.
Inexperienced driver orientation testimonials
Get firsthand perspective from drivers and instructors
Apply sooner, start orientation sooner!