Meet Schneider's 2018 featured female truck drivers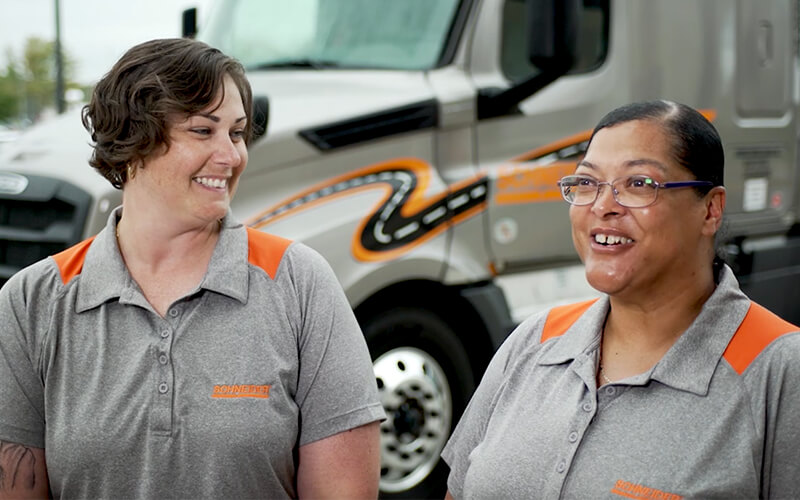 A perfect team since their days together in the Army, Lisa and Patrice have long considered themselves "battle buddies." Now, Schneider's 2018 featured female truck drivers put their experience and chemistry to use as an over-the-road team.
Called to serve
Growing up in a military family, Lisa always knew she wanted to be a soldier. Going on frequent trips with her mother during childhood led her to develop a love for being on the road, constantly moving from one place to the next. Lisa was able to translate this passion into a transportation role in the Army, which she joined as a junior in high school.
A desire to serve her country and explore the world beyond her small hometown in Alabama motivated Patrice to join the Army, and she enlisted five days after graduating high school. Longing to travel, Patrice immediately felt drawn to transportation and began her career in logistics and driving supply trucks.
The beginning of a bond
Though they were both in transportation, Lisa and Patrice started out their Army careers on different paths. Lisa spent the first several years in the bulk transportation unit. Patrice took a more winding road, entering the Army as a transport motor operator before spending four years as a mobilization NCO (non-commissioned officer). They later met during a 15-month deployment and have been a dynamic duo ever since.
Upon their exit from active duty, Lisa tried her hand as a legislative security officer before settling into a role in the management of transportation services for the elderly in Pittsburgh. Meanwhile, Patrice stayed close to the Army, preparing soldiers for deployment as a unit administrator at Fort Jackson in Columbia, South Carolina.
In 2012, Lisa was promoted to transportation manager and frequently reached out to Patrice for advice. When a staff position within Lisa's company became available — and Patrice realized she was ready to make the move to Pittsburgh — the choice was easy. The two worked together for five years, managing a transportation department of 46 staff members.
Back behind the wheel
A passion for driving in their genes, Lisa and Patrice felt the open road calling once again. They used a military waiver to obtain their CDLs and began to explore careers in trucking.
"Driving is something that gives me motivation and passion," says Lisa. "Our ability to transport supplies from point A to point B makes our country a better place."
When it came time to find a trucking company that best fit their experience and ideals, Schneider immediately stood out. They believe Schneider's commitment to safety and support of the military set it apart from other companies.
"Schneider constantly goes above and beyond with their military program, safety training and rewards," Patrice says. "It isn't just something they say; they follow through with everything. The whole transition from the military to the civilian world has been smooth because they've given us so much information from the beginning."
Lisa echoes Patrice's sentiments, noting Schneider's willingness to work with each driver to maximize their skills and experience.
"Schneider gives you a diverse set of opportunities," she says. "You don't have to stay in an area where you aren't suited."
Embracing the challenge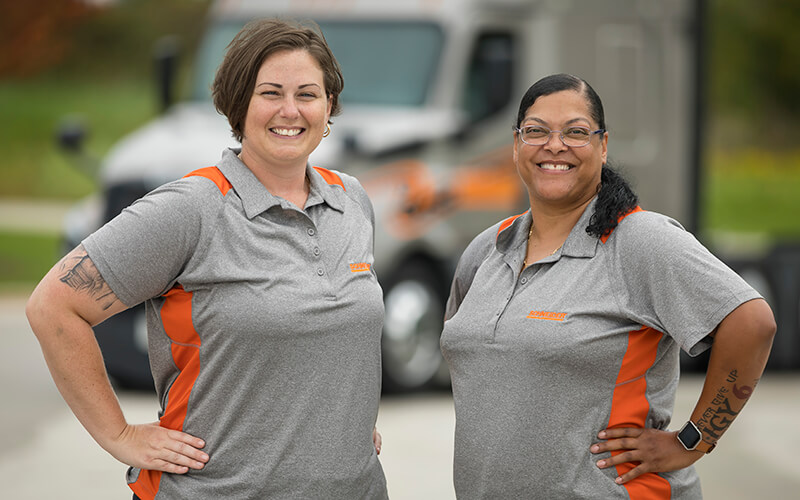 As an all-female truck driving team, Lisa and Patrice occasionally catch puzzled looks from other truckers on the road. They say some people are surprised to hear that two women can handle all of the work — an outdated notion, but one that persists.
"Sometimes people will look at us and say, 'You actually drive a truck?'" laughs Patrice. "It's surprising to see people still think that way."
The two casually shake off these interactions, insisting that the trucking community at large is very helpful.
Challenges occasionally arise on the road, but Lisa and Patrice are confident their former military training and ongoing Schneider training leaves them prepared for every situation. No matter what comes up, they know they always have the Schneider team — and one another — to lean on for support.
An evolving industry
Today, just 6 percent of U.S. professional truck drivers are female, but that number doesn't discourage Lisa and Patrice.
"If more women understood what it entails to be a truck driver, they would be interested," Lisa believes. "It isn't what it's portrayed to be. It's really an evolving industry – and a great way for women to gain experience and get a step up in the world."
In fact, Lisa and Patrice are committed to helping bring more women into the field by transitioning to new roles as training engineers. While the number of females driving trucks pales in comparison to males, the same is true for females in advanced transportation positions. Lisa and Patrice understand the importance of having female trainers available to incoming recruits, and they want to educate women on the profession and train them to be empowered and confident on the road.
After going from battle buddies to truck buddies — from Pittsburgh to Iraq and everywhere in between — Lisa and Patrice are ready to tackle whatever lies on the road ahead.
A bright future
Lisa and Patrice's success illustrates an emerging trend: dedicated and passionate women are poised to play a crucial role in the future of the trucking industry, and their story shows that there is no time like the present for women to rise to the occasion in what has traditionally been a male-dominated industry. The team hopes that their experience not only educates women on opportunities available in truck driving, but that it inspires other women to get behind the wheel.
"Don't limit your opportunities because people want to put you in a box," Lisa says. "Do what's in your heart and go for it."
Both women feel like they're part of a greater community that provides a constant sense of help and support. They say this atmosphere feels like a family — making their work exciting and fulfilling.
By keeping an open mind and a positive attitude, Patrice says anything is possible for women in trucking.
"Be humble and be positive," she advises. "There are so many opportunities for women in this company and in this industry. There's no better time than now. As women, we can do it."
It's your time to get in the driver's seat
Join our growing team of female truck drivers and take your career to the next level.
About the author

Schneider Guy loves the "Big Orange." He's passionate about the trucking industry and connecting people to rewarding careers within it. He's been the eyes and ears of our company since our founding in 1935, and he's excited to interact with prospective and current Schneider associates through "A Slice of Orange."
More posts by this author