Airline pilot makes career change to Schneider (again)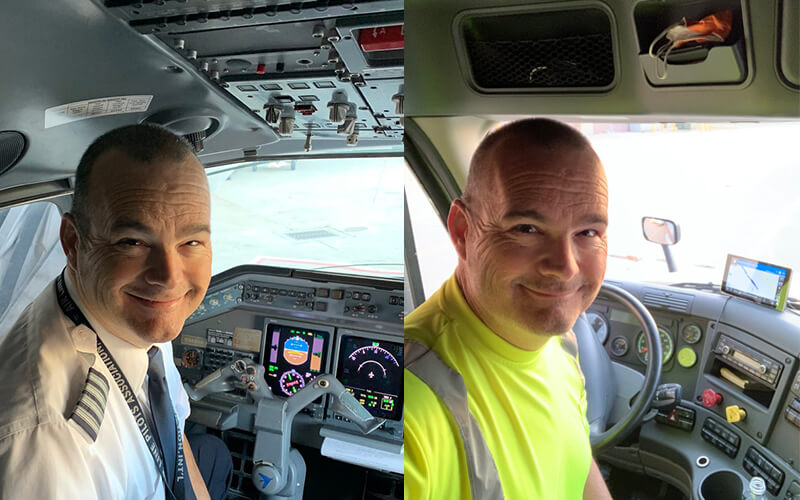 Whether it's by plane in the sky or in a truck on the highway, William (Bill) Tyler has always found satisfaction in careers that keep him moving forward.
After Bill was furloughed from his job as an airline pilot following the Sept. 11 terrorist attacks in 2001, he pivoted and became a truck driver for Schneider.
19 years later, Bill found himself in the same position – furloughed from his pilot's job because of the COVID-19 pandemic and back in the driver's seat of a Schneider truck.
The start of Bill's career
Right off the bat, Bill was interested in a transportation career. He joined the California Army National Guard when he was 18 years old and attended weekend drill once a month where he often drove trucks. His first full-time job consisted of driving a 3-axle truck to deliver lumber.
After hauling lumber for a while, Bill got a job at an equipment rental company and discovered he wanted to become a pilot.
"On my 27th birthday, toward the end of my shift I had to pick up a couple of large pumps," Bill recalled. "When I got to the pick-up point, the big, heavy hoses were unrolled in the mud. The job site was right on the departure path of a busy airport, and while I was working my tail off, covered in mud, on my birthday, I kept seeing these jets taking off. I figured flying an airplane couldn't be that hard."
From truck driver to pilot and back to truck driver
Bill quit his job at the equipment rental company, got on his motorcycle, rode across the country to Florida and went to flight school. He was a flight instructor for a few years and then got a job as a first officer for a small regional airline in 1999.
After 9/11, Bill was forced to find a new job.
"With the downturn of aviation, I was furloughed," Bill said. "I needed a job and no airlines were hiring, so I called the phone number on the back of an orange trailer. I was in a packed class at the Schneider Academy in Green Bay and got my Class A CDL with no problems."
Bill was an Over-the-Road driver at Schneider for one year before he accepted a new job as a pilot.
Round 2 at Schneider
Bill spent 20 years based out of the Chicago O'Hare airport before the COVID-19 pandemic forced him to make a career change again.
Bill's decision to come back to Schneider was a no-brainer.
"Our company ceased operations for good on April 1, 2020," Bill said.
"I called Schneider and started driver orientation soon after. I went through a refresher course, spent some time out with a training engineer and was on my own again. It was like riding a bike."
Bill also said he's learned to adapt to all the changes since he was a truck driver in 2002.
Today, he uses his Samsung tablet for just about everything while he's out on the road, instead of paper logs, a QualCom and an Atlas. Bill also enjoys driving an automated transmission truck – he drove a 10-speed manual back in 2002.
Looking into the future
Although he misses his time spent in the sky, Bill said he enjoys his role as a Dedicated driver on a Schneider account based out of Sterling, Ill. and is considering becoming an owner-operator one day.
"It's a good group of people here," Bill said. "One of my former flight attendants is also a driver at Schneider!
"I always wanted to drive again after I retired from aviation, it just came sooner than I expected. Fortunately, I enjoy driving."
Ready to make your own career change?
Start your first driving job or upgrade to a better one. Schneider is hiring both experienced and inexperienced drivers.
About the author

Schneider Guy loves the "Big Orange." He's passionate about the trucking industry and connecting people to rewarding careers within it. He's been the eyes and ears of our company since our founding in 1935, and he's excited to interact with prospective and current Schneider associates through "A Slice of Orange."