5 best boots for diesel technicians in 2022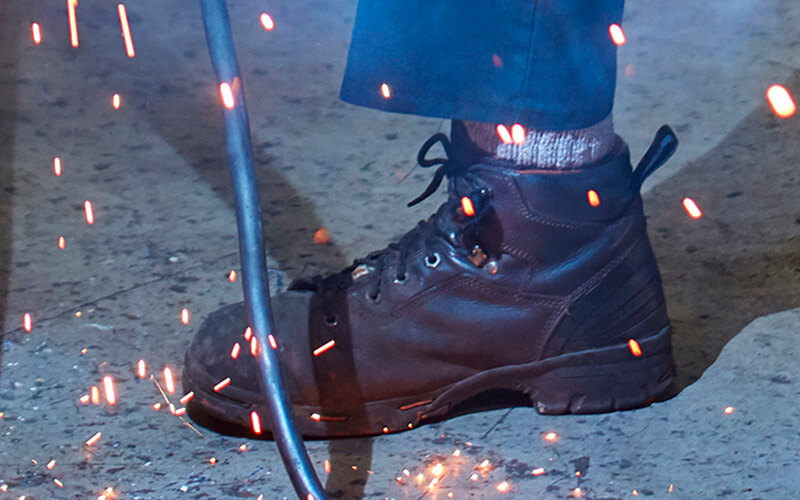 Estimated reading time: 3 minutes
When you work with grease, oil and heavy parts on a daily basis, you need a pair of sturdy boots that can withstand all the elements of the shop. If you're trying to figure out what type of safety shoes you need, the Occupational Safety and Health Administration (OSHA) is the authority for footwear requirements across all U.S. industries.
To help make choosing the right pair easier, we've compiled a list of some of the best work boots for diesel technicians in 2022 and broken down the requirements for OSHA-approved footwear.
5 best boots for diesel technicians
Whether you're looking for comfort, style, durability or a combination of those elements, here are some of the top-rated diesel technician work boots based on buyer reviews and feedback from Schneider diesel technicians: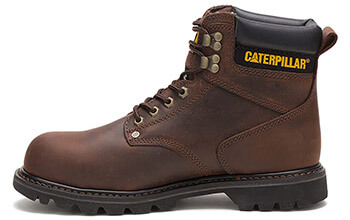 Amazon rating: 4.5 out of 5 stars
Boot features:
Breathable insole keeps feet cool and comfortable.
Soles can be replaced.
Electrical hazard protection protects the wearer against open circuits up to 600 volts.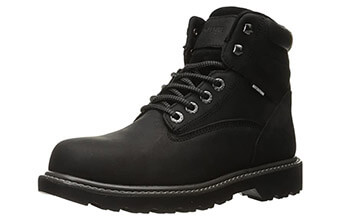 Amazon rating: 4.4 out of 5 stars
Boot features:
Moisture-wicking mesh lining keeps feet cool.
Removable full-cushion footbed molds to feet.
Lightweight.
Competitively priced.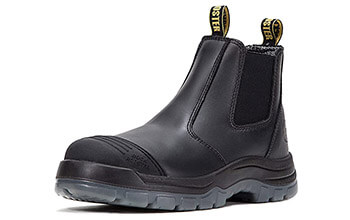 Amazon rating: 4.4 out of 5 stars
Boot features:
Slip-on design makes it easy to slide on and off feet.
Wide width offers more toe space.
Static dissipative technology reduces the amount of static electricity accumulated in the body, which can be dangerous when working with flammable liquids or gases.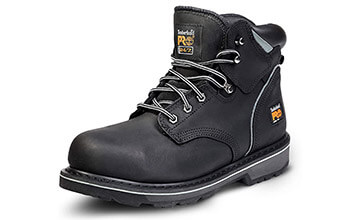 Amazon rating: 4.4 out of 5 stars
Boot features:
Electrical hazard protection reduces the possibility of electric shock or electrocution.
Timberland PRO® 24/7 comfort suspension system offers all-day comfort and arch support.
Moisture-wicking lining with antimicrobial treatment for odor control.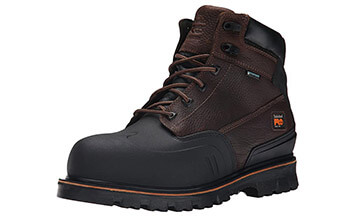 Amazon rating: 4.4 out of 5 stars
Boot features:
Ladder Lock™ heel grips ladder rungs.
Anti-fatigue insoles feature shock-absorbing technology and all-day support.
Lightweight polyurethane outsoles provide additional cushioning and slip resistance.
Moisture-wicking lining with antimicrobial treatment for odor control.

What is the OSHA standard for safety shoes for diesel technicians
OSHA standards require protective footwear for workers who are at risk of injury from impacts, punctures or electrical hazards on the job site. OSHA's work boot requirements for diesel technicians include:
Steel toe or composite toe: Built-in toe caps offer essential protection from falling objects, like heavy tools or truck parts. Technicians can choose between the traditional steel-toe boots or more lightweight composite-toe alternatives.
Leather uppers: Close contact with concrete and other rough surfaces is common in the shop. The best diesel technician boots for concrete feature leather uppers that are durable and resistant to abrasion.
Oil-resistant: A diesel technician's shoes are often exposed to petroleum-based products – such as oil, diesel, grease and kerosene – which can break down untreated leather over time. In oil-resistant boots, the upper material has a protective coating that repels oil and prevents corrosion.
Non-skid soles: Grease and engine oil are among the slipperiest substances found in the workplace, and diesel technicians work with these on a day-to-day basis. Non-skid or slip resistant boots have rubber soles and a tread pattern that's specially designed to improve traction over slick surfaces.
Does Schneider provide work boots for diesel technicians?
Schneider diesel technicians are required to wear OSHA-approved safety footwear at all times within the course and scope of their job.
As part of our discounted safety boot program, associates can choose from more than 20 company-approved work boots for a $30 co-pay. Defective shoes will be replaced up to 6 months from date of purchase.
Diesel technicians also have the option to purchase a pair of OSHA-approved work boots from a supplier of their choice and be reimbursed up to $50 per pair.

Step into a diesel technician career with perks
Schneider invests in its diesel technicians both inside and outside of the shop. Join the team, and take advantage of exclusive benefits, including discounts on OSHA-approved footwear through the company's discounted safety boot program.
About the author

Schneider Guy loves the "Big Orange." He's passionate about the trucking industry and connecting people to rewarding careers within it. He's been the eyes and ears of our company since our founding in 1935, and he's excited to interact with prospective and current Schneider associates through "A Slice of Orange."