Is flatbed trucking hard? - 5 challenges flatbed drivers face and how Schneider helps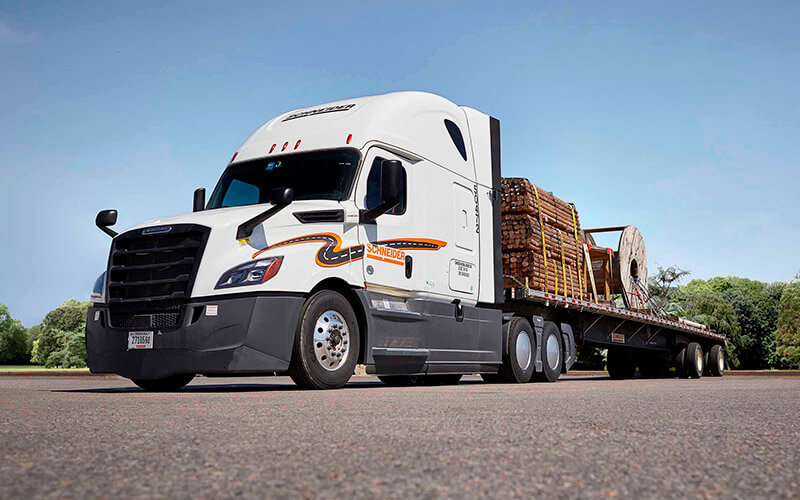 Estimated reading time: 4 minutes
Flatbed trucking is a unique style of truck driving that allows drivers to haul irregular freight on flat trailers. Due to the specialized nature of this segment of driving, people often wonder, "Is flatbed trucking hard?"
Like every other type of driving job, flatbed driving comes with its own set of obstacles and safety requirements.
Below, we share some of the most common challenges flatbed drivers face in order to give you a better understanding of how hard flatbed trucking is.
Top challenges associated with being a flatbed truck driver and how to overcome them
If you've been asking yourself, "Is flatbed trucking worth it?" or have been trying to determine if flatbed is the right fit for you, consider the following challenges associated with this segment of truck driving:
1. Hauling uncommonly shaped or oversized loads.
Flatbed trailers make it possible to haul loads of all shapes and sizes, including oversized loads that may hang over the edge of the trailer.
Oversized flatbed loads can be grouped into the following categories:
Over-length: Load lengths are usually about 48 to 53 feet long, with loads occasionally overhanging the trailer a bit. Over-length load specifications vary by state.
Over-width: Any load that is wider than 8 feet 6 inches (102 inches).
Overweight: Any load with a gross vehicle weight (GVW) of over 80,000 pounds.
Drivers who haul oversized loads are typically required to have special transit permits and may only be able to drive at specific times. Additionally, these sorts of loads may require special "wide load" signage, lights and/or escorts.
Oversize load regulations may vary by state. You can learn more about your state's regulations by visiting the Department of Motor Vehicles (DMV) website.
Schneider flatbed drivers do not often haul over-length or overweight freight, but they may haul overweight loads on rare occasions. However, Schneider drivers are always given appropriate safety training prior to hauling any oversized load.
2. Loading and unloading your own freight.
Flatbed truck drivers are loading and unloading experts. If you're someone who is looking for a hands-on driving job, this may be one of the biggest benefits of flatbed trucking. However, if you've never done it before, loading and unloading freight may feel intimidating.
Fear not, most trucking companies, like Schneider, would never expect a driver to know how to load or unload freight from a flatbed trailer right off the bat.
Schneider provides drivers with specific flatbed training and helps drivers get additional certifications that allow them to operate specialized equipment (like forklifts, moffetts, etc.) for loading or unloading purposes. This specialized training and additional certifications ensure drivers are prepared to safely load and unload freight from flatbed trailers.
3. Securing and tarping cargo.
A flatbed driver's job isn't done once they have freight loaded onto their trailer. Next, they have to secure the freight to the flatbed trailer.
The following equipment is used to secure freight to trailers:
Ropes.
Chains.
Straps.
Tension devices (winches, ratchets, etc).
Hooks.
Bolts.
Rails.
Rings.
In addition to working with these cargo securement devices, flatbed truck drivers may also use tarps to protect the freight they're hauling from inclement weather and prevent major accidents from occurring in the case of spilled cargo.
Schneider provides drivers with training that teaches them how to properly secure and tarp freight of various shapes and sizes and allows them to secure and tarp loads for themselves.
Plus, Schneider drivers may also receive specific training depending on the sort of flatbed driving job they're hired to work on (i.e. a dedicated flatbed driving job).
4. Following detailed safety regulations.
Flatbed drivers are required to follow some strict rules when it comes to hand-securing freight.
According to most state's CDL manuals, flatbed drivers must follow these safety regulations:
Balancing cargo weight evenly on flatbed trailers.
Blocking and bracing cargo properly.
Using the correct types of securement devices.
Using the correct number of securement devices.
Spacing securement devices properly.
Again, flatbed drivers are not expected to be experts at knowing the proper and safe way to secure freight right away. That's why Schneider provides drivers with hands-on training that teaches them how to follow the necessary procedures to get the job done safely.
5. Facing different risks.
At this point, you're probably wondering if flatbed trucking is considered a more dangerous style of driving.
Given that flatbed drivers are required to do tasks that other types of truck drivers don't do, like securing freight, it may seem like flatbed driving would be a more dangerous type of driving job.
However, every driving job comes with its own unique risks. That's why you shouldn't let the risks associated with this style of driving steer you away from becoming a professional flatbed truck driver.
You can rest assured knowing that Schneider fully prepares drivers for the challenges of flatbed truck driving by providing them with extensive safety training and real, hands-on experience.
Want to learn more about flatbed trucking?
Are you interested in flatbed trucking but still aren't sure if it's the right driving style for you? Learn more about the pros and cons of flatbed by checking out our flatbed-focused blog below.
About the author

Schneider Guy loves the "Big Orange." He's passionate about the trucking industry and connecting people to rewarding careers within it. He's been the eyes and ears of our company since our founding in 1935, and he's excited to interact with prospective and current Schneider associates through "A Slice of Orange."
More posts by this author