Is flatbed trucking worth it? - Pros and cons to consider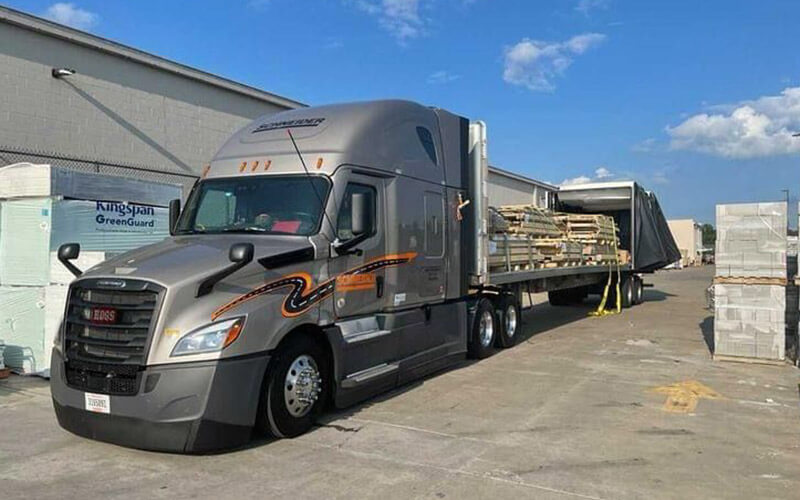 Estimated reading time: 4 minutes
Flatbed trucking is a unique kind of transportation in which drivers use a trailer called a flatbed trailer to haul large or oversized materials or loads. Although most flatbed trailers are the same length as standard dry van trailers, they do not have walls or roofs like other tractor trailers.
This means that flatbed freight like construction materials, machinery and equipment must be thoroughly secured by straps and tarping to prevent any movement during transportation.
Flatbed drivers are commonly Dedicated truck drivers who haul freight for one specific customer. However, this job involves more than just driving from one location to another. In fact, there are a variety of things drivers should consider before deciding to become a flatbed truck driver.
So, is flatbed trucking worth it? Here are a few pros and cons of the role to help you decide if flatbed trucking is a good fit for you.
Pros and cons of flatbed truck driving
1. A more hands-on driving experience.
Pro: Are you looking for a driving job that keeps you more active and allows you to engage with the freight you're hauling? Then you'll love flatbed trucking.
Flatbed drivers are often responsible for loading, unloading, securing and tarping goods. So, consider flatbed trucking if you are looking for a more physically demanding job that keeps you active and gets you out of the cab.
For instance, drivers on Schneider's Viracon flatbed account are responsible for loading, hauling and unloading glass to various construction sites.
Con: Loading and unloading freight is a responsibility that comes with extra regulations. Not following the proper safety processes may result in damaged products or hazardous situations.
It's important for flatbed drivers to be detail oriented and always double-check loads they have secured to make sure they are secured correctly. That's why Schneider provides drivers with top-notch safety training to ensure that they're fully prepared when they hit the road.
2. Diverse products and equipment.
Pro: Hauling freight like lumber, glass and other large freight not only gives flatbed drivers more variety in their day, but also gives them the chance to operate some unique machinery.
To make loading and unloading large freight easier, drivers often use machines like forklifts or cranes to safely and quickly move freight. These machines do the heavy lifting for the driver and make stop-offs much more efficient.
Con: As we mentioned before, flatbed trailers are used to move freight that can't be hauled using a traditional dry van trailer. This freight is often expensive, delicate or awkwardly shaped, so flatbed drivers need to take extra caution loading, securing, transporting and unloading the freight they're hauling.
To properly prepare drivers to haul specialized freight, Schneider provides drivers with account specific training after they've completed their orientation.
3. No two days will be exactly the same.
Pro: If you're a problem solver who enjoys the excitement of facing unique challenges every day, you'll enjoy working on a flatbed account. You'll probably experience some variation in loading techniques even if you're on a dedicated account hauling the same kind of product daily.
For example, if you are a driver that hauls lumber, you can expect the shape and stacking of your loads to vary from day to day.
Con: Although flatbed drivers often work on dedicated accounts, they don't always have the predictable nature of accounts with drop-and-hook freight. So, if the idea of freight varying from day doesn't excite you, this style of driving probably isn't for you.
4. Gaining on-the-job experience.
Pro: Flatbed driving increases driving experience and challenges drivers to learn new skills. As a flatbed driver you'll learn how to safely maneuver freight in a way that most drivers don't. These unique driving experiences can help you stand out among other drivers and even open up new career growth opportunities.
Con: Due to the precarious or fragile nature of many flatbed loads, drivers need to be extra careful when transporting loads. For this reason, some accounts may not be offered to brand-new drivers, so be sure to check the qualifications section of each job posting before you apply.
5. Higher pay potential with accessorials.
Pro: The specialized nature of flatbed work means that drivers on this style of account can usually expect to earn more than standard dedicated drivers. In fact, Schneider's flatbed drivers can earn up to $94,000 each year.
Drivers can also earn additional compensation, called assessorial pay, for services performed beyond hauling a load. At Schneider flatbed driver accessorials can include stop-off, carry in pay.
Con: Flatbed driver's pay often reflects the stop-offs and extra unloading work they do, so drivers should not go into a flatbed driving job expecting to earn maximum earnings without having to do any loading or unloading.
Want to become a flatbed truck driver?
Discover a more hands-on style of driving as a Schneider Flatbed driver. Search flatbed job opportunities near you today.
About the author

Schneider Guy loves the "Big Orange." He's passionate about the trucking industry and connecting people to rewarding careers within it. He's been the eyes and ears of our company since our founding in 1935, and he's excited to interact with prospective and current Schneider associates through "A Slice of Orange."