Schneider driver tests new eCascadia electric semi-truck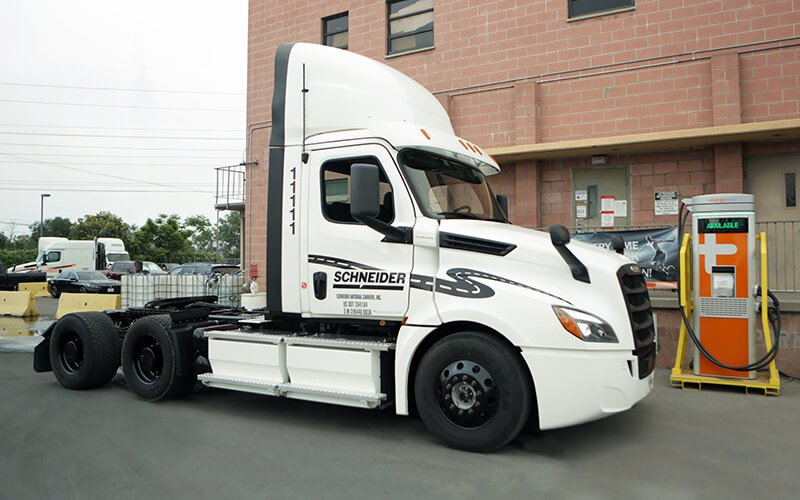 Estimated reading time: 4 minutes
Schneider is dedicated to reducing our carbon footprint and committed to creating a more sustainable future for the transportation industry. That's why we have made the commitment to reduce carbon emissions by 60 percent per mile by 2035.
To meet this goal, Schneider has started researching cleaner and more sustainable transportation options. One environmentally friendly alternative is electric semi-trucks, like the new Freightliner eCascadia from Daimler Trucks North America.
The eCascadia, a 100% battery electric semi-truck, is Freightliner's first zero-emission heavy-duty electric commercial truck. Schneider drivers had the opportunity to test the eCascadia prototype for six months.
Marty Boots, one of the drivers who had the chance to test the truck in Southern California, decided to share his thoughts on the exciting experience.
Marty's eCascadia experience  
Before becoming a truck driver back in 2017, Marty was a diesel technician for 30 years. His history as both an experienced diesel technician and driver allowed him to provide unique driving and mechanical insight and feedback for Freightliner throughout his three months driving the eCascadia.  
An inside look at the test drive period 
During the test drive period, Marty was tasked with driving the eCascadia on his daily routes and providing feedback to Freightliner in order to improve the vehicle performance.  
"As a prototype, you know they're looking for driver feedback and how to make their product work better," Marty said. "I felt it was my job to push the equipment to see how close I could get to empty every day and utilize as much electricity as I could and be as productive with the truck as possible." 
Marty said he went into the three-month test period with an open mind and optimistic expectations, and he wasn't disappointed with the electric semi-truck. 
"I've had a positive experience and enjoyed driving the truck," Marty said. "It's a whole different experience and it's a step up."  
So, how did the new electric truck compare to the diesel trucks Marty usually drives? 
Adjusting to driving an electric semi-truck 
Although Marty liked driving the electric semi-truck, he said it was not without its challenges. His main challenge was adapting to the new technology within the truck. 
"There were little learning curves and tricks you have to think about," Marty said. "You don't always think about computers having to talk to one another in a truck." 
In order to be as efficient as possible, Marty said he needed to be especially aware of the weight of the freight he was hauling, the distances he needed to travel, the types of terrain he had to cover and the amount of charge left on the battery during his deliveries.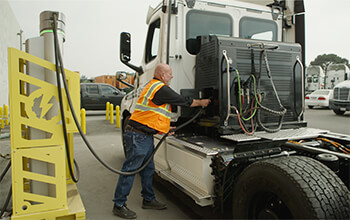 Comparing electric to diesel  
Aside from adjusting to the technology changes of the truck, Marty said the transition from driving a diesel truck to the electric truck was pretty seamless.  
"Driving the electric truck is smooth, quiet and it doesn't shift, so it's smooth from the take off," Marty said. "The only noise you hear is the little whine from the motors, the tires rolling down the road and your radio. You kind of get used to it after a while and have to get back in the diesel to really notice the difference again." 
The benefits of going electric 
When asked which truck he would prefer to drive in the future, Marty said he thinks he would pick the electric semi-truck.  
"You're helping the environment and the electric is definitely smoother and quicker," Marty said. "Driving on the highway, there isn't a huge difference aside from the noise, but when you pull up a hill I think the electric is as good or better than diesel."    
Marty's thoughts on the future of truck driving 
The electric truck may be a little different from what drivers are used to, but Marty said it's an important step toward making the transportation industry more sustainable. 
"It's just another step like we've made for diesel trucks," Marty said. "When I started at Schneider, I was driving a 10-speed truck and transmission and about 4 months in, I got a truck with automated transmission. It's an improvement."  
Why innovation is important 
One of Schneider's core values is excellence, a value and goal that constantly drives innovation within the company. Marty said this dedication to innovation is one of his favorite things about Schneider. 
"As the innovation comes along, Schneider is willing to look at things and make a better fleet of trucks and improve driver comfort and ease," Marty said. "They're trying to keep the drivers happy, and the driver experience is a lot better thanks to the innovation that Schneider is continually putting into their trucks." 
Marty's advice for other drivers 
Although these changes can be intimidating at first, Marty believes drivers should look at electric trucks with an open mind. Over time, truck drivers will adjust and realize new technology will improve their driving experience. 
"I would say try it," Marty said. "You'll probably like it. But if you're dead set on not liking it, you won't. The technology changes and you just have to keep up with it." 
Marty said he is proud to have contributed to Daimler Trucks North America's eCascadia testing and is looking forward to driving an electric semi-truck in the future.  
See how Schneider is driving innovation.
Schneider constantly working to find new ways to reduce our carbon footprint and increase our efficiency. See for yourself how Schneider plans to continue leading the way for innovation and sustainability.
About the author

Schneider Guy loves the "Big Orange." He's passionate about the trucking industry and connecting people to rewarding careers within it. He's been the eyes and ears of our company since our founding in 1935, and he's excited to interact with prospective and current Schneider associates through "A Slice of Orange."
More posts by this author