Top 10 fall safety tips for truck drivers to follow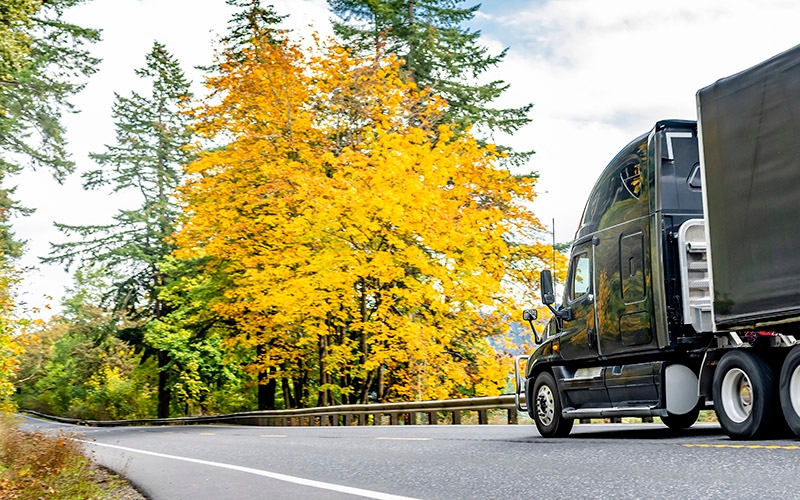 Estimated reading time: 4 minutes  
As nice as the changing seasons are, autumn creates a new set of seasonal risks for truck drivers. The days are shorter, traffic is heavier and the roads have more obstacles.
So, whether you're a seasoned pro or you're experiencing your first fall from the driver's seat, continue reading for our top 10 fall safety tips for truck drivers.
10 fall safety tips for truck drivers
1. Watch out for school traffic.
For local truck drivers who spend significant time driving in cities, school traffic should be top of mind. Kids being back in school means:
More school buses on the streets.
Crossing guards in the roads.
Parents dropping off and picking up their kids in school zones.
Even if you're driving through rural country roads, it's important to pay close attention to 'school bus stop ahead' road traffic signs. Be prepared to stop for buses dropping off or picking up students.
2. Keep an eye out for farmers and equipment.
Fall is when crops are harvested and fields are winterized. That means combines, tractors, trailers and other farming equipment are out on the road.
Agricultural equipment and machinery normally run slow, so give them ample space when you are behind them.
3. Check your headlights and taillights.
The days are getting shorter, which means you will spend more time traveling at dusk or when it's dark out. Prepare for longer nights by ensuring your headlights and taillights are in good working condition.
4. Be cautious when driving through fallen leaves.
Leaves that are on the road or piled on the side of the street can be some of the most dangerous fall driving hazards.
Wet leaves stick to the pavement and make it as slippery as ice. Dry leaves can conceal potholes, bumps, ice, puddles and other hazards.
Drive through leaves the same way you would on ice or snow:
Increase your following distance.
Look to see if the leaves are glistening with moisture when light hits them.
Leaves piled on the side of the road are also prime playgrounds for children. Make sure you are aware of the leaf piles as you drive through city streets and pay careful attention to any movement you see.
5. Be on the lookout for animals, especially deer.
Deer are more active in fall because it's their mating season. Other animals are also moving more, as they look for new habitats.
Adjust your driving by:
Being on the lookout for reflections on the side of the road or in the woods, as they may be a deer's eyeshine caused by the headlights.
Driving a bit slower through wooded areas where wildlife is more active.
Adjust your scan pattern to check the sides of the road every six to eight seconds.
6. Keep your sunglasses close.

Autumn sunrises and sunsets can be very bright. The sun is lower in the sky, producing significantly more glare for truckers.
These solar conditions make it difficult to see other vehicles and the roadway ahead or around the truck. Be sure to always have a good set of sunglasses with you and adjust your visors properly.
7. Prepare yourself for fog.
Fall mornings are much cooler, and fog is much more likely to form. This is especially true at higher elevations.
Driving in fog can be unpredictable and catch you off guard. Be sure to:
Slow down.
Double your seven-second following distance.
Have your low-beam headlights on.
8. Pay attention to weather forecasts while trip planning.
Fall is a transitional period for Mother Nature, which means you can quickly go from sunny and dry to dark and snowy.
Preparing for weather changes starts with trip planning. Pay extra attention to weather forecasts and changing conditions, especially on longer runs. Also, be sure to have your truck driver emergency kit.  
If you're driving through the mountains, be extra cautious. This is the time of year when rain can quickly turn to sleet or snow. Be mindful of shady spots on the road where black ice can form and aware of bridges that can ice up before the roads do.
9. Pack your chains.
Chain laws go into effect in September for Colorado and California and shortly thereafter for the rest of the country.
Be sure your chains are in your truck and in good condition. It's also never a bad idea to brush up on the proper way to put tire chains on your semi-truck.
10. Take extra care when coupling your trailer.
When the weather gets cold, the grease on the fifth wheel thickens up. This means it may take more time for the jaws to engage when hooking up to a trailer.
Be patient when hooking your trailers. Always make sure you hear the jaws are fully engaged before driving away.
Get more great driving tips and guides
Improve your skills and become a safer driver by checking out more of our truck driver skills blogs.
About the author

Schneider Guy loves the "Big Orange." He's passionate about the trucking industry and connecting people to rewarding careers within it. He's been the eyes and ears of our company since our founding in 1935, and he's excited to interact with prospective and current Schneider associates through "A Slice of Orange."
More posts by this author