How to build your personal brand on LinkedIn in 12 steps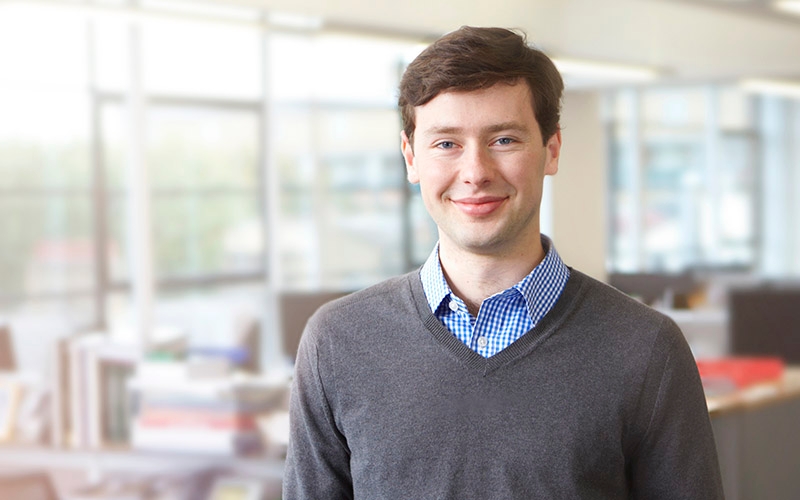 Estimated reading time: 5 minutes
LinkedIn is one of the most valuable social media platforms employees, employers and potential clients can use to showcase their skills.
So, what can you do to make your LinkedIn profile stand out from the rest?
As a digital marketing professional with more than a decade of experience in social media, I've asked myself this very question. Follow my 12 steps to get a better idea of how to build your personal brand on LinkedIn.
How to optimize your LinkedIn profile
Since LinkedIn is a space designed to showcase yourself as a professional, your online profile should reflect how you would present yourself at a job interview.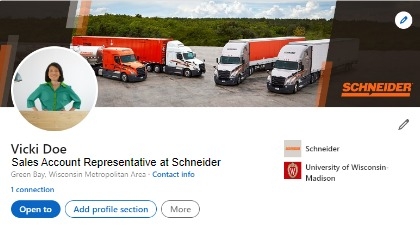 1. Update your profile picture.
One of the most important parts of your LinkedIn profile is your profile picture. People are much more likely to click on your profile if they can see a photo of you.
Make sure your profile picture is good quality and looks professional. Avoid using:
Group photos.
Wedding pictures.
Photos from parties
Pictures with filters.
Instead, choose a recent photo of yourself – generally a headshot – that has good lighting and is clear. Make sure:
What you're wearing is work-appropriate.
People will easily recognize you from the photo.
Your face is in the center of the frame.
Pro Tip: LinkedIn profiles with a profile image and cover photo receive 21x more views than profiles without any images.
2. Add a relevant cover photo.
Finding the right background image (the photo that sits behind your profile picture) to represent what you do for work is another important step to building a great LinkedIn profile.
For example, my background photo includes images of Schneider trucks. This shows other users the type of industry I work in and what company I work for.
Having a relevant background image is important because:
It entices LinkedIn users to stay on your page.
It encourages viewers to explore your profile.
It can result in someone connecting with you.
3. Create a strategic headline.
Your headline can be your job title; however, you may want to include more information to increase your visibility on LinkedIn.
When crafting your headline:
Incorporate some specific words or phrases people might look for when they search for your job.

For example, you might add the words "professional" or "strategist" at the end of your title to appeal to a broader audience.

Search profiles of other professionals who work in your industry or who have a similar job to you.

Leverage words or phrases they're using to boost your searchability.
4. Add your location.
When adding your location to your profile, choose the area option rather than the city or town alone that you live in.
For example, you would want to select "Green Bay, Wisconsin Metropolitan Area" instead of just "Green Bay." The area option helps you appear in more LinkedIn searches.
5. Include what industry you work in.
Although the industry section doesn't show up on your profile, it's an item users can search for.
Since I work at Schneider, I would select "Transportation, Logistics, Supply Chain and Storage" as the industry option.
Be sure the industry you select is accurate, so the search engine gives your profile better visibility.
6. Finesse your "About" section.
Your next step to building a strong LinkedIn profile is to write a strong "About" section. This information creates a landing page to funnel potential customers, candidates or employers to find out what you have to offer.
Before working on your "About" section, think about:
How you contribute to your company.
How you help your company reach its goals.
What makes you stand out from your peers.
As you write your "About" section, follow these key tips:
Always write in the first-person.
Hook your reader with a strong opening sentence.
Show off your personality and passions.
End by inviting further conversations.
Pro tip: You can turn on "Creator mode" to get noticed and gain more of a following.
7. Boost your "Experience" and "Skills" sections.
Like with your headline, you'll want to add keywords throughout your "Experience" and "Skills" sections.
Use LinkedIn's suggested skills and pick the ones that are relevant to you. Sprinkle those skills throughout the rest of your profile.
Find ways to boost engagement
E
ngaging with other LinkedIn users is key to
branding yourself
on Linke
dIn
– it's called social media for a reason!
8. Build your network.
Don't wait for others to connect with you first. When you're building a brand on LinkedIn, you need to actively follow people and company pages to expand your network.
Some examples of who you can connect with include:
Co-workers.
Friends.
Family members.
Professionals within your company.
Alumni from your school.
Subject matter experts.
9. Comment on other posts.
Comments are gold on LinkedIn and are important for the algorithms to get you noticed.
Some tips for commenting include:
Making insightful comments on posts by top brands or people you want to be seen by.
Asking yourself how you can provide value to the poster through your comment.
Having an authentic and respectful tone in all your comments.
Pro tip: Set a goal to comment on five posts every week.
10. Create unique content to share.
Once you've made connections on LinkedIn and understand what others are posting on their channels, come up with content that you can share with your audience.
Some examples of content you could post include:
Key insights from industry articles.
Book recommendations.
Reposts from your network.
Industry events.
Professional tips.
Personal stories.
Ultimately, you want to share content that brings value to your LinkedIn connections.
11. Vary the way you share content.
Use different types of media to share your content. This will help keep your audience engaged in what you have to say.
When posting, you can use:
Photos.
Videos.
Links.
Carousels.
Prompts.
Polls.
Pro tip: Carousels are highly engaging on LinkedIn.
12. Post regularly.
You need to be consistent in the number of times you post to continue branding yourself on LinkedIn.
Try to post three pieces of content over the course of a week. Create a schedule for what content you want to post and when you want to publish it.
Pro tip: Use relevant hashtags within your posts to boost your visibility.
Looking for more ways to grow your career?
Keep reaching your professional goals with our three simple steps on how you can move up in your career.
About the author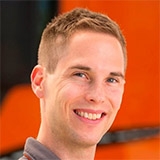 Drew joined Schneider's Used Equipment team in 2012 to market and sell used trucks and trailers. He later transitioned to Corporate Marketing and became a social media coordinator. Now, Drew supports Schneider's commercial sales efforts through social media and brand advocacy. In his free time, Drew loves traveling, learning Vietnamese and listening to music.
More posts by this author