How to study for CDL permit tests – Tools and tips to use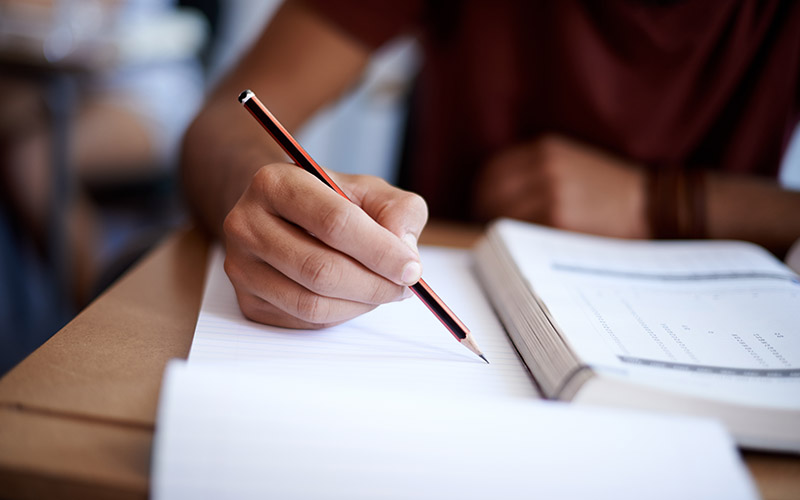 Estimated reading time: 4 minutes
If you're looking to get into truck driving, you've likely heard that you'll need to obtain a Commercial Learner's Permit (CLP) before you can get behind the wheel of a truck and go out on your own.
However, in order to get your CLP, you'll first need to pass the CLP permit tests.
In this blog, we'll give you a better idea of the exam topics and tell you how to study for CDL permit tests using some helpful tools and tips.

CLP test overview
The CLP test consists of three separate tests:
1. General knowledge (50 questions):
This test quizzes drivers on the wide range of the information outlined in their CDL manual.
Topics often covered on the general knowledge test:
Vehicle inspections.
Emergency procedures.
Mandatory rest breaks and mileage limits.
Fundamental controls like braking, recovering and shifting.
2. Air brakes (25 questions):
This test covers topics related to the air brakes of a commercial vehicle. It may include questions about air brake system parts, brake inspections and brake usage.
Common topics covered on the air brake test:
How the air brake system works.
What each air brake component is and does.
When to perform regular air brake maintenance.
How to handle certain situations that specifically relate to air brakes.
3. Combination vehicles (20 questions):
This exam tests drivers' knowledge on safety procedures used when driving common combination vehicles (specifically tractor-trailers).
Possible test topics include:
Coupling and uncoupling trailers.
Turning and backing procedures.
Identifying dangerous driving conditions/situations.
Note: The tests listed above will usually consist of general Department of Motor Vehicles (DMV) questions and state specific questions.
Study tools for CLP test preparation
Now that you know what each exam consists of, you may be wondering how to study for your permit test. We suggest using the following tools when preparing:
Reading through your CDL manual
CDL manuals are jam-packed with loads of information to help you prepare for your CLP test. In fact, many of the topics covered on the CLP test come straight from your CDL manual.
Treat your CDL manual like a study guide and use it to quiz yourself on different processes and regulations.
As a reminder, you can obtain your state's CDL manual online or by requesting a print copy from your local DMV.
Using flash cards
Virtual flash cards are a great way to quickly quiz yourself while studying.
You can use online tools like Quizlet to find a variety of different flash card sets to study. However, keep in mind that these flash cards may not include rules and regulations specific to your state.
You can also create your own paper flash cards if using someone else's virtual cards doesn't appeal to you.
Completing practice tests
After reviewing your materials, it may be beneficial to take a CLP practice test to gauge your general knowledge and information retention.
Based on your CDL learner's practice test results, you'll be able to determine which areas of the test you're confident about and which areas you need to study more.
We recommend doing CDL knowledge testing multiple times leading up to your official permit test to track your progress and ensure you're ready for the real thing.
You can find practice tests on the following websites:
Some states also have a practice test for CDL permits available on their website. So, be sure to visit your state's DMV website to see if they offer any study resources.
5 tips for successful studying
Still unsure about how to study for your CDL permit test? Use these helpful tips to improve your study habits:
1. Don't wait till the last minute.
You don't have to wait until you schedule your CDL permit tests to start studying. In fact, you can study well before you pick your test date.
Cramming for an important test is never a good idea. Spreading out your studying time over a few days or weeks allows you to study the same information multiple times, which can improve your memory when it comes to the real test.
Plus, spreading out your studying gives you more time to figure out what areas of the CLP test you know or don't know.
You can start out by splitting your study time into 45–50-minute segments with five-to-10-minute breaks in between. This study schedule should give you enough time to dig into topics and help prevent burnout caused by long study periods.
However, everyone is different, so don't be afraid to adjust this study schedule to fit your own needs and preferences.
2. Take notes and review them.
Taking notes in class can keep you engaged in what you're learning and help you better retain material as you learn.
Plus, once you've completed class and are studying for your CLP exam, you'll be able to use them as your own personal study guide.
3. Avoid distractions.
Sometimes the tools students use to study can be one of the biggest distractions they'll face when trying to learn. All it takes is a notification to pop up on your computer or cell phone to pull your attention away from studying.
If you're using a computer or cell phone to look up information or review material, try to limit distractions by turning off notifications, putting your phone on silent and not allowing yourself to use or visit distracting apps and websites.
4. Study with others.
Studying with a classmate, friend or family member can make learning more fun and may even improve your understanding of the topic you're reviewing.
Studying with others may even help you increase your retention of knowledge because it often causes you to put information in your own words rather than just reading it over and over. Plus, studying with another person makes it easier to quiz one another about topics.
Lastly, studying with another person can help you stick to your study habits, because you have a partner there to hold you accountable.
5. Get plenty of sleep.
You may not realize it, but sleep can play a big part in studying. Getting too little sleep can negatively impact students' alertness, memory, focus and overall testing performance.
According to the American Sleep Association, sleeping between study sessions may make recalling what you've studied easier, even up to six months later.
So, do yourself a favor and make sure to get plenty of sleep while preparing for your CLP test.
Want to learn more about obtaining your CLP?
Are you ready to hit the road, but still need your Commercial Learner's Permit? Obtaining your permit is as easy as completing seven simple steps. Find out how to get your permit by reading our CLP-focused blog.
About the author

Schneider Guy loves the "Big Orange." He's passionate about the trucking industry and connecting people to rewarding careers within it. He's been the eyes and ears of our company since our founding in 1935, and he's excited to interact with prospective and current Schneider associates through "A Slice of Orange."
More posts by this author